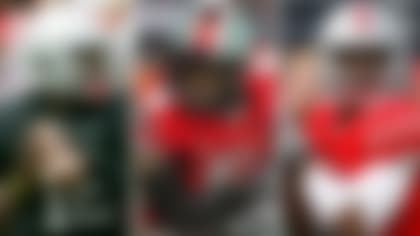 The Maxwell Football Club released its watch list for the Maxwell Award, presented to the nation's top player, and the Maxwell selectors wouldn't pick a starting quarterback for Ohio State, either.
So, they included all three Buckeyes signal-callers on the list of 80 players.
Braxton Miller, J.T. Barrett and Cardale Jones all made the initial list of candidates for the award, weeks in advance of the difficult decision Buckeyes coach Urban Meyer will have to make regarding a starter among three talented and proven options. By the end of September, presumably, two of them will be all but out of the race. Along with running back Ezekiel Elliott, OSU led all schools with four candidates.
All 80 candidates play either quarterback, running back or wide receiver.
Other top players named to the watch list include TCU's Trevone Boykin, USC's Cody Kessler, Mississippi State's Dak Prescott and Michigan State's Connor Cook at quarterback, Georgia's Nick Chubb, Pittsburgh's James Conner and Oklahoma's Samaje Perine at running back, and wide receivers Rashard Higgins (Colorado State), Duke Williams (Auburn) and Nelson Spruce (Colorado).
Schedule of award watch list releases:
2015 Maxwell Award watch list
Kyle Allen, QB, Texas A&M
Tommy Armstrong Jr., QB, Nebraska
J.T. Barrett, QB, Ohio State
Mike Bercovici, QB, Arizona State
Devontae Booker, RB, Utah
Tyler Boyd, WR, Pittsburgh
Trevone Boykin, QB, TCU
Matt Breida, RB, Georgia Southern
Jacoby Brissett, QB, N.C. State
Leonte Carroo, WR, Rutgers
Nick Chubb, RB, Georgia
Corey Clement, RB, Wisconsin
Alex Collins, RB, Arkansas
James Conner, RB, Pittsburgh
Dalvin Cook, RB, Florida State
Connor Cook, QB, Michigan State
Pharoh Cooper, WR, South Carolina
Marcus Cox, RB, Appalachian State
Kenneth Dixon, RB, Louisiana Tech
Joshua Dobbs, QB, Tennessee
Josh Doctson, WR, TCU
Brandon Doughty, QB, Western Kentucky
Ezekiel Elliott, RB, Ohio State
Kenneth Farrow, RB, Houston
D.J. Foster, WR, Arizona State
Leonard Fournette, RB, LSU
Jarvion Franklin, RB, Western Michigan
Royce Freeman, RB, Oregon
Jared Goff, QB, California
Everett Golson, QB, Florida State
Aaron Green, RB, TCU
Christian Hackenberg, QB, Penn State
DaeSean Hamilton, WR, Penn State
Russell Hansbrough, RB, Missouri
Derrick Henry, RB, Alabama
Rashard Higgins, WR, Colorado State
Taysom Hill, QB, BYU
Jon Hilliman, RB, Boston College
Kevin Hogan, QB, Stanford
Kareem Hunt, RB, Toledo
Jalen Hurd, RB, Tennessee
Justin Jackson, RB, Northwestern
Jeremy Johnson, QB, Auburn
Devon Johnson, RB, Marshall
Cardale Jones, QB, Ohio State
Aaron Jones, RB, UTEP
Brad Kaaya, QB, Miami
Chuckie Keeton, QB, Utah State
Cody Kessler, QB, USC
Gunner Kiel, QB, Cincinnati
Fredi Knighten, QB, Arkansas State
Shock Linwood, RB, Baylor
Paxton Lynch, QB, Memphis
Marlon Mack, RB, South Florida
Maty Mauk, QB, Missouri
Christian McCaffrey, RB, Stanford
Elijah McGuire, RB, Louisiana-Lafayette
Braxton Miller, QB, Ohio State
Samaje Perine, RB, Oklahoma
Paul Perkins, RB, UCLA
Dak Prescott, QB, Mississippi State
Donnel Pumphrey, RB, San Diego State
Brandon Radcliff, RB, Louisville
Keenan Reynolds, QB, Navy
Mason Rudolph, QB, Oklahoma State
Seth Russell, QB, Baylor
Sterling Shepard, WR, Oklahoma
Anu Solomon, QB, Arizona
Nelson Spruce, WR, Colorado
Nate Sudfeld, QB, Indiana
Justin Thomas, QB, Georgia Tech
Laquon Treadwell, WR, Ole Miss
DeAndre Washington, RB, Texas Tech
Deshaun Watson, QB, Clemson
Jonathan Williams, RB, Arkansas
Duke Williams, WR, Auburn
Marquise Williams, QB, North Carolina
Nick Wilson, RB, Arizona
Storm Woods, RB, Oregon State
Malik Zaire QB, Notre Dame