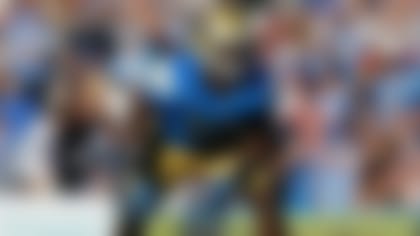 Linebacker Myles Jack is among the 51 players named to the Butkus Award watch list for 2015, providing the junior with an opportunity to give UCLA back-to-back winners of the award.
Eric Kendricks -- who was a second-round selection of the Minnesota Vikings in the 2015 NFL Draft -- was the 2014 Butkus Award winner. Twice before a school had back-to-back Butkus winners: In 1985-86 when Brian Bosworth of Oklahoma won the award in its first two years of existence, and in 1994-95 when Illinois' Dana Howard and Kevin Hardy won the award.
Jack is one of the most versatile athletes in college football. With the departure of Kendricks to the NFL, Jack -- a second-team All-Pac-12 honoree in 2014 -- is moving to inside linebacker. In 2013, Jack was named both Offensive and Defensive Freshman of the Year in the Pac-12 by the league's coaches.
Smith is one of two players on the 2015 watch list who already won the high school version of the Butkus Award. Smith won the award in 2012, while Ohio State's Raekwon McMillan won it in 2013.
The Butkus Award is presented annually to college football's top linebacker.
Schedule of award watch list releases:
Dominique Alexander, Oklahoma
Kendall Beckwith, LSU
Zeek Bigger, East Carolina
Joe Bolden, Michigan
Kentrell Brothers, Missouri
Richie Brown, Mississippi State
Kelby Brown, Duke
James Burgess, Louisville
De'Vondre Campbell, Minnesota
Su'a Cravens, USC
Brooks Ellis, Arkansas
Kyler Fackrell, Utah State
Travis Feeney, Washington
Leonard Floyd, Georgia
Josh Forrest, Kentucky
Kris Frost, Auburn
Darien Harris, Michigan State
Myles Jack, UCLA
Cory James, Colorado State
Jordan Jenkins, Georgia
C.J. Johnson, Ole Miss
Peter Kalambayi, Stanford
Raphael Kirby, Miami (Fla)
Carl Lawson, Auburn
Cory Littleton, Washington
Antonio Longino, Arizona State
Curt Maggitt, Tennessee
Blake Martinez, Stanford
Tyler Matakevich, Temple
Cassanova McKinzy, Auburn
Raekwon McMillan, Ohio State
Mason Monheim, Illinois
Nyles Morgan, Notre Dame
Antonio Morrison, Florida
Yannick Ngakoue, Maryland
Jared Norris, Utah
Reggie Northup, Florida State
Montese Overton, East Carolina
Joshua Perry, Ohio State
Reggie Ragland, Alabama
Jalen Reeves-Maybin, Tennessee
Luke Rhodes, William & Mary
Pete Robertson, Texas Tech
James Ross, Michigan
Anthony Sarao, USC
Michael Scherer, Missouri
Jaylon Smith, Notre Dame
Terrance Smith, Florida State
Eric Striker, Oklahoma
Jason Wittingham, Utah
Scooby Wright III, Arizona