Wisconsin sophomore Melvin Gordon was perhaps the hottest tailback in the nation through the Badgers' first four games. He was shut down in Game 5, and as a result, Ohio State held off the Badgers 31-24.
Gordon (6-feet1, 207 pounds) had rushed for 624 yards and seven touchdowns on just 53 carries (11.8 yards per carry) in the first four games, and had propelled himself into the Heisman discussion. But Ohio State did a nice job slowing him down Saturday, holding him to 74 yards on 15 carries (4.9 yards per carry). His longest gain was 16 yards; this from a guy who came in with six carries of at least 30 yards and three of at least 60 yards.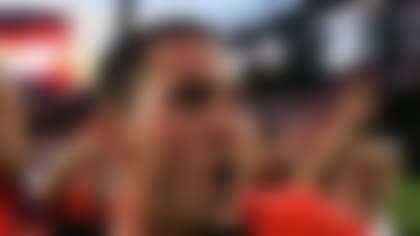 From Aaron Murray's big-game heroics vs. LSU to Oklahoma's statement win at Notre Dame, here are the things we learned from college football's fifth weekend. More ...
The Buckeyes also did a nice job of shutting down the Badgers' "other" tailback, James White, who finished with 31 yards on eight carries. He scored on a 17-yard run, meaning his other six carries netted 14 yards.
Conventional wisdom was that Wisconsin would be in trouble if it was forced to the air, but sophomore quarterback Joel Stave played better than expected. He was 20 of 34 for 295 yards, two TDs and an interception against what was supposed to be the Big Ten's best secondary. The main beneficiary was senior wide receiver Jared Abbrederis (6-2, 190), who had the best game of his career. He had 10 receptions for 207 yards and a TD; it was the first 200-yard performance by a Badgers wide receiver since Lee Evans had 258 yards against Michigan State in 2003.
What made Abbrederis' performance even more impressive is that most of his damage came against highly touted Buckeyes cornerback Bradley Roby. Abbrederis dominated Roby, who resorted to a lot of grabbing and holding. Abbrederis isn't a blazer, but he sure was fast enough to consistently get open against Roby, who is considered a blazer. And he got open despite Ohio State knowing Abbrederis is the only Wisconsin receiver of note.
Abbrederis has 33 receptions for 572 yards (17.3 yards per catch) and four TDs despite Wisconsin not having a consistent No. 2 receiver.
Mike Huguenin can be reached at mike.huguenin@nfl.com. You also can follow him on Twitter @MikeHuguenin.