The Big Ten was expected to be Ohio State's playground this season, and that has proved to be the case.
Ohio State already has beaten Wisconsin, the best team on its schedule, and the Buckeyes' main issue now is to remain fully engaged until they play at Michigan in the regular-season finale. The opponents until they get to the Wolverines: Iowa, Penn State, Purdue, Illinois and Indiana.
While the Buckeyes are going to win the Leaders Division, the Legends Division race has some intrigue. Every team in the division save Minnesota probably thinks it can win it if everything breaks right. Michigan, Michigan State and Nebraska, though, have the best shot. Each has flaws: Michigan can't avoid turnovers, Michigan State lacks offense and Nebraska hasn't shown it can stop any offense with a pulse. It should make for a fun final six weeks.
Here's a midseason look at the league's five biggest surprises and disappointments among the players.
Illinois LB Jonathan Brown: Brown (6-foot-1, 230 pounds), a senior, was extremely productive as a sophomore in 2011, regressed as a junior and now is playing the best football of his career. He has 60 tackles and 6.5 tackles for loss, and has put himself back on draft boards. He always has had good speed and instincts, and he again is playing with consistency.
Indiana TB Tevin Coleman: Coleman (6-1, 205), a sophomore, was slated to back up senior Stephen Houston. But Coleman beat out Houston for the starting job and has given the Hoosiers a solid running threat to go with the league's most prolific passing attack. He doesn't have elite speed, but he runs hard, can make quick cuts and has enough quickness to get into the open field. He has rushed for 557 yards and eight TDs, which is tied for the league lead.
Iowa DT Carl Davis: Davis (6-5, 315), a junior, is developing into a force in the middle of the line. He had a big spring and has followed that up with a big regular season. He is stout against the run and has the athleticism to eventually cause some problems as a pass rusher. Davis' play against the run is a reason Iowa is the only team in the nation not to have allowed a rushing TD this season.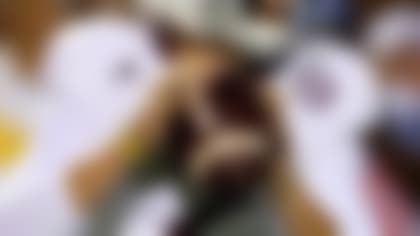 From Johnny Manziel's heroics in a thriller at Ole Miss to Marcus Mariota's dismantling of Washington, here are 37 things we learned from the college football weekend. **More ...**
Michigan WR Jeremy Gallon: Gallon is a little guy (5-8, 187) with good quickness, and he finally has become a playmaker as a senior. His performance should lead to him being a third-day draft pick. He had 84 career receptions coming into the season, but already has 34 this fall, including five for touchdowns. He also can be a weapon on jet sweeps and on returns.
Wisconsin TB Melvin Gordon: With Montee Ball gone to the NFL, the assumption was Gordon would be the Badgers' No. 2 tailback behind senior James White. Instead, Gordon (6-1, 207) has become one of the best backs in the nation and the Badgers' feature back. Gordon is a physical runner with a burst and has shot up draft boards this fall as a third-year sophomore. He already has rushed for 870 yards and eight TDs.
Five biggest disappointments
Purdue CB Ricardo Allen: Allen (5-9, 186), a senior, looked like a future star after his sophomore season. But he lacked consistency last season, and that has carried over to this fall. A guy with his talent should contend for first-team All-Big Ten honors; instead, he'll be lucky to be an honorable-mention pick if he continues to play this way. He has two picks and two pass breakups playing for a defense that has allowed at least 40 points four times in six outings. Allen is a physical guy who can be proficient in press coverage and when playing zone, and he does have nine career picks. He must develop some consistency, though.
Penn State DE Deion Barnes: Barnes (6-4, 245) was the Big Ten freshman of the year last season, when he had six sacks and looked as if he was developing into the league's premier pass rusher. While he has big-time athleticism, he still is learning the intricacies of the position and that has showed this fall. He has just two tackles for loss and a half-sack. Barnes, a third-year sophomore, also needs to get better against the run.
Penn State TE Kyle Carter: Carter (6-3, 248), a third-year sophomore, was second on the team with 36 receptions and 453 receiving yards last season despite missing three games with injuries. With no established No. 2 wide receiver on the roster, big things were expected from Carter this fall. Instead, he has just 13 receptions, with no TDs. And there still is no established No. 2 wide receiver.
Michigan QB Devin Gardner: Gardner (6-4, 210), a junior, has led the Wolverines to a 5-1 start, but he has been a turnover machine. He has 11 TD passes but also 10 picks, and his propensity to turn it over meant narrow victories over one-win Akron and winless Connecticut were vastly closer than they should have been. It's telling that in the best game Gardner has played in the past month, in a win over Minnesota, offensive coordinator Al Borges admitted he called a conservative game because he wanted to lessen the opportunity for a turnover. And Michigan was extremely conservative in the overtime sessions in this past Saturday's loss to Penn State. Gardner has a strong arm and is mobile, but he must become more careful with the ball.
Ohio State CB Bradley Roby: Roby (5-11, 192), a junior, still is considered a first-round pick should he choose to come out. But for a guy who went into the season as the unquestioned No. 1 cornerback prospect, Roby has underachieved. He was absolutely torched by Wisconsin WR Jared Abbrederis, and he struggled again against Northwestern in the Buckeyes' most recent game. Roby has elite speed and has two picks and six pass breakups. Still, he hasn't played with near the consistency expected of someone with his talent.
Mike Huguenin can be reached at mike.huguenin@nfl.com. You also can follow him on Twitter @MikeHuguenin.