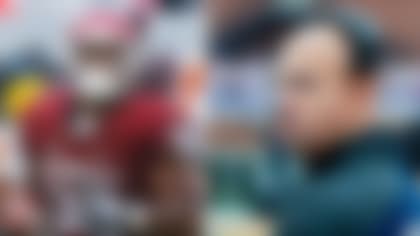 Week 13 of the college football season brought us highlights galore and a number of surprises that nobody could have predicted earlier this year. While we know who won and who lost the games from the box scores, who really came out of Saturday able to hold their heads high?
Samaje Perine: It took just seven days for the FBS single-game record for rushing yards to fall thanks to this superb Oklahoma true freshman. The Sooners apparently went retro Saturday for their game against Kansas, completing just three passes while relying on a ground-and-pound attack of Perine, Perine and more Perine against Kansas.
Jalin Marshall: A week after nearly becoming the goat against Minnesota last week, the Buckeyes speedster more than made up for things against Indiana with a punt-return score and three receiving touchdowns as Ohio State cruised late to a win over Indiana.
Jerry Kill: The Minnesota head coach added a win over Nebraska to keep his team in the thick of the Big Ten West race at 8-3. Not a bad rebuilding job in the Twin Cities at all.
Will Muschamp: His tenure at Florida wasn't what he'd hoped, but the lame-duck coach at least left the Swamp a winner in his final home game of the year. The Gators defeated Eastern Kentucky, 52-3.
Arkansas: The Razorbacks forced six turnovers in a 30-0 win over Ole Miss and have recorded back-to-back SEC shutouts. Not bad after going 17 games without a conference win.
Nick Wilson: Arizona needed a spark on the road, and the true freshman running back delivered against Utah, running all over a normally tough defense in a win that keeps the Wildcats' division hopes alive.
Melvin Gordon: Yes, his FBS record lasted all of a week, but the Wisconsin running back did set a new one against Iowa by becoming the fastest ever to reach 2,000 yards rushing in a season. Plus he's playing for a Big Ten title the next two weeks.
Stanford's offense: After weeks and weeks of moving backward as much as it moved forward during a six-game stretch in which the Cardinal lost four games, the offense finally got something going against rival Cal to help score a "Big Game" victory.
Missouri: Everybody keeps doubting the Tigers, but here they are, still playing for the SEC East title. Back-to-back apperances in Atlanta would certainly change the perception of the program.
Check out the top images from the 13th weekend of college football play.
Marshall: The Thundering Herd's margin to make it to a major bowl game is razor thin, and they didn't help themselves by struggling against UAB, needing a late defensive score to pull out a win.
James Franklin: Penn State lost to Illinois, and Franklin was outcoached. These two things should never happen, especially against this year's version of the Illini, which improved to 5-6.
Wake Forest/Virginia Tech: Kudos to anybody who watched this game, which was as bad as it looked based on the box score after the teams battled to a 0-0 tie after four quarters. Wake Forest eventually won, 6-3, in double overtime.
Florida State fans: Another week, another comeback win in which the team didn't look all that great, this time against Boston College. Now Seminoles fans get to hear about it the next seven days, too.
Brian Kelly: There was national title talk in South Bend after a narrow loss to Florida State. Now the wheels have fallen off at Notre Dame after a 31-28 loss to Louisville, the fourth loss in five games for the Irish, who dropped to 7-4.
Al Golden: Miami's "one step forward, two steps back" path under Golden hasn't worked according to plan, and a disappointing loss to Virginia will only incite the fan base more.