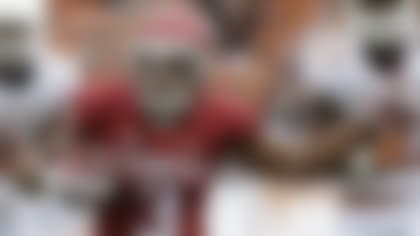 I'm a firm believer that the game film never lies. However, I also believe that film provides a micro-view of a player or a team and that the inclusion of pertinent data in conjunction with the tape allows for the big picture to be uncovered.
In this week's series, I will attempt to provide a more robust analysis of some of the strengths and weaknesses of college players from a variety of positions, but I will filter the results through an NFL evaluator's lens, continuing today with wide receivers.
Critical Factor: Making clean, consistent catches
Not all catches are created equally. Catching a three-yard hitch on first down is easier than a contested catch at the first-down marker on a third down. Scouts want to see a receiver catch the ball away from his body whenever possible and maintain focus throughout the catch. This data can give us the number of drops and catches, but tape work is what helps us properly contextualize a receiver's hands.
The premier set of hands in college football belong to Oklahoma's Sterling Shepard. Shepard has dropped just four passes on 225 targets over his three seasons, including only one drop over his last 162 targets. However, Shepard is more than just a great pair of hands.
In 2014, he was targeted 35.2 percent of the time (a relatively high number, showing the confidence his quarterback had in him) and had a catch of 25 yards or more once every 6.5 targets (Pitt's Tyler Boyd averaged one every 10.5 targets). Shepard's soft hands, elite focus and ability to get open will make him a favorite of NFL scouts.
Auburn's D'haquille "Duke" Williams combines strong hands with a great understanding of how to use his body to post defenders up and keep them in check. Williams' drop rate was just 4.3 percent, which is a solid number, but what is more impressive is that 82.2 percent of his catches went for first downs.
The tape shows the same thing. Williams finds the marker and snatches contested catches to keep drives moving. He's a reliable, tough guy who is geared to work short and intermediate routes due to his lack of separation speed.
Last season, Ohio State's Michael Thomas had only one drop on 78 targets, but his average yards at the catch was just 7.2 compared to 12.1 for Shepard and 12.4 for Williams.
Colorado's Nelson Spruce didn't excite me on tape, so I was interested to see what the data looked like -- it confirmed the eyeball test. Spruce showed steady hands and wasn't credited with a single drop over 160 targets, but he averaged just 7.2 yards at the catch point with 4.1 yards coming after the catch. That 4.1 YAC number is extremely low for an underneath receiver in the college game.
Intriguing talents, but can they catch it?
Colorado State's Rashard Higgins was a monster last season in every way imaginable. Higgins was heavily targeted (37.3 percent of Garrett Grayson's attempts were to Higgins) and delivered with 17 touchdowns and 24 "explosive catches" (25-plus yards). However, scouts have concerns.
Almost 54 percent of Higgins' total receiving yards came after the catch, which is not typical of how an NFL season will go for a wide receiver. More importantly, Higgins has 17 drops over his last two seasons, with several coming as focus drops. Combining drops with a slight build could be an issue for Higgins' draft stock, so improving his focus and catch consistency is a must in 2015.
The basic stats looked great for Notre Dame's Will Fuller last season, but when taking a look inside the numbers, it becomes less impressive. Fuller's 10.6 percent drop rate was sky-high and his low explosive play percentage isn't an immediate offset like it was for Sammie Coates, who was a notorious ball dropper.
Take a look at the best photos from the 2015 college football fall camps.
Tyler Boyd, Pitt
Boyd is an absolute workhorse. His target rate of 41.7 percent was equal to DeVante Parker's and just behind Amari Cooper's, so everyone knew where the ball was going in 2014. Despite the attention from defenses, Boyd had just four drops thanks to his elite body control and hand strength to fight for and win contested throws. Boyd's explosive-catch rate of 15.3 percent was pedestrian, though.
Mike Williams, Clemson
Williams is a grown man. I spoke with a personnel man recently who raved about Williams' build, but questioned his downfield speed. Williams carried a modest target rate of 24.2 percent last season, but that number should jump into the 30-percent range this year. Despite the concerns of the personnel man, Williams saw a robust 26.3 percent of his catches go 25 yards or more, so his size and high-point ability might be his offsetting characteristics for a lack of deep speed in much the same way they were for former Clemson standout and current Houston Texan, DeAndre Hopkins.
Leonte Carroo, Rutgers
Carroo carries a chiseled frame and a pocket full of swagger with him out on the field. His data matched the tape, for the most part. On tape, his routes are rounded and in need of work, but his drop rate of 3.5 percent showed that he was able to put throws away, despite opening the door for cornerbacks with his sloppy routes. If Carroo can maintain his explosive-play rate (23.6 percent) and solid hands, he could hear his name called on the second day (Rounds 2-3) of the 2016 NFL Draft.
Corey Coleman, Baylor
While Coleman might be a product of Art Briles' system, which allows the speedster to catch and run in space, there is no questioning Coleman's ability to threaten defenses on all three levels. Coleman was targeted a healthy 30.3 percent of the time last season, but dropped it too frequently (8.6 percent). He must show that he's a well-rounded, reliable threat and not just another fast receiver with average hands.