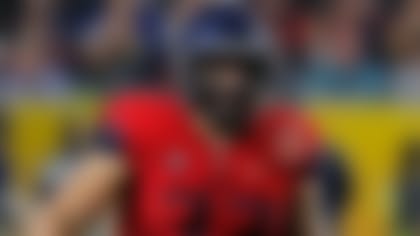 I'm a firm believer that the game film never lies. However, I also believe that film provides a micro-view of a player or a team and that the inclusion of pertinent data in conjunction with the tape allows for the big picture to be uncovered.
In this week's series, I will attempt to provide a more robust analysis of some of the strengths and weaknesses of college players from a variety of positions, but I will filter the results through an NFL evaluator's lens, continuing today with linebackers. Here's a look at the results of my study of 18 top linebacker prospects.
Note: In this post, a "missed tackle" means little to no contact was made by the defender who was pursuing a ball carrier on a play, while a "broken tackle" means there was contact between the defender and a ball carrier, but the defender failed to wrap up and complete the tackle.
Critical Factor: Instincts and diagnostic skills
Linebackers need to show the ability to quickly diagnose where plays are headed so they can flow to the ball ahead of offensive linemen while putting themselves into position to make tackles. Instinctive linebackers tend to diagnose more quickly and make more high-impact plays.
We want to find out how often these linebackers are involved in tackles on running plays (run-tackle rate) and how often they are involved in impact plays, including tackles, interceptions, fumbles, forced fumbles, passes defensed and sacks (action rate). A linebacker with instincts will typically be involved in both categories at a fairly high rate. We also want to know his impact-tackle rate (tackles made within 2 yards of the line of scrimmage on plays that do not result in a first down or a score). Impact tackles are often indicators of physicality at the point of attack.
Scooby Wright III, Arizona
Run-tackle rate: 24.8 percent
Action rate: 17.2 percent
Wright won just about every defensive award possible last season thanks to his 163 tackles and 15 sacks. He's a quick linebacker, but isn't overwhelmingly explosive as an athlete. Wright made tackles on 24.8 percent of the run snaps (564) he was involved in, which was the highest percentage of any linebacker I studied. What was surprising, however, was Wright's very modest impact-tackle rate of just 13.4 percent. Still, Wright simply wants it on every snap and he's always eating.
Antonio Morrison, Florida
Run-tackle rate: 21.7 percent
Action rate: 17.3 percent
Morrison's tape and numbers in every important linebacker metric were eye-opening. Morrison had more tackles per total snaps than even Wright and his impact-tackle numbers backed up the tape, which revealed an explosive hitter who brought a hammer to a hammer fight on almost every snap. Morrison's action rate -- the total percentage of plays he impacted -- was the highest of the linebackers I studied. Sadly, Morrison is recovering from a knee injury he suffered in the Birmingham Bowl in January and his status for this season is tenuous.
Critical Factor: Consistent tackling
To be a consistent tackler, a linebacker must have quickness, agility and balance to put himself into position to be a ready tackler. In open space against an elusive running back, linebackers need athleticism to quickly change direction. Once in position, the linebacker should show an ability to strike, wrap-up and finish (finisher rate).
Joshua Perry, Ohio State
Finisher rate: 97.6 percent
Impact tackle: 21.5 percent
Perry is the least athletic of the Ohio State trio of linebackers and he might end up carrying the lowest draft grade of the three. However, don't sleep on his ability to end plays when he gets his hands on the ball carrier. Perry's overall tackles (124) and finisher rate (vs. run and pass) was sky-high at 97.6 percent, including just two missed tackles and one broken tackle. Perry's keen radar and wrap-up sensibilities were also on display with a run-tackle rate of 19.74 percent and a Big Ten-leading 20 impact tackles.
Jordan Jenkins, Georgia
Finisher rate: 95.9 percent
Impact tackle: 23.5 percent
This outside linebacker plays with a high level of aggressiveness and looks to make ball carriers (and blockers) feel it with every hit. Jenkins is a quality edge setter who holds his own at the point of attack, allowing for an early attack on ball carriers leading. He had an extremely high impact-tackle rate of 23.5 percent. Jenkins missed just three tackles and didn't allow a single broken tackle in 741 total snaps.
Smallish linebackers are just fine for the college game, which calls for running and chasing in space, but NFL scouts often worry about their ability to finish tackles and hold up to the rigors of the NFL game.
Terrance Smith, Florida State
Tall, but somewhat lanky, Smith (6-foot-4, 230 pounds) showed the instincts and quickness to attack downhill and post quality impact-tackle and run-tackle rates, but Smith's big issue was his 13 total missed and broken tackles along with an anemic finisher Rate of 84.2 percent, which was the lowest of the 18 linebackers in this study. Smith must play bigger in 2015.
Eric Striker, Oklahoma
I'm not sure what to do with Striker as a I move forward as an evaluator. He's fast, but very small to be playing outside linebacker at 6-0 and 222 pounds. Striker's action rate of 9.76 percent is too low for a speedy linebacker who should be in on more plays. Like Smith, Striker's bigger issue might be his inconsistency as a tackler against the run (8 missed tackles).
I have yet to mention the LBs listed below in this post, but NFL evaluators will be keeping a close eye on them this season.
Reggie Ragland, Alabama
Run-tackle rate: 19.8 percent
Action rate: 15.6 percent
Ragland's run-tackle rate of 19.8 percent is consistent with what should be expected from an Alabama linebacker with his size (6-foot-2, 252 pounds) and speed. Ragland was an outstanding finisher -- he didn't allow any broken tackles despite going up against a variety of physical runners. Ragland did have some issues in space, giving up a completion rate of more than 63 percent when targeted.
Blake Martinez, Stanford
Run-tackle rate: 23.1 percent
Finisher rate: 96.4 percent
Martinez is the reason I cross-check tape with data points when I evaluate. My eyes tell me that Martinez might be a little stiff for the NFL game, but Martinez's metrics were extremely strong in most categories, including second-place finishes in run-tackle rate and finisher rate against the run. While there are particular physical and play traits pro linebackers need to have, I will watch Martinez with an open mind this season in case my initial viewing was tainted by a bad game.
Myles Jack, UCLA
Run-tackle rate: 9.7 percent
Action rate: 9.7 percent
Jack is my top-rated linebacker to watch in 2015, but if we were to judge simply by the numbers, he would look like an ineffective linebacker. In reality, Jack played all over the field for the Bruins and should see his linebacker metrics skyrocket in 2015.
Jaylon Smith, Notre Dame
Finisher rate: 91.3 percent
Run-tackle rate: 16.4 percent
Smith's five missed tackles and three broken tackles allowed against the run are worth monitoring, as those numbers are too high. Furthermore, Smith's impact-tackle rate of 12.2 percent is extremely low for a linebacker with his size and explosiveness. I love his ability to chase from sideline to sideline and I don't doubt his instincts, but the numbers suggest he needs to be more consistently physical this year.
Darron Lee, Ohio State
Finisher rate: 85.9 percent
Action rate: 11.8 percent
Lee is a fluid athlete who showed an aptitude for being able to cover in space. Lee was targeted 39 times against the pass and was able to knock down five of those passes while giving up no receiving touchdowns. His metrics against the run, however, were not as impressive. Lee's lack of size might have led to his disappointing finisher rate, which included three broken tackles. I'm looking for more activity out of the talented linebacker and it wouldn't shock me to see him carry more muscle on his frame in the future.