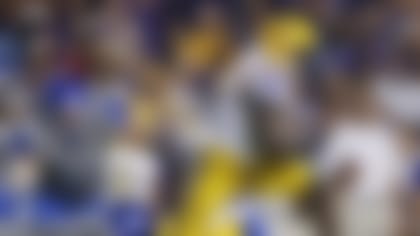 I'm a firm believer that the game film never lies. However, I also believe that film provides a micro-view of a player or a team and that the inclusion of pertinent data in conjunction with the tape allows for the big picture to be uncovered.
In this week's series, I will attempt to provide a more robust analysis of some of the strengths and weaknesses of college players from a variety of positions, but I will filter the results through an NFL evaluator's lens, concluding today with cornerbacks. Here's a look at the results of my study of 17 top cornerback prospects.
Critical Factor: "Mirror and Match"
This term represents a cornerback's ability to mirror the wide receiver's route as it is being run, and match the receiver's movement in order to maintain a constricted coverage area. This term is primarily used in discussing man-to-man coverage.
The best cover corners in the NFL typically excel in these two areas -- they allow a lower completion percentage on throws their way and they are targeted less frequently because of their ability and the respect given to them by the opposing quarterback and/or play-caller.
I looked at the coverage ability from 17 of the most noteworthy cornerbacks entering this season. To the film, I added a variety of metrics, including target rate (the percentage of targets a player saw per pass-snap played) and burn rate (refers to the completion percentage allowed on throws targeted at the defender). The average target rate of this group was 16.4 percent, while the average burn rate was 44.85 percent.
Tre'Davious White, LSU
Target rate: 13.5 percent
Burn rate: 23.4 percent
White's burn rate is one of the lowest I've ever seen, so I studied tape of him earlier this summer to get a better feel for him. White completely outplayed 2015 second-rounder Jalen Collins in their matchup against Alabama's Amari Cooper and showed a tremendous amount of twitch and fluidity in his movement.
Opposing teams clearly saw the same thing, as they targeted White just 13.5 percent of the time, which was the second lowest target rate of the players I studied. With elite feet and recovery twitch, White allowed only one touchdown in 2014, but he did allow 18 yards per completion (though there weren't many completions against him). The knocks on White? His ball skills need work and he's not a very physical player.
Cam Sutton, Tennessee
Target rate: 14.9 percent
Burn rate: 35.5 percent
Sutton's low burn rate is really impressive because he's not the premium athlete that Tre'Davious White is. Sutton tends to crowd and body up his targets while reacting quickly underneath. This keeps throwing windows relatively small. Sutton's biggest hindrances as a pro prospect are his poor tackling (eight missed and four broken) and concerns about whether his physical style can work as a man corner.
Houston's William Jackson had a low burn rate (39.4 percent) thanks to his length and athleticism, but his tackling in the open field is not good. His finisher rate (the percentage of tackles made when presented with an opportunity to make a tackle) of 78.7 percent was well below the average for the top cornerbacks.
Critical Factor: Ball skills
While having the ability to stay within striking distance of wide receivers is critical, NFL evaluators also factor in a defensive back's ability to play the football once it is in the air. The ability to attack the catch point and finish interception opportunities is highly regarded.
I'll include a "hands rate" metric here. Hands rate measures how frequently a defender defended or intercepted a pass on throws targeted at him. This helps to measure a defender's ball skills.
Jonathan Jones, Auburn
Hands rate: 44 percent
Burn rate: 38 percent
Jones is undersized at 5-foot-9, 182 pounds, but the tape shows a fluid athlete who plays with determination, outstanding ball skills and aggressiveness. It was hard for quarterbacks to consistently complete throws against Jones thanks to athleticism that kept him in the play and, more importantly, ball skills that allowed him to make an exceptional number of plays on throws his way. Jones had 16 passes defensed and six interceptions all while being targeted just 50 times. Nobody came close to his hands rate of 44 percent.
Vernon Hargreaves III, Florida
Hands rate: 32.2 percent
Target rate: 14.7 percent
Hargreaves is my top corner in college football for 2015 and he certainly passes the eyeball test from an evaluation standpoint. Hargreaves got his hands on a total of 19 of the 59 passes that came his way (32.2 percent) and teams weren't in a big hurry to challenge him, as his low target rate would indicate. While I love his long speed, I'm also a fan of the way he comes up and tackles. His finisher rate, which measures consistency of tackling, was on the high side of this study.
UCLA's Fabian Moreau and USC's Adoree' Jackson both need to improve on their ball skills in 2015. Moreau allowed four touchdown passes last year (14.5 percent hands rate) and posted an abysmal "ballhawk index", which measures high-impact plays against the pass and run. Moreau is a good tackler and might be best suited as a safety. Jackson is one of the most talented return men in the country and an improving cornerback. However, his hands rate of 10.84 percent was the lowest of the 17 defensive backs in this study. Jackson's tape leads me to believe his ball skills will show a dramatic improvement this year.
I have yet to mention the CBs listed below in this post, but NFL evaluators will be keeping a close eye on them this season.
Kendall Fuller, Virginia Tech
Target rate: 19.23 percent
Burn rate: 40 percent
Fuller had his hands on plenty of throws thanks to his aggressiveness underneath, but he was also targeted a ton, which shows a willingness to attack him. Fuller's ability as a wrap-up tackler cannot be understated.
Zack Sanchez, Oklahoma
Ballhawk index: 3.69
Finisher rate: 76.7 percent
Sanchez had a respectable burn rate of just 43.2 percent and was involved in a ton of impact plays, which is why he posted the second-highest ballhawk index to Jonathan Jones' 4.99. However, Sanchez missed seven tackles and allowed six broken tackles. He's so slightly built that tackling will likely be an ongoing issue for him.
Will Redmond, Mississippi State
Ballhawk index: 3.06
Burn rate: 56.5 percent
While Redmond's ballhawk index number is high and shows a level of production outside of just coverage responsibilities, his burn rate was the second worst of the defensive backs in this study and the 21.8 yards he allowed per catch was the worst mark of those in the study. Redmond isn't a big corner, so he must improve with his technique and discipline this season.