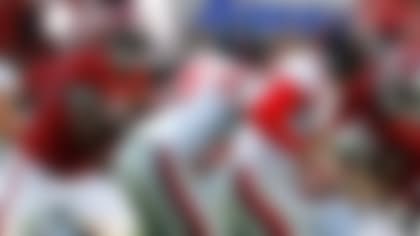 Here are our top takeaways from Week 7 in the SEC:
1. Bright spot on A&M defense
As bad as Texas A&M's defense has been, it isn't totally bereft of NFL prospects. Linebacker Steven Jenkins may have the highest hopes, and with scouts from eight NFL clubs credentialed to attend the Aggies' 41-38 win over Ole Miss on Saturday, Jenkins gave them something to think about: 13 tackles (12 solo) and two pass breakups. Was your NFL team on hand? See the list here.
Ole Miss linebacker Serderius Bryant's awkward collision with Johnny Manziel provided a sobering moment near the end of Texas A&M's come-from-behind victory. Although there was no official word from Ole Miss on Bryant's condition, the thumbs-up sign he gave while being carted off the field raised hope for the best.
An outstanding day for the South Carolina defense was nevertheless missing a big contribution -- once again -- from defensive end Jadeveon Clowney. The highly regarded junior made just one solo tackle for the Gamecocks. Not exactly the rebound he was hoping for after sitting out last week's game against Kentucky. The season is quickly beginning to slip away for one of college football's elite talents, with the sack counting holding at just two.
The perceived gap between Georgia quarterback Aaron Murray and Missouri quarterback James Franklin was a sizeable one entering Saturday. And while nobody is booking Franklin's 6-0 Tigers for the SEC Championship Game just yet, the two seniors may not be as far apart as once thought. Franklin helped Missouri to a shocking road upset of the Bulldogs, and with it, UGA's national title hopes were dashed with a second loss. However, reports say that Missouri will play the rest of the regular season without Franklin, who injured his shoulder on Saturday.
LSU quarterback Zach Mettenberger didn't get much of a chance to help his team beat Florida Saturday, but he didn't hurt the effort, either. And that, in itself, shows continued progress for the fifth-year senior. The Mettenberger of last year might well have thrown two interceptions to the Gators and produced a vastly different scoreboard outcome. So while Mettenberger didn't light up his stat sheet, it shouldn't be overlooked that he didn't light up Florida's.
After its defense was ravaged in the offseason by early jumps to the NFL among its junior class, the Tigers figured to struggle early in the season while breaking in some inexperienced talent this year. Never was that more apparent than in allowing 44 points to Georgia. But LSU's young defense may have turned a corner Saturday in a 17-6 win over Florida, and some future NFL talent led the way.
7. Prescott impresses again
The two-quarterback system now in use at Mississippi State worked just well enough for a 21-20 win over visiting Bowling Green on Saturday, but the case for Dak Prescott, who entered the season as the backup to experienced senior Tyler Russell, continues to strengthen. Both passed well, combining for 19 completions on 25 attempts, but Prescott added 139 rushing yards and two touchdowns on just 15 carries. It's beginning to look as if an offense that has struggled to find its identity this season is finding one with the dual threat Prescott provides.
Remember this name: A'Shawn Robinson. The Alabama true freshman defensive lineman picked up two sacks against Kentucky on Saturday, giving him a team-high four on the season. Robinson has begun to play with as much regularity as veteran NFL prospects Ed Stinson and Jeoffrey Pagan.
Alabama quarterback AJ McCarron shredded Kentucky for a career-high 359 yards. He now has 7,306 yards for his career, just 618 shy of a school record held by former Atlanta Falcons backup John Parker Wilson.
Whatever the Western Carolina Catamounts were prepared for against Auburn Saturday, it wasn't running back Cameron Artis-Payne. The junior-college transfer exploded for a career-high 133 yards on just seven carries in a 62-3 thrashing, an average of 19 yards per attempt. Freshman quarterback Jeremy Johnson, in his first career start, must think this college football stuff is easy. Johnson completed 17 of 21 passes as AU rested starter Nick Marshall.