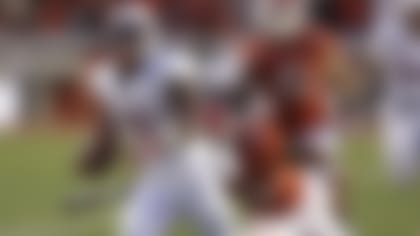 1. Stanford stumbles on the road
The Cardinal might be the anti-Oregon philosophically, but it has its own noticeable flow and rhythm when everything is working. The offensive line drives off the ball with unmistakable aggression, and the defensive front seven sets up shop in the opponent's backfield.
That didn't happen in Stanford's surprising 27-21 loss at Utah. The defense came away with only one sack, with its fine linebacker corps kept largely in check, and running back Tyler Gaffney was never able to get into a rhythm despite finishing with 108 yards on 16 carries and one touchdown.
Outside of wide receiver Ty Montgomery, the rest of the offense never showed the necessary urgency to come away with a road win. The defense seems to have been exposed by tempo and wide-open approaches, where its reputation had been made last season by containing the Ducks.
With UCLA up next and Oregon looming in November, Stanford has major issues to address if it hopes to climb back into the BCS title chase.
If you saw Utah play earlier this season against Oregon State or UCLA, it was evident this was a much-improved team finally ready to compete on a weekly basis in the Pac-12. It was only a torrent of turnovers that kept the Utes from securing a signature win in its new conference.
But other than one Travis Wilson interception and Stanford's 100-yard kick return for a touchdown, Utah played the kind of game necessary to defeat a top-tier opponent. Wilson showed his major upside, with wide receiver Dres Anderson as his top target, but the biggest development has been the arrival of running back Bubba Poole to give balance to an offense that had been overly reliant on the pass.
With great line play taking away Stanford's usual advantage in the trenches and an outstanding game plan from new co-offensive coordinator Dennis Erickson, Utah earned this moment.
3. Marcus Mariota is marvelous
Mariota's numbers this season after Saturday's four-touchdown performance against Washington: 1,724 passing yards and 17 touchdowns with no interceptions; 426 rushing yards and eight touchdowns on 10.39 yards per carry.
That's why you can lose out on Johnny Football in the recruiting process and still be in position to play for the BCS championship.
4. Austin Seferian-Jenkins is still M.I.A.
Whether it is the result of missing spring practice while suspended, the lingering effects of his broken pinkie, his costly third-down drop at Stanford, or the new up-tempo approach, Washington tight end Austin Seferian-Jenkins just hasn't been an integral part of the offense this season.
After posting two receptions for 36 yards and a touchdown against Oregon, Seferian-Jenkins has 16 catches for 185 yards and three scores this season. That's not nearly enough for a player with his immense talents, especially after seeing the Huskies' passing attack bog down against the Ducks.
5. Arizona State continues to be powered by its junior-college transfers
Relying on players from the junior-college ranks tends to be a boom-or-bust proposition. Well, Sun Devils head coach Todd Graham has definitely enjoyed a boom from a pair of such players -- running back Marion Grice and wide receiver Jaelen Strong.
All Grice does is score touchdowns, rushing for two more TDs in a pummeling of Colorado. Grice has now crossed the goal line 15 times this season, with 10 trips on the ground.
Strong is a big, strong, physical presence, but has underrated skills to stretch the field. Strong posted his 14th reception of 20 yards or longer on his 69-yard touchdown catch, topped the century mark for the fifth time this season, and is looking more and more like a rare one-and-done player.
6. Colorado turns to its QB of the future
The Buffaloes took the redshirt off of true freshman Sefo Liufau in the first half at Arizona State, which all but assures he will have a prominent role going forward.
Liufau is unlikely to lift CU, which has regressed badly in the crucible of Pac-12 play, to a bowl game. The bigger question is whether Liufau will be able to keep outstanding junior wide receiver Paul Richardson involved the way Connor Wood did early this season.
The early returns weren't great, as Richardson had four receptions for 39 yards, both season lows.
7. Cassius Marsh gets the boot
It summed up UCLA's lazy 37-10 win over California when Bruins defensive end Cassius Marsh got tossed for throwing a punch late in the first half. Marsh's reputation as a hothead is well known, and he still got baited into losing his cool.
Now Marsh is staring at the possibility of further discipline from the Pac-12 office, and a one-half suspension is possible, an absence UCLA can't afford at Stanford next week.
8. Beavers decide to end the drama early
The Oregon State-Washington State game was set up for another down-to-the-wire finish for the Beavers, but their defense put the kibosh on that with five fourth-quarter takeaways, turning a 31-24 lead into a 52-24 win.
With quarterback Sean Mannion (493 passing yards and four touchdowns with one interception) and wide receivers Brandin Cooks (11 receptions for 137 yards and two touchdowns) still on fire, that kind of opportunistic defense will have the Beavers lurking in the weeds to steal the Pac-12 North.
9. Never doubt the power of chicken and waffles
This looked like a team that wanted to play for its coach, especially on offense. Take away the bubble screens and other horizontal nonsense, and that will happen.
10. Arizona has a long road to bowl eligibility
For all the glowing reports that the Wildcats finally found their passing offense Thursday, I didn't see it.
Quarterback B.J. Denker hit a couple of deep balls against a lousy crop of USC cornerbacks, then piled up numbers against a soft shell in comeback mode. Sure, he finished going 28-of-44 passing with a career-high 363 yards and four touchdowns, but there are still no indications Denker can manage an offense without running back Ka'Deem Carey as the centerpiece.
Factor in struggles in the secondary, and Arizona's path to six wins is murky. They won't beat UCLA or Oregon, while their other five remaining opponents all can and will gladly throw the ball all game long. Rich Rodriguez has a bigger rebuilding project than last season's success indicated.