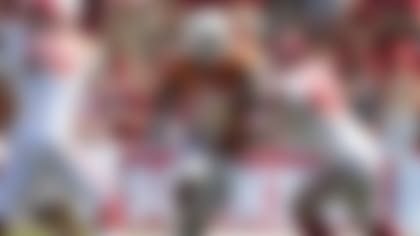 Here are some observations from the Big 12 action on Saturday:
1. The Big 12 remains wide open
Expect this edict to be violated several times between now and Dec. 7, but there is no frontrunner in the Big 12 until the conference championship is claimed. Texas has talent but has shown its limitations. Oklahoma and Oklahoma State each run hot and cold from week to week. Baylor has a prolific offense and opportunistic defense, but its front seven got busted up by Kansas State. TCU has an elite defense, propping up an offense for which mediocrity would be an improvement. Texas Tech is the first team to become bowl eligible but has shown a tendency to play down to its competition these last two weeks.
2. Texas climbs back into relevance
Now this was the Texas everyone, including head coach Mack Brown, expected to see coming into this season, a team capable of competing for a BCS title. That goal went out the window with early embarrassing non-conference losses, but the Big 12 title is now legitimately in play after the Longhorns thumped Oklahoma, 36-20, on Saturday.
All that touted Longhorn talent finally stepped up to knock off the rival Sooners and spare their senior class and Brown an ignominious end. Defensive end Jackson Jeffcoat had two sacks, and slot corner Quandre Diggs had six tackles and a sack. Wide receiver Mike Davis ended a controversial week by catching a 38-yard touchdown. The offensive line paved the way for 255 rushing yards, with 123 from sophomore Johnathan Gray.
Right now, Baylor looks to be the class of the Big 12, but UT is right there with them. Sitting atop the standings undefeated is somewhere UT hasn't been since 2009, so it has been a long time coming.
3. Oklahoma's offensive game plan was atrocious
Texas literally could not stop running quarterbacks when it played BYU, Ole Miss and Kansas State, allowing 364 yards and three touchdowns on 37 carries. So what does OU do with mobile quarterbacks Blake Bell and Trevor Knight at its disposal?
Three quarterback runs, none in the first half. That is coaching malpractice.
And that's not even taking into account the chronic misuse of Trey Millard (seven carries for 32 yards, one reception for 29 yards), wasting away at fullback when he could be a dynamic tight end.
4. Dominique Alexander steps in for Sooners
There weren't many positive takeaways for OU, but the play of freshman linebacker Dominique Alexander was certainly a bright spot. Making his first career start in place of the injured Corey Nelson, Alexander finished with 19 tackles including one tackle for loss, the most for a Sooners defender in five seasons.
A mere three-star recruit, Alexander's development will be crucial for OU given how well Nelson had been playing.
5. Texas Tech keeps rolling along
The Red Raiders held off pesky Iowa State, 42-35, doing so without starting quarterback Baker Mayfield (knee). Tight end Jace Amaro and wide receiver Eric Ward did their usual damage –- combining for 204 receiving yards and one touchdown –- with freshman Davis Webb throwing them the ball in place of Mayfield. Defensive end Kerry Hyder had a team-high nine tackles with 1.5 tackles for loss.
But the biggest development was a rushing attack that saw DeAndre Washington, Sadale Foster and Kenny Williams each break free for 80 or more yards and a score. That threat of balance will be valuable once Texas Tech plays the better teams in the Big 12.
6. TCU's defense continues to give the Horned Frogs a chance
The Horned Frogs turned the ball over five times against Kansas, including an interception that was returned 32 yards for a score, but the TCU defense held strong. The Jayhawks had possessions that started at the TCU 25-, 34-, 27- and 37-yard line and came away with just 10 points.
That proved to be the difference in the 27-17 win, TCU's first in conference play at home since joining the Big 12 last season.
Cornerback Jason Verrett came away with his first interception of the season, and junior linebacker Paul Dawson erupted for 17 tackles with three tackles for loss (one-half sack) and one pass breakup.