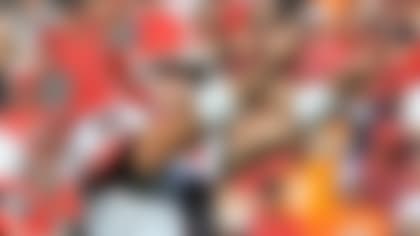 Here are our top takeaways from Week 6 in the SEC:
Georgia quarterback Aaron Murray broke the sort of record on Saturday that's only breakable for a senior, because passing for nearly 12,000 yards in a career is just about impossible for a three-and-out player who leaves school early for the NFL. With the record now his and still half a season ahead, Murray is a good bet to bury that new record awfully deep.
2. "Gurshall" on Gur-shelf
The Georgia running back tandem of Todd Gurley and Keith Marshall, nicknamed "Gurshall," has been beset by injuries in consecutive weeks. Marshall exited Georgia's game with Tennessee in the first quarter with a knee injury and did not return. He was starting in place of Gurley, who sprained an ankle last week against LSU. Gurley traveled with the team, but was not even well enough to warm up before the game. With Gurley and Marshall out, two of the nation's most talented sophomore rushers are sidelined.
In a 45-3 win over a winless Georgia State team wholly unprepared to offer any resistance to the nation's No.1-ranked team, Alabama was not about to take injury chances with star players. Quarterback AJ McCarron's day was done by the middle of the second quarter, having completed 15 of 16 passes. Meanwhile, standout receiver Amari Cooper barely played. Running back T.J. Yeldon sat out the second half, as did several defensive starters.
If you're looking for evidence that college statistics don't mean much to NFL scouts and personnel execs, look no further than Florida cornerback Loucheiz Purifoy. Considered one of the top cornerback prospects in the nation, Purifoy finally got around to making his first career interception Saturday against Arkansas.
If the Gators junior is as good a prospect as the hype suggests, it could be the only interception he ever makes in college without damaging his draft prospects.
The wait is over for Ole Miss fans waiting for Rebels receiver Donte Moncrief to post his first dominant performance of the season. He totaled 122 yards against Auburn on six catches Saturday, scoring a pair of touchdowns in a losing effort. The upshot? One of the most promising receiver prospects in the country needed the breakout game to answer questions about whether his role in the offense had decreased. He did that emphatically Saturday.
The season-long storyline about Jadeveon Clowney's lack of production became a full-on soap opera Saturday, when South Carolina coach Steve Spurrier cast one of his famous verbal barbs Clowney's way. The word "exasperation" comes to mind in assessing Spurrier's tone and inference in the comment: "If he wants to play, we will welcome him to come play with the team if he wants," Spurrier said after Saturday's win.
It might behoove Clowney, by the way, to realize that when NFL clubs ask Spurrier whether the elite draft prospect is a headcase, he needs his college coach to say no.
The trend of unusually high scoring in SEC play this season continued Saturday. There were six intra-league games, and some of the scores looked more fitting for a Pac-12 slate: Georgia 34, Tennessee 31; Auburn 30, Ole Miss 22; LSU 59, Mississippi State 26; Missouri 51, Vanderbilt 28; Florida 30, Arkansas 10; and South Carolina 35, Kentucky 28.
Looking for a common thread? Senior quarterbacks led the four highest point totals among the winners: Aaron Murray (Georgia), Zach Mettenberger (LSU), James Franklin (Missouri), Connor Shaw (South Carolina).
Sacks came in bunches Saturday for the SEC's top pass rushers, starting with Missouri's Michael Sam recording three of them, quite a feat against scramble-happy quarterback Austyn Carta-Samuels of Vanderbilt. Six other SEC players recorded two sacks on the day: Georgia's Ray Drew; Auburn's Dee Ford; Auburn's Carl Lawson; Auburn's Gabe Wright; Mississippi State's Preston Smith; and Missouri's Kony Ealy. The top NFL prospect among those is Ealy, who is having an impressive junior season for the Tigers.
9. Matthews does it again
Vanderbilt WR Jordan Matthews recorded yet another 100-yard receiving day against Missouri with seven catches for 123 yards and a touchdown. The Commodores are halfway through their schedule (3-3), and Matthews has at least 100 yards in five of six games, including all three conference games.