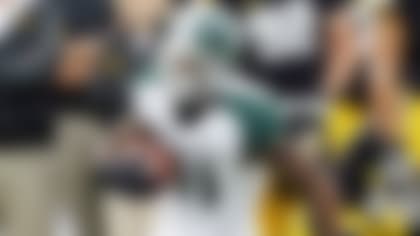 The marquee game in the league is at night (Ohio State at Northwestern), but there were some noteworthy performances elsewhere in the Big Ten. Here's a look.
1. Dennard lives up to billing
Iowa-Michigan State was supposed to be a defensive slugfest, and the Spartans' defense held up its end in a 26-14 victory that spoiled the Hawkeyes' homecoming. Iowa led 14-10 at halftime, but Michigan State clamped down in the second half. Michigan State senior Darqueze Dennard, one of the top five or so corners in the nation, had a huge day; he led the Spartans with eight tackles and had two interceptions. Sophomore DE Shilique Calhoun had three tackles and four quarterback hurries. Iowa came in averaging 244.4 rushing yards per game, but managed just 23 against the Spartans. Iowa senior LBs Anthony Hitchens and James Morris, both potential third-day picks, had 12 tackles each, and Morris also had an interception.
2. Huskers' Abdullah runs wild
Nebraska junior RB Ameer Abdullah had the best game of his career by rushing for 225 yards and two touchdowns on 20 carries in the Huskers' 20-point win over Illinois. It was his fourth 100-yard effort in five games this season and the 10th of his career; his previous career-high had been 167 yards against Arkansas State last season. Abdullah (5-foot-9, 190 pounds) has good speed, can handle a heavy workload, is an excellent kick returner and is a capable receiver. Illinois senior LB Jonathan Brown played well but didn't get any help; he finished with 13 tackles and four tackles for loss. Brown (6-1, 230) has played at a high level all season and the question is how high he will rise on draft boards.
3. Indiana's Latimer stands out
He didn't have as good a game as Penn State counterpart Allen Robinson, but Indiana junior WR Cody Latimer did OK for himself. He had nine receptions for 140 yards as the Hoosiers pounded the Nittany Lions. Latimer (6-3, 215) is gaining more attention as the season progresses and is averaging 17.4 yards per catch on his 28 receptions this season. He is the best player among a deep IU receiving corps.
4. Northwestern loses, but Colter looks good
Northwestern QB Kain Colter (6 feet, 200 pounds) won't play that position in the NFL, but he should get a shot at wide receiver -- specifically, as a slot receiver. As he showed Saturday night in a loss to Ohio State, he is too good a player and too good an athlete not to get a chance. While his passing ability frequently is derided, he was 12 of 12 for 98 yards against the Buckeyes. (As a team, the Wildcats were 25 of 31 for 343 yards, torching what was supposed to be an excellent Buckeyes secondary; it was the second week in a row the Buckeyes' secondary was sliced-and-diced.) Colter also ran for a touchdown and caught a TD pass. He has OK speed (mid 4.5s in the 40-yard dash), is elusive and has the ability to break tackles.
Mike Huguenin can be reached at mike.huguenin@nfl.com. You also can follow him on Twitter @MikeHuguenin.