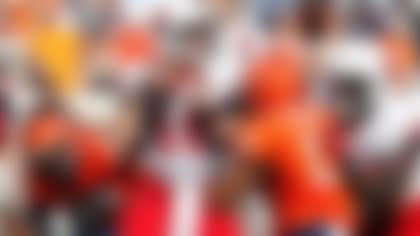 Here are some observations from the games in the ACC on Saturday:
1. Despite sore ankle, Morris has good day
Miami senior QB Stephen Morris was noticeably bothered by a sore ankle, but he still threw for 324 yards and three TDs in a 45-30 victory over Georgia Tech.
The Hurricanes scored three fourth-quarter TDs, including an interception return for a score, to put away the Jackets, whose final TD came with 10 seconds left.
Morris has been criticized this season for his lackluster play and not using his strong arm enough, and he did throw two interceptions Saturday. But despite being limited in the pocket by his sore ankle, he had his best game of the season throwing the ball against a veteran Tech secondary. Morris is unlikely to be a first-round pick, but with more games like Saturday's he has a shot at going as early as the second round.
Tech led, 17-7, after the first quarter before UM's defense stiffened. Junior LB Denzel Perryman led UM with 11 tackles, and senior DE Shayon Green had nine tackles. Green is not a pass rusher but could get drafted on the third day because of his prowess against the run.
Miami was without senior starting OT Seantrel Henderson (6-feet-8, 345 pounds), who was suspended. He has been suspended at least once in each of the past three seasons. Henderson has a ton of talent, but he never has played consistently or with any sustained focus. He will be one of the biggest buyer-beware talents in the 2014 draft.
Lost in the shuffle of the Jameis Winston-led 63-0 rout of Maryland was the play of Florida State's defense. The Terps came in averaging 498.5 yards and 39.8 points per game but managed just 234 yards against the Seminoles, including only 33 on the ground. FSU allowed a 39-yard pass to Deon Long, but no Maryland run was longer than 7 yards. The Terps punted 11 times; they had punted 16 times in their four previous games. FSU had seven tackles for loss but was effective because it seemingly won every up-front battle. No FSU player had more than five tackles, but 21 Seminoles had at least one stop.
3. Hokies' secondary gets two more picks
Virginia Tech went into the weekend tied for the national lead with 11 interceptions and added two more against North Carolina backup QB Marquise Williams. Starter Bryn Renner missed the game with a foot injury. Hokies CB Kyle Fuller, one of the nation's top 10 senior cornerbacks, is playing at a high level this fall and had a pick, a pass breakup and six tackles against the Tar Heels. Strong safety Kyshoen Jarrett had a pick, a breakup and 11 tackles. Freshmen cornerbacks Kendall Fuller and Brandon Facyson had a breakup each, though Fuller was beaten by UNC TE Eric Ebron on a TD pass. Fuller had excellent coverage, but Ebron -- arguably the nation's best tight end -- just outjumped him for the ball.
4. Ball State's Wenning continues to impress
Ball State senior QB Keith Wenning threw for 300 yards for the sixth time this season as the Cardinals (5-1) blasted host Virginia 48-27. Wenning was 23 of 41 for 346 yards and two TDs, and had two wide receivers, sophomore Jordan Williams (nine receptions, 159 yards, a TD) and junior Willie Snead (six receptions, 104 yards, a TD), reach the 100-yard plateau on a solid Virginia secondary. Wenning (6-3, 220) has a strong arm and is moving himself into third-day draft status with his performance this season. He has thrown for 1,996 yards and 11 TDs, and is completing 62.7 percent of his passes. Virginia dropped to 2-3, and coach Mike London's job status is tenuous, to be sure. The Cavs had four turnovers and committed 13 penalties. Ball State had zero turnovers and just one penalty.
5. Big game for BC's Williams
Boston College senior tailback Andre Williams ran for 263 yards and five TDs on 30 carries as the Eagles downed Army 48-27. It was the second-best single-game rushing performance by any FBS player this season, behind the 291 yards by New Mexico's Kasey Carrier against UTEP. It was the second 200-yard performance by Williams this season, who ran for 204 against Wake Forest on Sept. 6. Williams (6 feet, 227 pounds) lacks breakaway speed, but he has some quickness and toughness and could be a third-day draft pick.
6. Another big game for Campanaro
Wake Forest senior WR Michael Campanaro had double-digit catches for the second time this season, and the fifth time in his career, in the Demon Deacons' surprisingly easy 28-13 victory over North Carolina State. Campanaro had 12 receptions for 153 yards and two TDs; he had 16 catches in a loss to Louisiana-Monroe on Sept. 14. That gives him 44 catches on the season and makes him look more and more like a lock as a third-day pick in the draft.
Mike Huguenin can be reached at mike.huguenin@nfl.com. You also can follow him on Twitter @MikeHuguenin.