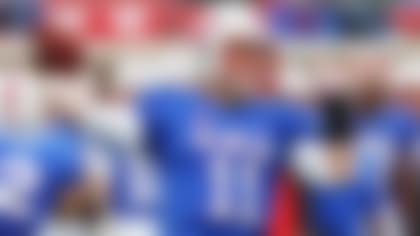 There were some big performances by AAC quarterbacks Saturday. Here are some observations from the day in the league.
1. Gilbert's big day goes for naught
SMU senior QB Garrett Gilbert had the best game of his checkered career, but it wasn't enough as Rutgers beat the Mustangs 55-52 in triple overtime. Gilbert was 45 of 70 for 484 yards, five touchdowns and zero interceptions against Rutgers' overmatched secondary. Gilbert (6-foot-4, 223 pounds), who began his career at Texas, always has had good physical tools, but too often he makes bad decisions under pressure. Saturday, he generally had time to throw and looked good. The question is whether that will carry over; if it does, he has a chance to be a third-day NFL Draft pick. SMU senior WR Jeremy Johnson (6-0, 179) had 18 receptions for 217 yards and three TDs; the 18 catches are the most by any FBS player in a single game this season, and the yardage total is the third-highest. Rutgers' Gary Nova threw for 283 yards and four TDs.
2. Field goals instead of TDs
Perhaps the only negative from Louisville's workmanlike takedown of Temple was that the Cardinals left some points on the field. Teddy Bridgewater threw for 348 yards and two TDs, and John Wallace kicked three field goals for the Cardinals, making him 9-of-10 for the season. But the field goals came from 22, 20 and 25 yards; that's three red-zone possessions that netted nine points instead of 21. And given Temple's relative strength, 21 points should've been expected on those drives. Six of Wallace's nine field goals this season have come from between 20 and 29 yards, which has to irk Louisville coach Charlie Strong and offensive coordinator Shawn Watson.
3. Bortles struggles, but UCF still wins
UCF junior QB Blake Bortles had his worst game of the season, but the Knights' defense came through in a 24-17 win at Memphis in the league opener for both. UCF scored two touchdowns in nine seconds late in the game to escape with the win. Bortles was 17 of 36 for 160 yards and UCF managed just 270 total yards, but the Knights forced four turnovers. One of the turnovers was a fumble returned 12 yards for a score with 1:56 left that gave UCF the lead. UCF LB Terrence Plummer had two end-zone interceptions, including one in the final seconds. Bortles didn't throw a touchdown pass, ending a streak of 12 consecutive games with at least one scoring toss.
4. USF breaks into win column
USF won its first game of the season, downing conference foe Cincinnati 26-20 in a game that might say more about Cincinnati than the Bulls. USF lost its starting quarterback and its starting tailback to early injuries, and managed just 241 yards of offense and 12 first downs. But the Bulls forced four turnovers and scored on a fumble return; USF also scored on a return of a blocked field goal. The Bulls' other points came on four field goals. There was an Aaron Lynch sighting, though. The Bulls' highly touted sophomore defensive end had two tackles for loss, giving him 2.5 tackles for loss this season. Cincy's offense hasn't been the same since starting QB Munchie Legaux was lost for the season in Game 2.
Mike Huguenin can be reached at mike.huguenin@nfl.com. You also can follow him on Twitter @MikeHuguenin.