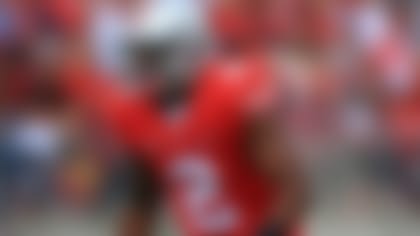 It was a light day in the Big Ten, with only four games involving league teams.
Here are some observations from the limited action.
1. No worries in Miller's return
Concerns about Ohio State QB Braxton Miller having to shake off the rust after missing nearly all of the past three games with a knee injury were put to rest with his fine showing in the Buckeyes' win over Wisconsin.
After a week during which people wondered how Urban Meyer should employ backup QB Kenny Guiton, who shined at times while playing in place of Miller, the returning starter completed 17 of 25 passes for 198 yards and four touchdowns with no interceptions. Miller also ran for 83 yards on a team-high 22 carries.
After missing so much time, Miller's Heisman hopes might be dashed. But at 5-0, Ohio State's dreams of a Big Ten title -- and more -- remain very much alive.
2. Buckeyes lose starting safety
Ohio State's big win over Wisconsin came at a big price: Buckeyes senior FS Christian Bryant suffered a broken ankle and will miss the rest of the season, coach Urban Meyer announced during his postgame news conference.
Bryant teamed with C.J. Barnett to give the Buckeyes one of the nation's best duos at safety. Bryant (5-foot-10, 192 pounds), one of a long line of Buckeyes who played at prep powerhouse Cleveland Glenville, was starting for the third season. Bryant was a physical presence whose ability in run support will be missed.
The Buckeyes' defense did yeoman's work to stifle Wisconsin's rushing attack Saturday. The Badgers came in averaging 349.8 rushing yards per game but managed just 104 against the Buckeyes. Junior LB Ryan Shazier (6-2, 230) had nine tackles, 2.5 tackles for loss, a forced fumble and a quarterback hurry, and lived up to his billing as perhaps the nation's best linebacker.
3. Lynch, Northern Illinois romp
Northern Illinois is 2-0 vs. the Big Ten this season after whipping Purdue, 55-24. The Huskies, of course, aren't in the Big Ten, but they became the first team in MAC history with two wins over Big Ten competition in one regular season -- NIU opened with a victory over Iowa. That game was close, but Saturday's was not. NIU senior QB Jordan Lynch showed off his dual-threat skills, passing for 207 yards and three TDs and rushing for 37 yards and another score. Lynch was 18 of 25, and each of his TD passes came in the first half. NIU's best pro prospect is senior SS Jimmie Ward (5-foot-11, 192 pounds), and he had a 62-yard interception return for a TD.
4. Getting an 'A' on the test
Saturday was a big test for Iowa's starting linebackers, and the senior trio was able to get the job done. Outside 'backer Anthony Hitchens (6-1, 233) is the best pro prospect among the three, and he had the best performance in a 23-7 win at Minnesota. He had a team-high 10 tackles and helped stymie what had been a productive Golden Gophers rushing attack. Minnesota came in with 16 rushing touchdowns, second-most nationally, and averaging 282.2 rushing yards per game. Saturday, the Golden Gophers managed only 30 rushing yards (on 27 carries) and their only score came via the pass. Middle linebacker James Morris (6-2, 240) also played at a high level, with eight tackles, a sack and an interception. And the other outside 'backer, Christian Kirksey (6-2, 235), had five stops and a pick. Iowa outgained Minnesota 464-165.
5. Scheelhaase again stars vs. overmatched foe
Illinois senior QB Nathan Scheelhaase threw four TD passes last season and 13 in 2011. He already has 12 this season through four games after tossing five in the Illini's 50-14 thrashing of Miami (Ohio). All five came in the first half, which ended with Illinois leading 36-0. Scheelhaase finished 19 of 24 for 278 yards, and he also threw a pick, his third of the season. Thing is, in the one game this season against a legitimate foe (Week 3 vs. Washington), Scheelhaase was 10 of 26 for 191 yards, a TD and a pick. Saturday's game was the last non-conference contest for the Illini. The opposing defenses will be closer in quality to Washington's than to Miami's, and Scheelhaase is going to have to raise his game if he wants to be a third-day draft pick.
Mike Huguenin can be reached at mike.huguenin@nfl.com. You also can follow him on Twitter @MikeHuguenin.