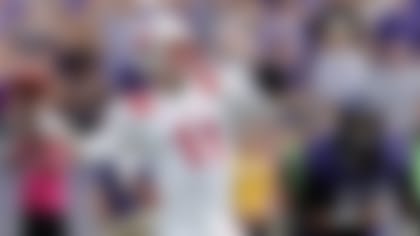 The American Athletic Conference could have gained some much-needed respect had UCF upset visiting South Carolina on Saturday, but while Knights quarterback Blake Bortles played well, his team fell short.
Here are some observations from the AAC action on Saturday:
1. Despite loss, UCF a contender
The likes of Bortles -- who played well aside from a couple of key errors Saturday -- tailback Storm Johnson and defensive tackle E.J. Dunston mean the Knights should be the main challenger to Louisville for the league title and the resultant BCS berth. UCF is at Memphis next week -- Memphis' defense could pose some problems, but its offense will not -- then has a week off before traveling to Louisville on Oct. 18. It would help UCF's cause if a true go-to receiver emerges, but it doesn't appear as if that will happen. Still, UCF, which won at Penn State earlier this month, is talented, and Bortles' presence means the Knights will challenge Louisville.
2. Linebackers show off for scouts
The standout linebackers in the Buffalo-Connecticut game lived up to billing. Unfortunately for UConn junior ILB Yawin Smallwood (6-4, 232), who had 12 tackles, it wasn't nearly enough as Buffalo romped, 41-12. Buffalo senior OLB Khalil Mack (6-3, 248) had a sack, giving him 3.5 this season, and eight tackles. Mack is considered one of the top three linebackers in the nation and is in the first round of most mock drafts. Smallwood is seen as a potential first-rounder should he decide to come out after this season. Buffalo forced four turnovers in pounding UConn, which almost upset Michigan last week.
3. Gilbert, SMU falter in second half
For one half, senior QB Garrett Gilbert and SMU played well against TCU. Alas, it's a four-quarter game, and the second half was all TCU in a 48-17 rout. SMU led 10-7 at halftime, thanks to steady play from Gilbert. But while Gilbert (6-foot-4, 223 pounds) has the needed physical tools, he never has seemed to put it all together. That showed again Saturday: He threw four picks and completed barely 50 percent of his passes. Gilbert, who began his career at Texas, also received little help from his rushing attack, which managed only 16 yards.
4. Greenberry continues to gain attention
Another game, another big performance from Houston's Deontay Greenberry (6-3, 198), one of the best sophomore wide receivers in the nation. Greenberry had nine receptions for 149 yards and a TD in the Cougars' 59-28 win at Texas-San Antonio. Houston scored four TDs in the fourth quarter to finally put away the pesky Roadrunners. Houston true freshman QB John O'Korn, making just his second college start, threw for 312 yards and four TDs. Greenberry was a consensus national top-50 recruit in the 2012 signing class who reneged on his commitment to Notre Dame and instead signed with the Cougars. Greenberry, from Fresno, Calif., is living up to the hype. Through four games, he has 35 receptions for 530 yards (15.1 yards per catch) and three TDs. The best news for O'Korn and Greenberry: They won't see a top-flight secondary until November.
5. Hard to be bullish on USF
The lone bright spot for a bad USF team this season has been senior tailback Marcus Shaw (5-9, 178). He ran for 127 yards and a TD on 20 carries in a 49-21 loss to Miami (Fla.) that was far more lopsided than the final score indicates. Shaw has rushed for 525 yards for the Bulls, who have scored only five offensive touchdowns in four games. Shaw has good speed but seems a longshot to be drafted on even the third day. One USF player who was high on some draft boards heading into the season, sophomore DE Aaron Lynch, played extensively as a true freshman at Notre Dame in 2011, then transferred to USF to be closer to his hometown of Fort Myers. He sat out last season and a lot was expected this fall. Alas, while he has excellent speed and a big wingspan, he has done nothing this season. He had two tackles Saturday, giving him eight this season, along with 0.5 tackles for loss and a quarterback hurry.
Mike Huguenin can be reached at mike.huguenin@nfl.com. You also can follow him on Twitter @MikeHuguenin.