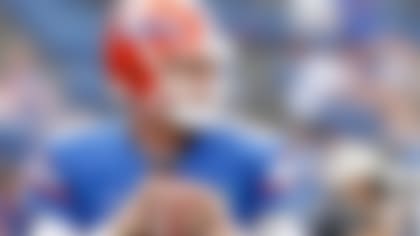 Here are our observations from Week 4 in the SEC:
The biggest injury of the day was to Florida quarterback Jeff Driskel, who fractured the fibula in his right leg and was lost for the season on an interception that was returned for a touchdown by Tennessee. Driskel, whose health already was a question mark during the practice week, was on crutches for the balance of the game while Tyler Murphy saw the first significant action of his career.
But with backup Tyler Murphy looking more effective than Driskel has been this season, UF fans can maintain high hopes -- for now.
2. Finally, a Bulldog pick
How young is Georgia's secondary this season? Consider that the Bulldogs didn't get their first interception as a team until Saturday's win over North Texas, and it took a freshman to do it. Safety Tray Matthews reeled in the Bulldogs' first pick of the season on an errant throw near the UGA goal line.
3. Matthews misses 100, still has good day
He made his 20th career touchdown catch against UMass, and it was his eighth touchdown catch in his last nine games. Are the Jacksonville Jaguars -- largely bereft of receiving talent -- listening?
4. Two-way threat ... sort of?
Florida teased fans a bit Saturday when cornerback Loucheiz Purifoy started the game on offense.
Purifoy took a handoff 15 yards on Florida's opening play around left end, but that was his only touch of the game.
He practiced extensively on offense at the beginning of fall camp and it appeared the highly regarded pro prospect would be used to bolster the UF offense this season, but he's remained on the defensive side of the ball until Saturday.
At least until Saturday's first play.
5. Alabama changes up secondary
We certainly learned that Nick Saban isn't afraid to shake up his cornerbacks. A week after Texas A&M's Mike Evans torched Alabama's corners for 279 receiving yards on seven receptions, Alabama started a completely different look in the secondary against Colorado State on Saturday. Part of that was due to injury -- senior starter Deion Belue, who defended Evans more effectively than anyone, was out with an injury. But true freshman Eddie Jackson and reserve Bradley Sylve made their first career starts against the Rams. Geno Smith also saw his first action of the season.
6. Another SEC targeting penalty
Chalk up another targeting foul by an SEC defensive back, this one cost Florida's Brian Poole an ejection from the Tennessee game plus a one-half suspension for UF's game at Kentucky next week. See that play here.
Arkansas' road loss to Rutgers was no fault of cornerback Tevin Mitchel. The junior made a nice break on a Rutgers pass for an interception that he returned for a touchdown in the first half. He also broke up two other passes and made seven tackles on the day.
8. Triple threat times two
It's rare enough that a player picks up a touchdown rushing, passing and receiving in the same game. But how rare is it for two teammates to each accomplish the feat on the same night? Completely unheard of. But that's the production Mississippi State got from Dak Prescott and Jameon Lewis in a thrashing of Troy on Saturday. Go ahead and mark that down in the "things you'll never see again" category.
Johnny Manziel did his thing Saturday. And SMU watched him do it. The upshot? He's now played about 12 quarters this season and is already on the brink of 1,500 yards of total offense.
10. Cooper rests injured toe
One of the brightest stars on the Alabama roster sat out Saturday's game against Colorado State with a toe sprain. Wide receiver Amari Cooper, hero of last year's epic SEC title win over Georgia, watched from the sideline along with several other UA regulars nursing injuries.
If you got three guesses at the SEC's sack leader through Week 4, who would you go with? South Carolina's Jadeveon Clowney? Alabama's Adrian Hubbard? LSU's Anthony Johnson? Strike three. Try Chris Smith from Arkansas. After picking up a sack against Rutgers Saturday, the senior now has 5.5 for the year. He had 9.5 sacks in 12 starts a season ago.
Wondering why Missouri defensive tackle Kony Ealy was projected as a possible third-round draft pick by the NFL Draft Advisory Board had he come out early last year? Because of athleticism like this: