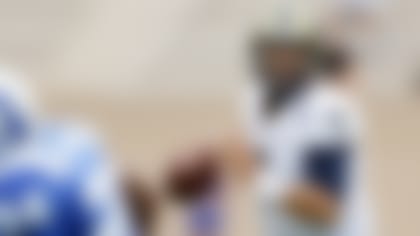 Here are some observations from Saturday's ACC action:
Duke coach David Cutcliffe always has appreciated a quarterback who can throw the ball. Unfortunately for Cutcliffe, he saw Pitt senior quarterback Tom Savage have the game of his life on Saturday.
Savage (6-foot-5, 230 pounds) threw for a career-high 424 yards and tied an ACC record with six touchdown passes as Pitt held on for a wild 58-55 victory over the Blue Devils.
Duke's Brandon Connette threw for 323 yards and four TDs, but he also tossed four picks -- Savage didn't throw any -- and two of Connette's touchdowns came after Pitt had built a 23-point lead late in the third quarter.
Savage, who began his career at Rutgers before a one-year stop at Arizona, always has had a big, pro-style arm. But he generally has wavered in the face of pressure and not played well against good opponents -- like in the opener against Florida State. He was sacked twice Saturday but still was able to torch a weak Duke secondary.
The constants on Pitt's offense are its wide receivers. Senior Devin Street (six receptions, 166 yards, two TDs) and true freshman Tyler Boyd (eight catches, 154 yards, three TDs) were the beneficiaries of Savage's largesse Saturday. Boyd (6-2, 185) became the first freshman at Pitt to have two 100-yard games in the same season since Antonio Bryant in 1999. He has been a revelation -- he has good speed and has shown route-running ability beyond that of a typical freshman.
In addition, another big game was turned in by true freshman running back James Conner (6-2, 230), a bruiser who rumbled for 173 yards and a TD on 26 carries.
Pitt's defense, which was supposed to be its strength, struggled again and that should be a concern. "We need to be better at closing out games," Panthers coach Paul Chryst said.
But if a young Pitt offensive line can keep Savage upright, Pitt has the offensive personnel to pull an upset or two.
2. Heels' offense bogs down again
North Carolina's offense was supposed to allow the Tar Heels to compete for the Coastal Division crown. Well, in two games against foes with a pulse, that offense hasn't done much. The Heels scored 20 points in the first half Saturday at Georgia Tech, but were held scoreless in the second half and lost 28-20. Senior QB Bryn Renner was just 14 of 29, for 218 yards, two TDs and a pick. Junior TE Eric Ebron had a huge first half (five catches for 95 yards and a TD) but disappeared in the second (one catch, for 13 yards). Sophomore WR Quinshad Davis -- you know, the guy coach Larry Fedora said could have a 100-catch season -- had two catches and now has only eight on the season. Renner has been knocked for his lack of production against high-level defenses, but no one is going to confuse Tech with a high-level defense. Renner does seem to struggle against defenses that have good athletes, especially ones that can get in his face. For UNC to challenge for the division, the offense is going to have to carry the defense. Can that happen? Tech ran 83 plays Saturday, to 53 for UNC's fast-paced attack.
Wake Forest senior WR Michael Campanaro had another big day, catching four passes for 91 yards and a TD as the Demon Deacons downed Army, 25-11. Campanaro's TD reception came on a 66-yard pass late in the first half. Campanaro should have had a solid day against Army's secondary, and did just that. He now has 25 receptions for 354 yards and two touchdowns in three games (he missed the opener with an injury). Campanaro looks to be a third-day draft pick; he is not a burner, but he has good quickness and can play in the slot and also line up wide and be effective.
4. Defense does job for Terps
Maryland's defense led the way as the Terps routed West Virginia, 37-0. It was the fourth consecutive solid performance by the unit, which was a giant question entering the season. Sophomore WR Stefon Diggs had only two catches, the Terps ran for only 113 yards, one TD came on an interception return and Maryland kicked three field goals. But the Terps never really were challenged by a WVU offense that managed just 175 total yards and six first downs -- which also is the number of turnovers WVU committed. Maryland was playing two backup corners because of injuries, but still came up with two picks. The Terps had eight tackles for loss, and once again, a unit lacking in individual stars with CBs Dexter McDougle and Jeremiah Johnson out with injuries came together and played well.
Mike Huguenin can be reached at mike.huguenin@nfl.com. You also can follow him on Twitter @MikeHuguenin.