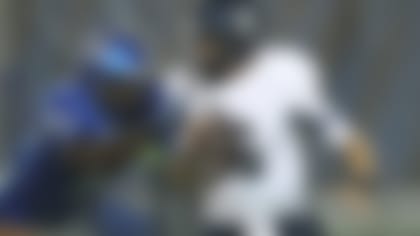 Here are our observations from Week Four of the AAC:
Louisville QB Teddy Bridgewater was at it again on Saturday, making easy work of an overwhelmed opponent. His victim this time was Florida International. Bridgewater threw for 212 yards and four touchdowns in a 72-0 win ... yawn.
Bridgewater became the first FBS quarterback to throw four TD passes in three games, but don't get lost in his gaudy numbers. Louisville's schedule is never going to be very challenging, and it could actually be a detriment to the team as it tries to make a case as a national-title contender. It will also be taken into consideration when it's time to consider Bridgewater's Heisman Trophy credentials.
2. Huge production in losing effort
A Connecticut defense led by stud junior LB Yawin Smallwood (6-foot-4, 236 pounds) did its job, forcing four turnovers and holding Michigan to 289 yards. But the Huskies' anemic offense didn't provide any help and the Wolverines rallied for a 24-21 victory. Smallwood, one of the top inside linebackers in the nation, was magnificent and showed off his wide variety of skills against a big Michigan offensive line. He led the Huskies with 13 tackles and added a sack, two tackles for loss, a forced fumble and a pass breakup. Smallwood has 43 tackles in three games.
3. Greenberry not so green anymore
Houston sophomore Deontay Greenberry continued to show why he is one of the best young wide receivers in the nation.
Greenberry (6-foot-3, 198 pounds) was a consensus national top-50 recruit in the 2012 signing class who unexpectedly spurned Notre Dame and instead signed with the Cougars. Greenberry, from Fresno, Calif., began to live up to the hype -- and his immense potential -- last fall, leading all Conference USA freshmen with 47 receptions (good for 569 yards and three TDs).
Saturday, in a 31-26 victory over crosstown rival Rice, Greenberry had six receptions for 146 yards and a TD. The score came on a 28-yard pass from true freshman John O'Korn, and that duo also hooked up on a 61-yarder.
Greenberry now has 26 receptions for 381 yards (14.7 yards per catch) and two touchdowns. He has good size, speed and hands, and also is becoming adept at using his size to overpower smaller corners.
O'Korn (6-4, 205) was making his first college start, and while he was just 15 of 33, he threw for 281 yards and three TDs and guided the Cougars to 494 total yards. O'Korn is a guy to watch the rest of the season. He has a higher upside than injured starter David Piland and the Cougars' coaches aren't afraid to have him throw it around.
4. Rutgers' 'other' receivers come through
With Arkansas' defense focused on making sure Rutgers WR Brandon Coleman didn't make any big plays, the Hogs forgot about sophomore WR Leonte Carroo (five catches, 80 yards, two TDs) and junior TE Tyler Kroft (six receptions, 133 yards, one TD); Kroft had eight career catches going into the game. Carroo's TD catches came in the fourth quarter and helped Rutgers rally from a 24-7 deficit to win 28-24. Coleman (6-6, 220), one of the best junior receivers in the nation, had one catch for 25 yards. True freshman WR Janarion Grant also made an impact; he didn't have a reception, but he did return a punt for a touchdown. Earlier this season, he returned a kickoff for a TD at Fresno State on the first touch of his college career. Grant is on the small side (5-11, 170), but he is extremely quick and obviously is a weapon as a return man.
5. Ifedi stars for Memphis
Junior DE Martin Ifedi (6-3, 265) was a one-man wrecking crew for Memphis in a 31-7 win over Arkansas State. Ifedi is one of the more underrated ends nationally, and he had 10 tackles, 4.5 tackles for loss and 2.5 sacks for the Tigers. The Tigers' other end, Terry Redden, added two sacks and Memphis finished with seven. After playing defensive tackle as a redshirt freshman in 2011, Ifedi moved to end last season and led the Tigers with 7.5 sacks and 11 tackles for loss. He has 5.5 and nine, respectively, this season.
Mike Huguenin can be reached at mike.huguenin@nfl.com. You also can follow him on Twitter @MikeHuguenin.