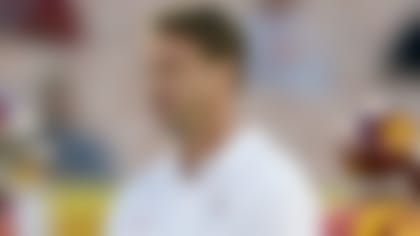 Here's what we learned from Saturday's Pac-12 action:
1. USC will have a new coach in 2014
Lane Kiffin is done. Even if he wins every game the rest of this season -- a laughable notion considering how the Trojan quarterbacks have played so far -- Kiffin has lost the fan base, and, from reports of how quickly and angrily they exited the Coliseum, the players.
Whoever replaces Kiffin will inherit quite a bit of talent, but must deal with one more year of scholarship reductions. He will be in the middle of a recruiting hotbed, but must deal with the inroads Pac-12 foes and national powers have made in Los Angeles.
2. And if you need any additional evidence...
Marqise Lee had 10 touches on offense that gained a total of 24 yards.
That's what happens when a coach dials up an endless string of bubble screens instead of attacking vertically or even crossing routes that allow one of the top five athletes in college football to do what he can do.
Kevin Hogan had two fantastic security blankets last season in running back Stepfan Taylor and tight end Zach Ertz. When in doubt, hand it off or dump it off to Taylor or toss it up for Ertz.
With those two preparing to start their rookie seasons, the pressure was on Hogan to carry the Stanford passing offense while a reconfigured group of receivers and tight ends got up to speed, and the redshirt sophomore more than delivered against San Jose State in the Cardinal's season opener.
Hogan threw for 207 yards and two touchdowns, not flashy but efficient and effective. Paired with 169 yards and two touchdowns from running backs Tyler Gaffney and Anthony Wilkerson, Stanford bludgeoned San Jose State and will only get better.
While the focus is always on the Oregon offense, and rightfully so, the Ducks' defense and special teams came up huge against Virginia. Josh Huff blocked a punt leading to a short field and score, followed by a Terrance Mitchell pick on the Cavaliers' next possession to set up another touchdown for a 21-0 first-quarter lead.
Despite being on the field for nearly 40 minutes, Oregon allowed only 298 yards of total offense. Sophomore defensive end Arik Armstead is quickly developing into a player worthy of his billing as the top recruit in the Class of 2012, while the linebackers are gelling without Buffalo Bills second-round pick Kiko Alonso.
5. Questions remain about Utah's running game
If you can nitpick the Utes' 2-0 start, it would be the lack of a consistent running game. Kelvin York tops the depth chart, but he has totaled only 53 yards on 14 carries this season. Backups James Poole and Karl Williams haven't fared much better.
While quarterback Travis Wilson has been stellar both throwing and running (264 passing yards and three touchdowns, 93 rushing yards and two touchdowns in a 70-7 demolition of Weber State on Saturday), Utah can't afford to make the sophomore the entire offense in the crucible of Pac-12 play. That might entail tweaking the kinds of runs Dennis Erickson is calling or perhaps changing the rotation entirely. Redshirt junior Lucky Radley rolled up 111 yards and two touchdowns on 13 carries in the second half with the game already decided.
6. Grice and Foster give Arizona State options
The Sun Devils didn't have to do much or show much in Thursday night's glorified scrimmage against Sacramento State, but running backs Marion Grice and D.J. Foster did see quite a bit of time on the field together.
Grice caught a lovely post route from the slot for a touchdown, finishing with 65 receiving yards on four receptions. The sophomore Foster had four grabs for 29 yards.
But the tricky stuff that Arizona State can do with both of them out there at the same time -- jet sweeps, motioning into the backfield for triple-option looks and the like -- will be unveiled during the four-game gauntlet that begins next week with a visit from Wisconsin.
7. You wouldn't like him when he's angry
After serving a one-game suspension last week, Arizona running back Ka'Deem Carey did his best impression of The Hulk, erupting for a 59-yard touchdown on his first carry of the season and finishing with 171 yards and two scores on 16 touches.
8. Richardson the real deal
As long as Lane Kiffin keeps mishandling his USC offense, the title of best receiver in the Pac-12 belongs to Colorado's Paul Richardson. Richardson delivered his third career 200-yard performance and second in as many weeks, with 11 catches for 209 yards and two touchdowns in a 38-24 win over a pesky bunch from Central Arkansas.
The light seems to have come on for Oregon State quarterback Sean Mannion, who has thrown for 794 yards and seven touchdowns against one interception through two games. His accuracy is up by leaps and bounds, and he seems to be avoiding the mind-bogglingly bad throws that previously haunted him. Head coach Mike Riley knows signal-callers, sending Derek Anderson and Matt Moore to the NFL, and his decision to tap Mannion this season is certainly looking like a good one.
10. Memorial Stadium shootouts
Cal quarterback Jared Goff topped 450 passing yards for the second consecutive week (485 yards, two touchdowns against Portland State on Saturday), and the true freshman is going to keep putting up enormous numbers because the Golden Bears can't stop anyone on defense.
Their next two opponents are Ohio State and Oregon, by the way.