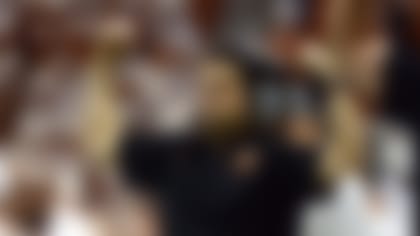 Here's what we learned from Saturday's Big 12 action:
At least there was an excuse for last season's atrocious play, with defensive end Jackson Jeffcoat and linebacker Jordan Hicks sidelined by injuries for most of the year. This time around Texas had those two in the lineup, spent an entire off-season working against an up-tempo offense every day in practice and added another touted recruiting class. And they looked worse, 1,000 times worse.
Embattled defensive coordinator Manny Diaz was already on the chopping block, but this could mark the beginning of the end for head coach Mack Brown. Since winning the BCS championship in the 2006 Rose Bowl and returning to Pasadena for the 2010 BCS championship game, Texas has absolutely fallen apart, simply inexcusable for a program with its history, recruiting base and resources.
The knock on Texas players entering the NFL Draft has been they are entitled, a nicer way of saying soft. It certainly looked that way.
Alternate history is a fascinating genre of fiction, and Texas offensive coordinator Major Applewhite could write one heck of a book based on what he did and didn't do early on.
In an effort to manufacture early touches for all-purpose threat Daje Johnson, Applewhite gave the sophomore RB/WR the ball on a 3rd-and-2 on Texas' first possession rather than Malcolm Brown, Johnathan Gray or Joe Bergeron. Johnson got stuffed for no gain and got hurt, missing the rest of the debacle and allowing BYU to focus its secondary on wide receiver Mike Davis.
Davis caught eight balls for 114 yards and two scores, but was a non-factor once Texas needed him because of that defensive attention.
Could Johnson have made a difference? Could an early third-down conversion have made a difference? Those are questions Applewhite will be asking again and again during that long, quiet trip back to Austin.
Trevor Knight's versatility as a dual-threat quarterback was supposed to make the Oklahoma offense more explosive and unpredictable. Instead, the redshirt freshman has proven to be wildly erratic as a passer, putting the stress on the Sooners' ground game.
They delivered against West Virginia in the Big 12 opener on Saturday, with running back Brennan Clay accounting for 170 of OU's 323 rushing yards in the ugly 16-7 win. Head coach Bob Stoops was content to rely on his improved defense and put the onus on WVU to make the big play.
But that won't work against Oklahoma State and Baylor, which have explosive offenses directed by young quarterbacks that will only get better as the season goes along. Knight clearly trusts his legs (seven carries for 49 yards), but does not understand the nuances of defenses and made two careless throws that were intercepted. Knight or backup Blake Bell, who came into the game but attempted only one pass and ran twice, needs to be at least competent for OU to contend for the conference championship.
Oklahoma's play-calling at least had logic behind it, with 57 runs against 20 passes. Head coach Dana Holgorsen's approach with West Virginia, even when put into catch-up mode, made absolutely no sense.
Running back Charles Sims had only 11 carries, but averaged a solid 5.2 yards per carry, one of four Mountaineer ball carriers to average at least five yards per rush. Holgorsen couldn't even manufacture touches in the screen game for the versatile transfer from Houston, with Sims catching only two passes.
With quarterback Paul Millard struggling and backup Clint Trickett clearly not ready to take over, Holgorsen needs to embrace his inner "three yards and a cloud of dust." He should rely on Sims and that stable of backs even when the box is loaded with defenders.
TCU had made its pick at quarterback, it seemed. Casey Pachall would be the man. Trevone Boykin would be available to change things up with his mobility when he wasn't seeing time as a slot receiver in the Horned Frogs' home opener against Southeastern Louisiana. But that plan was torn up when Pachall suffered a left forearm injury that will sideline the redshirt senior for Thursday's Big 12 opener against Texas Tech, head coach Gary Patterson announced after the game. The injury will likely cost Pachall more than the Tech game.
Boykin has experience, having started nine games last season, and looked solid in relief, completing 9-of-13 passes for 133 yards and two touchdowns and rushing for 35 yards. With the TCU defense looking less than vintage through its first six quarters this season -- though it did perk up once sophomore defensive end Devonte Fields entered the game in the third quarter -- Boykin will have to be more than a game manager for the Frogs to be a factor in the conference race.
6. Walsh comes out firing
With barely one regular season of college action under his belt, Oklahoma State quarterback J.W. Walsh is starting to put together quite the resume. He was the Big 12 Offensive Freshman of the Year last season, posting the fourth-best passing efficiency mark in the FBS and fourth-best by a freshman ever. His 125 rushing yards last week were most in the conference, and now Walsh can add the Cowboys' single-game completion percentage record.
Through two games, the Baylor offense has been as impressive as ever. In a 70-13 thumping of Buffalo, the Bears put up 30 more points and 321 yards than Ohio State did against the Bulls the week before.
The one glaring concern would be the Baylor secondary, which was sliced and diced by wide receiver Alex Neutz. Neutz finished with six receptions for 197 yards and one touchdown, with three grabs for 117 yards in the first quarter.
Baylor's back-loaded schedule gives it time to work through the kinks, but poor pass coverage could sink any Big 12 title aspirations in an always pass-happy conference.
Texas Tech walk-on freshman quarterback Baker Mayfield stopped being a human-interest story after about one quarter of his debut and is now a legitimate player to watch. Mayfield threw for 367 yards, three touchdowns and no interceptions in one half against Stephen F. Austin and can solidify his credentials against TCU in next week's conference opener.
9. Competent is more than enough
Quarterback Jake Heaps' stat line wasn't much -- 10-of-20 passing for 110 yards and one touchdown -- but for Kansas, it was exactly what was needed. The BYU transfer didn't turn the ball over and found a Jayhawk wide receiver in the end zone for the first time since Oct. 2011. If Heaps avoids mistakes and presents even a remote threat of a passing game to take even one defender out of the box, running back James Sims (94 rushing yards, two touchdowns) has shown he can run the ball under any circumstances and will be even more effective.
10. 'Cats clawing for rushing yards
Kansas State bounced back from its opening week debacle to defeat Louisiana-Lafayette, 48-27, but the Wildcats' rushing attack is still a glaring weakness. Quarterback Daniel Sams led the team in rushing once again, totaling 63 yards and a touchdown, but running back John Hubert averaged only 3.1 yards per carry. If Hubert can't get back in gear quickly, K-State's defense of its Big 12 title will be over before conference play begins in two weeks, and earning a bowl bid will be an uphill struggle.