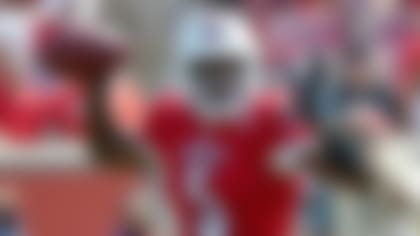 Here's what we learned in the AAC in Week 2:
1. Bridgewater continues to roll
Another overmatched opponent, another big day for junior quarterback Teddy Bridgewater and Louisville.
Bridgewater threw for 397 yards and four touchdowns as the Cardinals blasted FCS opponent Eastern Kentucky on Saturday, 44-7. That gives Bridgewater -- who was 23-of-32 and wasn't sacked or intercepted -- 752 yards and nine touchdowns, with one pick, in two games. Last week, Bridgewater and Louisville crushed Ohio.
Two of Bridgewater's TD passes went to junior DeVante Parker, who had five receptions for 134 yards (26.8 yards per catch).
While Louisville had a productive day, the same can't be said for the team that was supposed to be the second-best in the league. We'll get into that in our second AAC observation from Saturday.
2. This is the second-best team?
Cincinnati looked good last week in coach Tommy Tuberville's debut, blasting the Big Ten's Purdue. Saturday, the Bearcats were on the wrong end of a blasting from a Big Ten team. Illinois hammered the Bearcats, 45-17. While the Bearcats rolled up 456 total yards despite losing starting QB Munchie Legaux to a severe left leg injury -- suffice to say, it seems extremely unlikely he returns this season -- its defense was torched to the tune of 522 yards. Cincy's secondary supposedly was a team strength, but the Illini threw for 312 yards. If Cincy indeed is the second-best team in the AAC, just pencil in Louisville for an unbeaten season. The only team capable of beating the Cardinals in the league is Louisville itself.
3. Solid debut for Houston in AAC play
Houston was victorious in its first conference game, downing Temple 22-13. Houston rolled up 524 yards and 32 first downs, but struggled to get the ball into the end zone. Houston scored only one TD on eight forays in the red zone but did kick five field goals. True freshman quarterback John O'Korn replaced David Piland for Houston in the second quarter and threw for 233 yards. The Cougars also looked good running the ball and a 5-0 start looks doable if they can get past intra-city rival Rice on Sept. 21.
USF's defense showed massive improvement, but the Bulls still fell 21-6 to Michigan State. Only one Michigan State TD was scored by the Spartans offense. Last week, USF surrendered 53 points to McNeese State, an FCS program.
USF's offense remains a work in progress -- and that's being kind. The Bulls finished with a scant 155 yards on offense and were 1-of-13 on third-down conversions. If the Bulls don't win next Saturday against Florida Atlantic, an 0-12 season becomes a distinct possibility.
Mike Huguenin can be reached at mike.huguenin@nfl.com. You also can follow him on Twitter @MikeHuguenin.