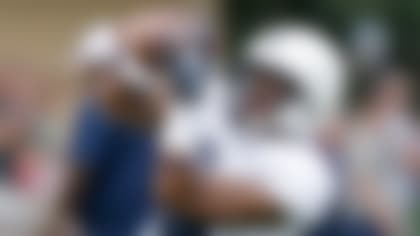 Penn State starting quarterback Christian Hackenberg has a new best friend: It's Penn State junior wide receiver Allen Robinson.
Robinson didn't play in the first half of Saturday's game against Syracuse because of a suspension, but made up for it with a huge second half. He and Hackenberg, a true freshman starting his first game, connected seven times for 127 yards and a touchdown as the Nittany Lions held off the Orange in East Rutherford, N.J.
On Penn State's first play of the second half, Hackenberg hit Robinson on a 25-yard pass. On the second play, the two connected on a 51-yard TD that put the Nittany Lions ahead 23-10.
Penn State struggled offensively otherwise. The Nittany Lions had four turnovers, went a beyond-bad 1-of-15 on third-down conversions and rushed for only 57 yards. But Robinson made a difference in the second half.
Robinson (6-feet-3, 210 pounds) led the Big Ten last season with 77 receptions, 1,018 receiving yards and 11 receiving TDs. Given his new connection with Hackenberg, perhaps those numbers can be surpassed this fall.
Some other observations from Saturday in the Big Ten:
1. Buckeyes' Miller has good start
Ohio State won its opener over Buffalo 40-20, and junior QB Braxton Miller played a solid game. While he surprisingly was under a lot of pressure (more on that in a minute), he threw for 178 yards and two TDs -- both in the first quarter, when Ohio State built a comfortable lead -- and added 77 rushing yards. The Buckeyes rolled up 460 yards of offense and never were threatened after the first quarter. Miller is getting used to some new playmakers and did a nice job spreading the ball around to seven receivers. The next two games should be tougher (San Diego State and at California), but the offense, for the most part, looked good.
Top 10 unheralded prospects
Everyone knows the headliners, but Bucky Brooks identifies the 10 under-the-radar college football prospects with potential to shine at the next level. More ...
2. We said 'for the most part ...'
The only negative from Saturday's win for the Buckeyes was that its offensive line had problems controlling Buffalo's pass rush, specifically senior OLB Khalil Mack, who had 2.5 of the Bulls' four sacks against a line returning four starters. Buckeyes coach Urban Meyer called allowing four sacks "unacceptable," and Meyer also was ticked at his linemen when the Buckeyes failed on a 4th-and-1 near midfield early in the second quarter. Next week could be interesting. San Diego State runs a 3-3-5 defense and returns each member of the starting front six. San Diego State had 32 sacks last season, and LBs Jake Fely and Derek Largent are effective blitzers.
3. What quarterback controversy?
New Wisconsin coach Gary Andersen didn't announce a starting quarterback until game time, but no one really was surprised that sophomore Joel Stave was the guy. What was surprising is that sixth-year senior Curt Phillips, the guy Stave beat out, didn't play at all in a 45-0 rout of Massachusetts. Instead, when another quarterback trotted out in the fourth quarter, it was redshirt freshman Bart Houston, who was an afterthought in the quarterback competition. Badgerblitz.com reported that Phillips urged Andersen to play Houston.
Illinois' defense was a concern heading into the season, and it remains so. The Fighting Illini edged FCS foe Southern Illinois 42-34 and surrendered 407 yards, including 341 through the air. SIU averaged only 296 yards and 22 points last season. SIU does return eight starters on offense, but a Big Ten defense shouldn't give up that many yards to a mediocre FCS team. The next two games are much tougher for the Illini; they play host to Cincinnati next Saturday, then meet Washington at Soldier Field on Sept. 14. If the defense doesn't improve, a 1-2 start beckons.
Michigan eviscerated Central Michigan 59-9, and it's hard to criticize a 50-point win. Still, Michigan quarterbacks tossed three interceptions, including two by starter Devin Gardner. Backup Shane Morris also threw a pick. Frankly, Michigan didn't really need to throw: The Wolverines rushed for 242 yards and six TDs, including two by Gardner. Gardner's propensity to sometimes make bad decisions is puzzling. He started five games last season and threw a pick in each one. The Wolverines play host to Notre Dame next week.
6. 'Blackshirts' should be red-faced
Much of the offseason talk about Nebraska centered on how the Huskers' "Blackshirt" defense would be better than it was last season, when it was ranked 92nd in the nation against the run. If Saturday is an indication, man, that was just a lot of hot air. A lot.
Nebraska held off Wyoming, 37-34, despite giving up 602 yards -- 383 in the air and 219 on the ground. While Wyoming had 35 first downs, it was just 1-of-8 on third-down conversions and had the ball for only 24 minutes. A rebuilt Huskers secondary was strafed early and often by Cowboys QB Brett Smith (four TD passes), the revamped linebacker corps looked lost most of the time and the reconfigured defensive line was overrun. Nebraska's defense was bailed out by the Huskers' offense, which rolled up 530 yards of its own. Game 3 looks even scarier now for the Huskers: UCLA visits on Sept. 14. The Bruins piled up 653 yards in beating the Huskers, 36-30, last season.
Mike Huguenin can be reached at mike.huguenin@nfl.com. You also can follow him on Twitter @MikeHuguenin.