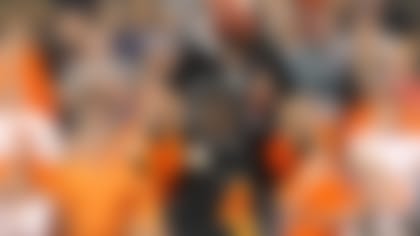 It hasn't been pretty for the Big 12 to start the season. Kansas State's shocking loss to North Dakota State, regardless of how good the Bison are, is going to stain the conference's reputation all year. Iowa State also fell to an FCS opponent, while West Virginia barely avoided a similar fate. Oklahoma, Oklahoma State, Texas and Texas Tech weren't exactly offensive juggernauts early, but did get rolling on the way to comfortable wins.
The return of quarterback Casey Pachall was supposed to allow TCU to compete for a Big 12 championship. And if Pachall wasn't ready, at least the mobile Trevone Boykin had game experience from last season. Those expectations did not manifest at AT&T Stadium on Saturday night, as Pachall and Boykin combined to go 15-of-28 for 145 yards, no touchdowns and one interception.
Now LSU has an endless supply of exceptional defensive linemen and defensive backs -- Anthony Johnson, Ego Ferguson and Craig Loston are merely the latest to emerge -- so this isn't exactly the biggest sample size to make any hasty judgments. But neither Pachall nor Boykin seemed comfortable Saturday, and the playcalling reflected it. Boykin came in for one play near the goal line in the first quarter and promptly lost four yards on a keeper just when Pachall was building some rhythm. The drive stalled out and ended in a field goal.
TCU has a cupcake against Southeastern Louisiana next week, followed by the Big 12 opener against Texas Tech. Head coach Gary Patterson needs to make a decision at quarterback quickly if this team is to fulfill those title aspirations.
2. Oklahoma State fights back
You could feel the stereotypes coming. "The Big 12 only knows offense. They can't handle real offensive and defensive lines. Oklahoma State is soft." Mississippi State had a 3-0 lead and was driving to add to its advantage, running back LaDarius Perkins pushing the ball right down the Cowboys' throat.
Then senior cornerback Justin Gilbert intercepted a pass to snuff out that drive and the game completely turned. Redshirt sophomore J.W. Walsh took over at quarterback, sparking the offense with his running ability, and Oklahoma State rolled to a well-earned 21-3 win at Reliant Stadium in Houston.
Perkins had 54 rushing yards before the pick and minus-four yards after. Defensive tackles Calvin Barnett and James Castleman deserve special credit for winning the war against All-SEC left guard Gabe Jackson.
3. J.W. Walsh is the man in Stillwater
The redshirt sophomore was the second man in, but is definitely No. 1 going forward after a measured and efficient performance. Walsh rushed for 125 yards and one touchdown on 13 carries, making the Bulldogs' defense look absolutely silly. Add in Walsh's 18-of-27 passing for 135 yards and how much more fluid the offense looked with him at the helm, head coach Mike Gundy has his quarterback.
4. Oklahoma defense delivers
Oklahoma held Louisiana-Monroe to just 166 yards of total offense. It doesn't matter if you are playing an FBS, FCS or Division III team, holding anyone to 166 yards in this day and age of offense is unheard of. And Louisiana-Monroe is a very good offensive team.
This performance from the Sooners in their first game using more three-lineman looks than ever before, with two starters suspended, bodes very well for Bob Stoops' club in the wide-open Big 12.
Ease a new quarterback in? The Sooners came out firing with redshirt freshman Trevor Knight at the helm and, after a feeling-out period, he lived up to the buzz.
Knight's passing stats weren't much to write home about -- 11-of-28 for 86 yards, three touchdowns, one interception -- but he improved as the game progressed. More importantly, he delivered on the ground with 103 yards on 13 carries. That dual-threat dimension should make an offense that was static last season against Notre Dame and Texas A&M more difficult to defend.
6. Meet the new Baylor boss, same as the old Baylor boss
Robert Griffin III's first start in 2008? 15-of-19 for 294 yards, three touchdowns and no interceptions.
Bryce Petty's first start Saturday? 18-of-23 for 290 yards, two touchdowns and no interceptions.
7. West Virginia is going to allow a lot of career days
Tre McBride of William & Mary brutalized the Mountaineers' secondary for 108 receiving yards in a performance to remember. In weeks to come, WVU has to face Stefon Diggs of Maryland and the pass-happy attacks of the Big 12. Without serious improvement on defense, WVU's late-season slide last year is going to look like a pleasant memory compared to what is coming next.
Bill Snyder likes to run the ball. He prefers a conservative offense that can feature his quarterback as a rusher. The problem is his offensive line got blown off the ball Friday against two-time defending FCS national champion North Dakota State and Snyder's best offensive players are wide receivers Trent Lockett and Tramaine Thompson. First-time starting quarterback Jake Waters showed promise as a thrower, but backup Daniel Sams can deliver that added mobility. How Snyder manages the offensive identity going forward will determine if the Wildcats can bounce back from the early upset of the season.
9. Air Raid does it again
Anyone can play guitar, Radiohead sang. Anyone can play quarterback, it appears, in Texas Tech's spread passing offense. Baker Mayfield became the first true freshman walk-on to start a season opener for a FBS team and threw for 413 yards and four touchdowns in Friday's win at SMU. And that was with tight end Jace Amaro, one of the Red Raiders' top offensive weapons, suspended for a half.