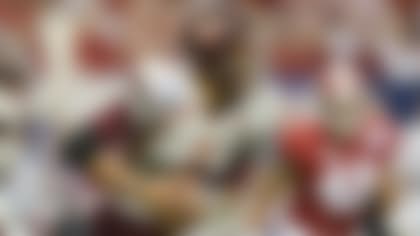 With Florida State taking on Pitt on Monday night, we can't totally put a wrap on the Week 1 ACC action, but here's what we learned Saturday from around the conference:
1. Virginia Tech QB Thomas takes a step back
Alabama senior quarterback AJ McCarron had one of the worst games of his career Saturday. So did Virginia Tech senior quarterback Logan Thomas, and his awful performance was far more costly than McCarron's.
Thomas is trying to rehab his "image," but took a step backward in the Hokies' 35-10 loss to the Tide in Atlanta. Thomas was 5-of-26 -- that's a completion percentage of 19.2, by the way -- for 59 yards and an interception, and he also rushed for only 2 yards on 5 carries.
McCarron was just 10-of-24 for 110 yards, but he threw a TD pass and was helped by a defense that had an interception return for a score and by special teams that had two return TDs.
Virginia Tech's defense turned in an outstanding effort, holding Alabama to only 206 total yards. Virginia Tech's offense, though, managed only 212 yards, and 77 of those came on a TD run by tailback Trey Edmunds.
Thomas (6 feet 6, 254 pounds) was solid in 2011 as a first-time starter (3,013 yards, 19 TDs, 10 picks) but regressed badly last season (2,976 yards, 18 TDs, 16 picks). His completion percentage fell from 59.8 percent in 2011 to 51.3 percent last season. Thomas, who has a great mix of athleticism and physical tools, will be one of the most scrutinized quarterbacks in the nation this fall by scouts, but he did not help himself -- at all -- against the Tide.
He should find the going easier in the next three weeks, with games against FCS doormat Western Carolina, East Carolina and Marshall. But having good games against those teams, frankly, won't wash away the bad taste from Saturday night's performance.
2. Eli's coming -- and he's wreaking havoc
Virginia sophomore DE Eli Harold came up huge in the host Cavaliers' 19-16 win over BYU. Harold had two sacks, 3.5 tackles for loss, 11 total tackles and a forced fumble. The Cavs rallied for the win thanks to a 13-yard TD run by Kevin Parks with 2:46 left, but the play of Harold and junior SS Anthony Harris (11 tackles, a sack and an interception that set up the winning TD) stood out. This was the first game for Cavs defensive coordinator Jon Tenuta, who is known for his aggressive schemes and play-calling. Virginia had three sacks against BYU after having just 17 last season. Can the tough defensive play continue? Next week is a huge test, as Oregon visits Charlottesville. Still, the win over BYU lends hope that the Cavs can get to a bowl.
The son of a Pro Football Hall of Famer tops Gil Brandt's initial look at the Hot 100 college football seniors. Check out the other prospects to follow this fall. More ...
3. Compliments for the complement
Maryland didn't have a complementary receiver last season to help out stud freshman Stefon Diggs. If Saturday's victory over FIU is an indication, the Terps could have their No. 2 guy. Junior-college transfer Deon Long led Maryland with nine catches for 110 yards and a TD in a 43-10 rout of FIU. Diggs had five receptions for 96 yards and a TD, which covered 66 yards. Long played well as a redshirt freshman at New Mexico in 2011, with 47 receptions for 809 yards and four TDs. But coach Mike Locksley was fired after that season and Long transferred to Iowa Western CC last season; he had a phenomenal season: 100 receptions for 1,625 yards and 25 TDs. Maryland's non-conference schedule suddenly looks easier, with contests against FCS member Old Dominion, Connecticut and West Virginia. The ACC opener, though, is against Florida State. Still, if Long indeed is a legit No. 2 guy, the Terps' offense will be greatly improved and Maryland will have a great shot at a bowl.
4. Mitchell wins job, then gets hurt
North Carolina State had a quarterback battle during fall camp, and transfer Brandon Mitchell (Arkansas) beat out transfer Pete Thomas (Colorado State). Mitchell won the job, but suffered a broken foot after leading the Wolfpack to TDs on each of their first two drives in a 40-14 rout of Louisiana Tech. Mitchell is expected to miss up to six weeks. Thomas came on and threw for 212 yards, but it was the NCSU rushing attack that did the job. Despite missing starting RB Shadrach Thornton (suspension), the Wolfpack ran for 305 yards and four TDs, giving coach Dave Doeren a winning debut. Louisiana Tech, meanwhile, lost in coach Skip Holtz's first game. NC State owned a huge time-of-possession advantage: 40:45 to 19:15. Still, it will be interesting to see how the offense fares in the coming weeks. Doeren prefers a quarterback who is a running threat; that describes Mitchell but not Thomas. NC State plays FCS opponent Richmond next week, then plays host to Clemson on Sept. 19. How Thomas fares against Clemson will be a key to any Wolfpack upset hopes.
Mike Huguenin can be reached at mike.huguenin@nfl.com. You also can follow him on Twitter @MikeHuguenin.