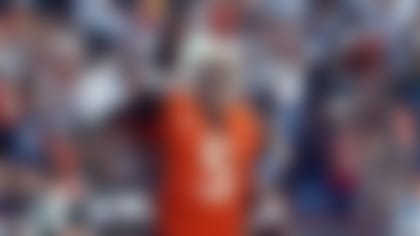 The label of "Wide Receiver U" could fit nicely with a number of college programs, and not surprisingly, one of them is also College Football 24/7's pick for "Quarterback U." But while the dynamic quarterback-receiver combinations at USC over the years make a strong case as the nation's most prominent factory for both positions, the Trojans' history of draft-worthy receivers doesn't quite measure up to our No. 1 choice.
CFB 24/7 looked at 10 programs with a strong history of quality receivers -- all of them giants, historically, in recruiting elite talent -- and stacked them ordered least impressive to most impressive for their draft history at the wide receiver spot. Along with the number of drafted receivers, the rankings also factor in the overall quality of the group.
Take a look ahead to the 2014 college football season with the best wide receivers to follow this fall.
Draft picks last 25 years: 11, including Eric Metcalf, Roy Williams, Limas Sweed and Jordan Shipley.
The skinny: It doesn't help the Longhorns' cause that the best player on the list is also the oldest (Metcalf), as the 1989 first-round pick of the Cleveland Browns. Williams was a first-round pick of the Lions in 2004, the only first-rounder other than Metcalf in the last 25 years. No doubt, Texas has produced an impressive group of receivers, although most are better known as Longhorns than as NFL players.
Draft picks last 25 years: Nine, including Rod Gardner, DeAndre Hopkins, Martavis Bryant and Sammy Watkins.
The skinny: The Tigers boast three first-round picks of the nine listed above (Gardner, Hopkins, Watkins), and given the program's explosive offenses in recent years, Clemson is currently a serious attraction for wide receiver recruits. As the No. 4 overall pick of this year's draft, Watkins certainly leaves behind a buzz that will make Tigers receivers want to be "the next" Watkins. Good luck with that.
Draft picks last 25 years: 16, including Desmond Howard, Derrick Alexander, Amani Toomer, David Terrell, Braylon Edwards, Jason Avant, Mario Manningham and Jeremy Gallon.
The skinny: There are four former first-round picks in the group (Howard, Alexander, Terrell, Edwards), and although Howard is the one with the Heisman hardware, it was Alexander who posted the best pro career of the four. Toomer proved to be a wise second-round investment for the Giants, and Avant was a strong fourth-round value for the Eagles.
Draft picks last 25 years: 18, including Alvin Harper, Peerless Price, Donte Stallworth, Robert Meachem, Denarius Moore and Cordarrelle Patterson.
The skinny: As the "other" receiver opposite Michael Irvin in Dallas, Harper was underrated as a pro. Pickens, despite attitude problems, had a very productive career with the Bengals. And it's just a matter of time before Patterson begins electrifying NFL crowds in the Vikings' offense the way he did as a return man last year. The next star in line for the Vols: sophomore Marquez North, who has NFL written all over him.
Draft picks last 25 years: 18, including Eddie Kennison, Michael Clayton, Devery Henderson, Dwayne Bowe, Craig Davis, Brandon LaFell, Rueben Randle, Odell Beckham Jr. and Jarvis Landry.
The skinny: Of these 18, 12 were drafted in the third round or earlier, including first-rounders Kennison, Clayton, Bowe, Davis and Beckham. Davis never produced for the Texans, and after a promising rookie year in Tampa Bay, Clayton didn't deliver much, either. Bowe, however, has tallied more than 6,000 yards and 44 touchdowns in seven seasons with the Chiefs. Kennison lasted 13 seasons in the pros, for five different clubs, amassing 8,345 yards. Beckham and Landry will carry the LSU receiving torch into the future at the NFL level.
Draft picks last 25 years: 23, including Reidel Anthony, Ike Hilliard, Jacquez Green, Jabar Gaffney, Travis Taylor, Percy Harvin and Riley Cooper.
The skinny: A lot of these names harken back to the Steve Spurrier era at Florida, although several didn't have the sort of pro career that would justify where they were drafted. Anthony was one of four first-round picks here, but never panned out with the Buccaneers. A year after drafting Anthony with the 16th overall pick, the Bucs took Jacquez Green in the second round, and he didn't last long, either. Hilliard, Taylor and Gaffney all produced at the pro level, and the book isn't yet closed on Harvin's promising career.
4. Florida State Seminoles
Draft picks last 25 years: 21, including Laveranues Coles, Peter Warrick, Javon Walker, Anquan Boldin and Kelvin Benjamin.
The skinny: The two that stand out most for their pro careers are Boldin and Coles. Boldin is at 11,344 yards and counting over 11 seasons, while Coles' career ended at 11 seasons in 2010. The rest of the list is dotted with players that flashed impressive skills for a short period in the NFL, but didn't sustain it for very long (Javon Walker). Three first-rounders here: Warrick, Walker, and the latest to come out -- Panthers rookie Kelvin Benjamin.
Draft picks last 25 years: 19, including Joey Galloway, Terry Glenn, David Boston, Michael Jenkins, Santonio Holmes, Anthony Gonzalez, Ted Ginn Jr. and Brian Hartline.
The skinny: The Buckeyes have produced seven first-round picks in 25 years at this position, including four in a four-year stretch (Jenkins to Falcons, Holmes to Steelers, Gonzalez to Colts, Ginn to Dolphins). Galloway sustained success in the pro ranks longer than any of them, piling up more than 10,000 yards and 77 touchdowns over 16 seasons. The flash career here is definitely Boston, another first-rounder who was dominant with the Cardinals in 2001 (98 catches, 1,598 yards), but never recaptured that magic.
Draft picks last 25 years: 20, including Curtis Conway, Johnny Morton, Keyshawn Johnson, R.J. Soward, Mike Williams, Robert Woods and Marqise Lee.
The skinny: The Trojans have produced five first-round picks in the last 25 years, and two promising second-rounders in the last two drafts (Woods, Lee). Conway, Morton and Johnson all had multiple seasons of 1,000-plus yards in the NFL. The biggest busts here definitely go to Soward and Williams, both first-round picks, neither of whom lasted more than two seasons with the team that drafted them.
Draft picks last 25 years: 21, including Wesley Carroll, Randall Hill, Kevin Williams, Yatil Green, Reggie Wayne, Santana Moss, Andre Johnson, Roscoe Parrish and Sinorice Moss.
The skinny: Nobody has delivered quite like the 'Canes at this position. Going back beyond 25 years, players like Eddie Brown and Michael Irvin set the stage for the true "Wide Receiver U." Five first-round picks and four second-rounders lead this group, highlighted by two of the best the NFL has seen in recent memory: Reggie Wayne and Andre Johnson. At 35 years old, Santana Moss is still working to hold an NFL roster spot in Washington, where he's posted three of his four career 1,000-yard seasons.