West Virginia head coach Dana Holgorsen had gone 15 years without having his starting quarterback miss a start because of an injury. That luck ran out last week, when Clint Trickett replaced Ford Childress, who was out with a torn pectoral muscle, and delivered a 30-21 upset over then-No. 11 Oklahoma State.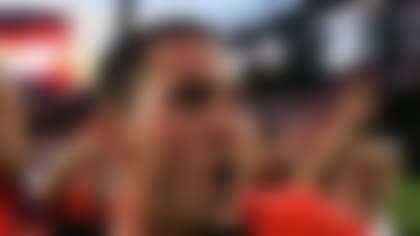 From Aaron Murray's big-game heroics vs. LSU to Oklahoma's statement win at Notre Dame, here are the things we learned from college football's fifth weekend. **More ...**
But Trickett suffered a shoulder injury in the second half, his arm hanging at his side between plays, and the Mountaineers could turn back to opening-day starter Paul Millard for their road game at Baylor.
"The two quarterbacks (Trickett and Childress) are day-to-day," Holgorsen said at his weekly press conference. "If both were 100 percent healthy, I would probably go with Trickett. If neither are healthy, I'd go with Millard. And if both were 50 percent, it would probably make more sense to go with Millard."
Considering that Trickett "couldn't throw a ball 10 feet" in practice Sunday, as offensive coordinator Shannon Dawson told the Times West Virginian, Millard seems likely to get the nod.
Millard, a 6-foot-5, 234-pound redshirt freshman, started the first two games of the season but struggled and was replaced by Childress. Including his brief relief appearance against the Cowboys, Millard is 41-of-67 passing for 466 yards and one touchdown with one interception.
Without significant improvement from Millard, the Mountaineers will have a nearly impossible task upsetting the Bears. Baylor is averaging 69.7 points and 751.3 yards per game this season, and West Virginia needed 656 passing yards and eight touchdowns from quarterback Geno Smith to outlast the Bears last season, 70-63.
Baylor had 700 yards of total offense and converted 12 of 17 third and fourth downs in that game, and this year's offense is leaps and bounds better.
Then again, maybe Holgorsen is about to enjoy a different kind of luck.