If West Virginia athletic director Oliver Luck is a candidate to take the same position at Texas, he won't be talking about it.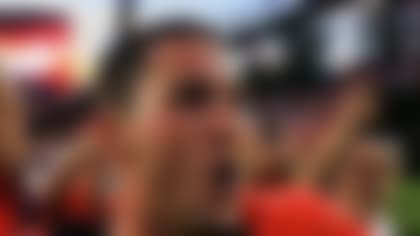 From Aaron Murray's big-game heroics vs. LSU to Oklahoma's statement win at Notre Dame, here are the things we learned from college football's fifth weekend. **More ...**
Luck gave the WV MetroNews a "no comment" by text message Tuesday. However, the text came shortly after Luck's first attempt at relaying the message, which came through only as "no," giving the impression that Luck would not even consider the opening with the Longhorns.
Current Texas AD DeLoss Dodds announced Tuesday that he would retire after 32 years in that position. Luck and Big 12 Commissioner Bob Bowlsby, the former Stanford AD, immediately were regarded as possible successors.
Dodds is set to remain in that position through Aug. 31, 2014 but could move into an advisory role before that if a replacement is found before that date, Texas President Bill Powers said.
Such a scenario would not bode well for Texas head coach Mack Brown's future, especially if a new AD is named by December under the timetable the school hopes to meet. That would allow the new AD to fire Brown if he cannot deliver a successful season and have adequate opportunities to oversee the search for a new coach.
Dodds has been a staunch defender of Brown, even as Texas has gone 24-18 over the past four seasons.
Luck, the father of Indianapolis Colts quarterback Andrew Luck, has been the AD at his alma mater since 2010 after serving on the WVU Board of Directors for two years. Luck also has extensive ties to the state of Texas after playing for the Houston Oilers in the 1980's and attending law school at Texas.