As we take a look at the players that will be charged with replacing the 2014 draftees in the Big 12, here are some early (OK, way-too-early) Big 12 predictions from the College Football 24/7 team for the upcoming season:
Team with best chance to win national title
Chase Goodbread: Baylor. The September schedule is cotton soft, and by the time Baylor finds itself in a game it might lose, Art Briles should have a lot of the preseason question marks answered. The advent of the college football playoff means the new goal is simply landing in the top four to qualify. From there, anything can happen. If the Bears can run the regular season table, not playing in a conference title game will likely play in their favor where the playoffs are concerned.
Mike Huguenin: Oklahoma. This is a lukewarm nod to the Sooners as the league's best team. Quarterback play was spotty last season, notwithstanding Trevor Knight's great performance in the Sugar Bowl upset of Alabama. How consistent will he be this season? How good will the running game be? And what about the pecking order at receiver? On the other hand, the defense should be the best in the Big 12, which likely will be enough to win the league.
Bryan Fischer: Oklahoma. We've heard for months that the selection committee will heavily weigh the strength of schedule for teams when picking the first four in the College Football Playoff. Baylor might end up winning the league, but that terrible non-conference schedule will hold them back if that ends up being the case. Oklahoma should start the season in the top 10 and has an SEC opponent coming to town at the very least. We shouldn't read too much into the Sugar Bowl win, but the Sooners have one of the two best teams in the league and a better defense than what Baylor will trot out.
Goodbread: Baylor QB Bryce Petty. With a 32-3 TD-INT ratio last season and 4,200 passing yards, Petty is a relatively easy choice. He can also rush effectively at times (14 rushing TDs last season), and knows the Briles offensive system inside and out. If Baylor can protect him, he will light up the Big 12 once again.
Huguenin: Petty. Petty (6-foot-3, 230 pounds) put up big numbers in 2013 as a first-time starter: 3,844 passing yards, 30 passing TDs, two interceptions, 11 rushing TDs. Art Briles' offense is quarterback-friendly, but Petty performed beyond expectations. He has good size and mobility, and possesses a nice arm.
Fischer: Petty. The senior has good size, a strong arm and will likely be a signal-caller NFL scouts will be watching closely to see how he develops. He'll put up video game numbers in the Bears' offense like he did a season ago (32-3 TD-INT ratio) and should probably find his way into Heisman Trophy consideration.
Goodbread: Oklahoma LB Eric Striker. When we last saw Striker, he was giving Buffalo Bills second-round pick Cyrus Kouandjio fits in the Sugar Bowl with a speed rush that the Alabama left tackle simply couldn't handle. His 10.5 tackles for loss and 6.5 sacks represented solid if not spectacular production, but Striker is capable of bigger numbers than that in 2014.
Huguenin: Texas DE Cedric Reed. Reed (6-6, 258) could stand to add some weight and bulk, but he still was one of just two players nationally in 2013 with at least five sacks, four pass breakups and five forced fumbles. The other? First-round pick Khalil Mack of Buffalo. Reed finished with 10 sacks, four breakups, five forced fumbles, 12 quarterback hurries and 16.5 tackles for loss. It will be intriguing to see how he performs for new coach Charlie Strong, who is known for his aggressive defenses.
Fischer: Reed. Charlie Strong's move to Austin should help Reed follow in the footsteps of Jackson Jeffcoat and grab league honors. Strong will put Reed in the right spots to get into the backfield and he should be the strength of a much-improved Longhorns defense. Charles Tapper and Ryan Mueller will also put up strong seasons, but they won't be quite as good as Reed's in 2014.
Goodbread: Texas' Charlie Strong. Will the Longhorns take the conference title? Probably not. But if Strong at least brings the program back into contention for it after a dismal 8-5 season, he'll garner some support for the honor in his first year as coach.
Huguenin: Strong. He takes over a team with talent, but also one that has lacked toughness in recent seasons. The toughness shouldn't be a problem anymore. If Texas gets high-level quarterback play, it can win the league. That's unlikely, but a second-place finish is a distinct possibility, and that might be enough to garner Strong the league's coaching award.
Fischer: TCU's Gary Patterson. Life in the Big 12 has been a little rough for Patterson and TCU, but the team could be primed for a bounce-back year in 2014. It will be tough for Bob Stoops and Art Briles to win this award as the two league favorites, but a big turnaround and staying in title contention should be enough to give Patterson the nod with a nine- or 10-win season.
Take a look at Nike's latest updates to college football uniforms for the 2014 season.
Goodbread: Baylor RB Shock Linwood. The backup to Lache Seastrunk last season will carry much more of a load for the Bears this fall, and by all accounts, he's ready to handle the spotlight. Injuries forced Linwood into action last season and he responded with 881 yards, eight touchdowns and a 6.9-yard-per-carry average. At 5-foot-8, 200 pounds, Linwood is a small but powerful back who can go the distance when he gets loose.
Huguenin: West Virginia DE Shaquille Reddick. He was an FCS All-American at Gardner-Webb last season, when he had 8.5 sacks, 19 tackles for loss and 67 tackles overall. He has transferred to West Virginia for his senior season and is eligible immediately. Reddick (6-6, 244) is a good athlete who needs to prove he can play against better competition. There are high hopes he can provide the consistent pass rush that was missing last season, and if he can come close to approximating those numbers from last season, he has a great shot at being the Big 12 newcomer of the year and improving his draft stock.
Fischer: TCU DE Devonte Fields. Well, this is more of a comeback player award since Fields was named Big 12 Defensive Player of the Year as a freshman. He had a disastrous season last year that was hampered by injuries and a suspension. With plenty to prove to folks, Fields turns back into the terror he was in 2012 with a big season.
Goodbread: Baylor QB Bryce Petty. In a year where much of the elite talent is comprised of underclassmen, Petty is easily the most highly regarded senior in the league.
Huguenin: Petty. He easily has 4,000-yard potential and will be at the helm of what should be one of the nation's top three offenses. He considered turning pro -- he was being mentioned as a possible first-rounder, which likely wouldn't have happened -- but returned.
Fischer: Kansas State WR Tyler Lockett. Easily one of the best receivers in the conference, if not the country, Lockett was one of the few bright spots on Kansas State's team as they took a step back from 2012's championship run. He's a great return man and is a threat to score every time he touches the ball. Petty and others will get more press, but it's hard to find a more reliable playmaker than Lockett.
Player with most on the line
Goodbread: TCE DE Devonte Fields. The 6-4, 250-pound pass rusher is trying to move beyond a 2013 season that was riddled by injury and suspension. He appeared in just three games without making a sack, but was a dominant force in 2012 when he was named Big 12 Freshman of the Year and Big 12 Defensive Player of the Year. A return to his 2012 form could leave the junior with a difficult early entry decision.
College QBs with most potential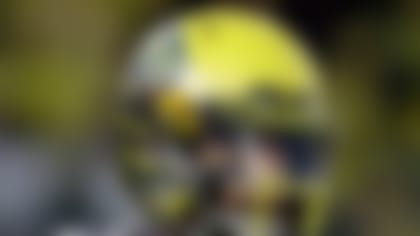 As good as this year's quarterback class was, next year's class is arguably better. Our panel of experts provide their take on which college football quarterback has the greatest pro potential. More ...
Huguenin: Baylor QB Bryce Petty. Yep, him again. He should be the top senior quarterback in the nation, and one more season with Briles should lead to even bigger numbers in 2014. But you'll notice the two mentions of "should" in that sentence. He is a potential first-rounder in the 2015 draft, but he has a relatively small body of work and needs to be even better this fall to make that potential turn into the reality of a first-round selection. If he doesn't live up to the billing, he risks falling in the draft.
Fischer: Petty. Maybe the lone Big 12 hope of making it to New York for the Heisman ceremony, there will be a lot of interest in Petty after he posted impressive numbers during the 2013 season. He was outshined in the Fiesta Bowl by Blake Bortles, but has a chance to turn into a first-round pick with continued refinement of his mechanics and footwork. Art Briles has already heaped plenty of praise on the quarterback and 2014 should show if he's ready to live up to everything that's been said about him.