On the Washington defensive line, there are "The Jetsons" and "The Flintstones." The Jetsons are a specialty group of small and quicker defenders capable of rushing the passer. They are the future, with the agility to handle spread offenses and mobile quarterbacks.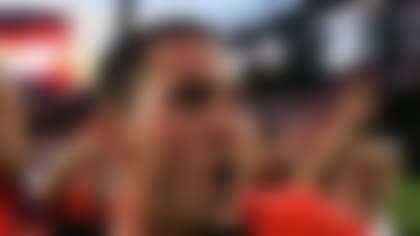 From Aaron Murray's big-game heroics vs. LSU to Oklahoma's statement win at Notre Dame, here are the things we learned from college football's fifth weekend. More ...
Danny Shelton is firmly in the latter category. At 327 pounds, he is a mastodon of a defensive tackle there to stuff the run along with the rest of the Flintstones group. There's nothing pretty or fancy about him, just old-school punishment in the trenches.
But against a Stanford offense balancing its bruising ground game with a surprisingly effective passing attack that has traded out tight ends for wide receivers, well, the Huskies will need the Jetsons to meet the Flintstones with better results than the 1987 animated movie.
Defensive coordinator Justin Wilcox will need to carefully manage when to use the two personnel packages because of the Cardinal's complementary approach and an offensive line that mixes power with movement perfectly. Go with the undersized Jetsons, and Stanford will overpower them with the run. Go with the Flintstones, and there might not be enough penetration to disrupt quarterback Kevin Hogan's timing.
That chess match makes Shelton's play on early downs that much more important. If the 6-foot-1 junior can hold his own against Stanford's veteran interior line of All-American left guard David Yankey, center Khalil Wilkes and right guard Kevin Danser to limit the run and create obvious passing downs, then the Jetsons can come in and let pass-rush specialist Josh Shirley (three sacks) do what he does best.
Shelton is a key reason why UW ranks fourth in the FBS in scoring defense and 13th in total defense. Even after being limited by a shoulder injury, his 17 tackles rank fourth on the team, justifying NFL Media analyst Charles Davis' assessment of Shelton as "a prototypical nose tackle.
"He's not a name you're going to talk about everyday, but he played awfully well," Davis told College Football 24/7 after UW's 38-6 demolition of Boise State in its season opener. "Some of the other guys had bigger stats, but you know (NFL teams) are looking for linemen. He's one to keep an eye on as we go forward."
Shelton won't create penetration -- his sack against Idaho State earlier this season was his first in 29 career college games -- but he has the power to match Yankey. Yankey locked up the quicker Will Sutton of Arizona State when they met earlier this season, but Shelton has a better chance to disengage and clog up running lanes.