Think of Virginia Tech quarterback Logan Thomas' senior season as a yo-yo: It's up, then down, then up, then down.
Saturday night, it definitely was up. Thomas was extremely sharp -- 25 of 31, 80.6 percent -- in throwing for 366 yards and two TDs in a 42-24 thrashing of Miami. The victory puts the Hokies back into the mix for the ACC Coastal Division title; they are one of four division teams with two league losses (along with Duke, Miami and Georgia Tech).
Week 11: Things we learned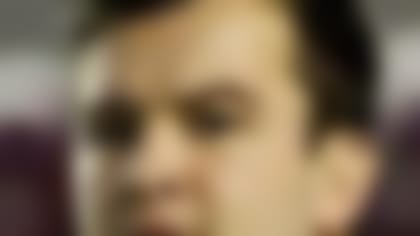 From AJ McCarron being tabbed the nation's most underrated player to Auburn's Nick Marshall outrunning Johnny Manziel, here are the lessons we learned from Week 11. More ...
Thomas had played poorly in each of the past two games, tossing a combined six picks and two touchdowns. He also had completed just 56.9 percent of his passes in those contests. Saturday night, a secondary that had 14 picks and was allowing opposing quarterbacks to complete just 56.3 percent of their passes was shredded by Thomas. And get this: Thomas had a more productive night against Miami's secondary than Florida State's Jameis Winston last week (325 yards, one TD, two picks, 72.4 completion rate).
But that's the tease with Thomas (6-foot-6, 254 pounds), who might be the most athletically gifted quarterback in the nation. Thing is, his production never has matched his potential, and the only consistent thing about Thomas' play has been his inconsistency.
On Saturday, he made some nice deep throws. He did a nice job checking down. He surveyed the field. He moved in the pocket. He ran when he had to. Most importantly, he didn't force throws. But can he do it again next week against a reeling Maryland team?
If you're a front-office type with an NFL team that needs a quarterback, Saturday night was the kind of performance that made you marvel again at Thomas' measurables. And maybe you even said to yourself, "You know, we can coach this guy up and he can be a solid NFL quarterback for a decade." Then again, maybe you put on tape of his prior two performances and remember yourself thinking, "Man, all that physical talent and he simply cannot play the position."
That is the question NFL teams will have to answer: Which Logan Thomas is the real Logan Thomas?
Mike Huguenin can be reached at mike.huguenin@nfl.com. You also can follow him on Twitter @MikeHuguenin.