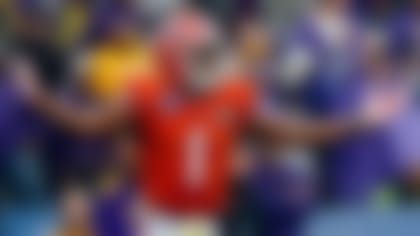 NFL scouts are always looking to the college ranks to find next-level talent, and while it's too early to speculate about which defensive backs will thrive in the NFL, these 10 certainly have the attention of evaluators heading into the 2015 season.
This is not a list previewing the 2016 NFL Draft, but a look at college defensive backs that are already generating interest from NFL scouts. Here are 10 to watch in 2015.
1. Vernon Hargreaves III, Florida
Hargreaves started right away as a true freshman for the Gators and he hasn't looked back. Hargreaves has been a first-team All-SEC selection in each of the past two seasons, which is a huge honor in a conference loaded with skill talent outside both offensively and defensively. He plays with advanced ball skills and will look to bait and rob throws in the deep middle (three interceptions last season). Hargreaves can keep up with speed receivers and has the explosiveness to leap and disrupt 50/50 balls. When throws are completed against him, he has the burst to close out quickly and finish as a tackler.
2. Tre'Davious White, LSU
Since we only deal in real talk here at College Football 24/7, it's time to let you know that White might be the most talented cover corner in the college game, even though he doesn't receive much attention. When watching LSU's 2014 game against Alabama, White looked substantially better against Amari Cooper than his teammate, second-round draft pick Jalen Collins. With elite foot quickness, long arms and NFL-caliber speed, White is adept at crowding targets both short and long. He allowed a mind-boggling completion rate of just 23.4 percent and gave up just 4.2 yards per target. His lack of physicality as a tackler in run support is his one, true knock.
3. Kendall Fuller, Virginia Tech
It's hard to match Fuller's confidence level on the field. He loves to make plays, which is why he's more than willing to feast on unsuspecting quarterbacks. Fuller has terrific start/stop quickness, which is what makes him such a ballhawk on short and intermediate throws, and coaches love that he almost never leaves the field. Fuller is not without flaws, though. While Fuller displays instant quickness, he doesn't appear to have great length or long speed and he can be beaten over the top because of his willingness to bite on double moves underneath.
Ramsey has a body type that is the dream of every defensive back coach in football. He's tall, with long arms and good speed. Ramsey, one of the top long-jumpers in college track and field, is also an explosive leaper who can close out and tackle consistently. These traits might have scouts excited, but his tape is another story. Ramsey will be moving from safety back to cornerback, and not a moment too soon. There were way too many instances when his instincts and technique put him in poor position. Those concerns might be alleviated once he's able to use his attributes as a press-man corner. I understand the hype surrounding his potential and traits, but his play consistency must improve as a full-time cornerback.
5. Jonathan Jones, Auburn
Jones has all the talent and athleticism you would want from a cornerback, but his ability to stay healthy is a big concern for NFL evaluators. Jones' body type looks more like a slot receiver's than a cornerback's, but he makes up for that with smoothness in his transitions and an uncanny ability to make plays on the ball at the catch point. Jones was targeted 50 times last season and ended up breaking up 10 passes while intercepting six. Jones shadowed Chris Conley throughout Auburn's matchup with Georgia and showed he could run stride for stride with the speedster. Auburn has a dangerous defensive front, which will make Jones that much more dominant in 2015 -- if he's healthy.
Jackson makes the list on the strength of everything he's capable of doing this year, rather than just his play as a cornerback. Jackson is expected to man his cornerback spot while still taking on more targets at wide receiver, where he made 10 catches (three for touchdowns) as a freshman last season. Jackson is also one of the game's best kick returners. He took two kicks to the house last season. While he's a little undersized, he can stay under the chin of his targets and crowd them on vertical routes. He's a willing tackler, too. He needs to improve on his short-area transitioning after the throw, but I expect to see a great deal of growth from Jackson as a cornerback (and all-around playmaker) this season.
7. William Likely, Maryland
Likely finished last season with 83 tackles from his cornerback position and allowed just two broken tackles. That's extremely impressive data from the cornerback spot, and it's even more impressive when you consider that Likely is listed at just 5-foot-7 and 175 pounds. Desire and tenacity fuel Likely's fire and make him an outstanding all-around talent. He's quicker than fast as a cornerback, but has exceptional instincts and ball skills and uses his waterbug burst to jump passes anywhere near him. Likely is one of the top kick returners in the nation and also has 17 special-teams tackles to his credit. His NFL stock will be hampered by his size, but I promise that you will see Likely's No. 4 jersey all over your screen throughout the afternoon when watching Maryland.
8. KeiVarae Russell, Notre Dame
Russell missed all of last season as he served an academic suspension, but he was a full-time starter for the Irish the two seasons prior, garnering Freshman All-America recognition in 2012. Rust might be a factor this season, but there's no doubt that Russell understands how to use his length and was above-average at disrupting receivers from press coverage. With the footwork to mirror and match on the outside, look for Russell to make a big splash for a very talented Notre Dame defense in 2015.
9. Cameron Sutton, Tennessee
Sutton isn't the premium athlete that others on the list might be, and his footwork needs improvement from press coverage. However, for two straight seasons he has found a way to be a very sticky defender who is constantly challenging throws. Quarterbacks completed just 35.5 percent of their passes thrown his way in 2014 and Sutton finished with 16 passes defensed. My biggest concern for Sutton is that he's wildly inconsistent as a tackler and must show more grit and determination in that area to truly become a well-rounded cornerback.
10. Vonn Bell, Ohio State
Bell is a versatile safety who can come downhill and finish the job as a tackler. He's also able to line up over the slot. Bell does a nice job of reading and anticipating routes, which helps put him in position to make plays. Bell finished the season with six interceptions, including four over his last six games. There is still room for improvement in his pass coverage, but he's a rock-solid, productive college safety who is on the radar of NFL evaluators.
William Jackson, Houston: Scouts are very intrigued by this senior's length and athleticism as a pure cover corner. Jackson has very fluid hips and allowed just 39.4 percent of his targets to be completed. On the negative side, teams isolated him as a tackler with screen and running plays his way because of his poor angles and finishing ability.
Eli Apple, Ohio State: Apple has very good size for a cornerback and did a nice job as a starting redshirt freshman last season. Apple likes to use his size to crowd receivers as much as possible and his play strength allows him to make more plays on the ball than other cornerbacks. His hip tightness in change of direction, however, caused him to give up big plays last season.
Quin Blanding, Virginia: The 6-1, 215-pound safety was all over the field for the Cavs, finishing his true freshman season with 123 tackles, including five games of 13 tackles or more. I'm expecting his pass defense to improve this season. He should also have another monster tackle season thanks to his understanding of field leverage and tackling fundamentals.
Zack Sanchez, Oklahoma: Sanchez was extremely productive for the Sooners last season, making five interceptions over his first six games thanks to impressive anticipatory skills and quick-twitch athleticism. His biggest obstacle is that he is so thin that he gets overwhelmed by physical receivers -- especially when trying to fend off their blocks during a run play or bubble screen.