USC wide receiver Marqise Lee expressed hope he could recover from a knee injury during the Trojans' bye week and return for their Oct. 10 home game against Arizona.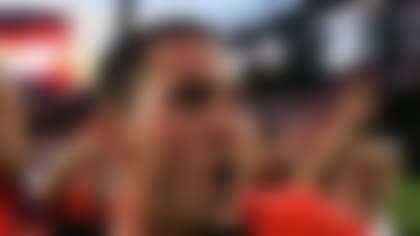 From Aaron Murray's big-game heroics vs. LSU to Oklahoma's statement win at Notre Dame, here are the things we learned from college football's fifth weekend. More ...
Lee was hurt returning a punt in the fourth quarter of USC's 62-41 loss at Arizona State, his left knee twisting violently as he was tackled.
Lee was on crutches Sunday after undergoing a battery of tests that revealed no ligament damage," according to the Los Angeles Daily News.
Lee's injury was overshadowed by the sudden firing of head coach Lane Kiffin on Sunday. Lee said he was shocked by the timing of the move, saying he felt it was "rough."
"I didn't think, if it was going to happen, that it would happen early," Lee said. "My whole thinking was finishing out the season at least. I don't know. Now we just see where we go from here. I don't know what to expect."
The change from Kiffin to interim head coach Ed Orgeron might be exactly what Lee needs to get back on track. Orgeron, a gruff and energetic Cajun, said Sunday one of his goals was for the team "to have a little fun" during the final eight games of the regular season.
Lee has been noticeably pressing this season, including his failure to catch a third-down pass against the Sun Devils that would have resulted in a long gain. Instead, the ball careened off his hands and was intercepted, leading to an ASU field goal.
After catching 118 balls for 1,721 yards and 14 touchdowns last season to earn unanimous All-America honors and the Biletnikoff Award as the top receiver in college football, Lee has just 30 receptions for 385 yards and one touchdown in five games this season.
A happy and productive Lee might be the catalyst that turns around USC's season.