LOS ANGELES -- Steve Sarkisian did not shy away from any topic in his introductory press conference as USC head coach.
He did not shy away from discussing Ed Orgeron, the former interim coach who had emerged as the favorite among fans and players to take over on a permanent basis. He did not shy away from discussing Pac-12 and national championships as the goal of his tenure. He did not shy away from discussing UCLA, even as the curiously timed news of Jim Mora's contract extension broke.
Week 14: Things we learned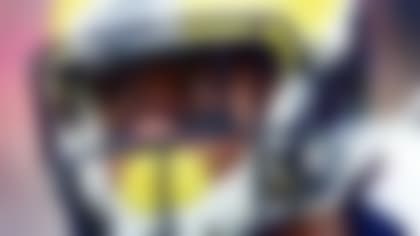 From Jeremy Gallon helping to revive Michigan's offense vs. Ohio State to David Fales outdueling Derek Carr, here are the lessons we learned in Week 14 of college football. **More ...**
Nor did Sarkisian shy away from discussing the numerous draft-eligible underclassmen on the USC roster, including 14 of the 22 starters that fueled Orgeron's unexpected 6-2 record.
"The key thing for me with all these guys is, I want them to make an educated decision, and if it's to stay at the University of Southern California and compete for a championship, we would love that," Sarkisian said Tuesday in the auditorium of the John McKay Center. "If that means they feel like their future endeavors are to go to the NFL, we'll support them in that. I just want them to make an educated decision, not an emotional decision, and I'm going to help them through that process every way I can."
That message seems to have gotten through to at least one of those draft-eligible players, cornerback Josh Shaw.
Asked if he is leaning toward entering the 2014 NFL Draft or returning for his redshirt senior season, Shaw said, "Definitely coming back, especially with all we are going through as a university right now.
"I want to be here during this special time and look back down the road 10-15 years and say, 'I was there when the program turned around,'" he said. "And it started with Coach O. I think we have to continue to move forward."
Among the other prominent players who could declare for the draft would be junior wide receiver Marqise Lee, redshirt junior defensive end George Uko and redshirt junior safety Dion Bailey.
Shaw said there was a "high level of hope" in the locker room before and after the 35-14 loss to UCLA that Orgeron would be the next head coach, but Sarkisian began to soothe the hurt feelings when he first met with players Monday night.
"He did a great job of embracing us," Shaw said. "He knew what kind of mood we were in. You've got to remember he wasn't in a great mood also because he had to leave those guys at Washington, so he didn't have a fun meeting earlier that day himself."
Said quarterback Cody Kessler: "When Coach Sark came in, I didn't know how it was going to be, how guys would react. Coach Sark handled it perfect. He handled it better than anyone could."
"He took off his suit, took off his jacket, put on a USC sweatshirt and was like, 'I'm home. I want you guys to know I'm home,'" Kessler said.
Sarkisian said he will attend the Trojans' bowl game, but that he will leave the coaching duties for the game to offensive coordinator Clay Helton.
Though he said he was not aware of any specific criticism directed at his hiring, Sarkisian seemingly made a point of addressing those critiques head on.
"We will not shy away from the expectations," Sarkisian said. "We are here to embrace them. We are here to win championships. I wouldn't have taken this job just to come home.
"Coach O proved that to us that we can win right now," he said.
But to do that, with one more season of NCAA-imposed scholarship restrictions ahead, Sarkisian will need as many of those upperclassmen back in USC uniforms.
Shaw seems to be on board. If others follow, Sarkisian will have the personnel to live up to his lofty introduction.