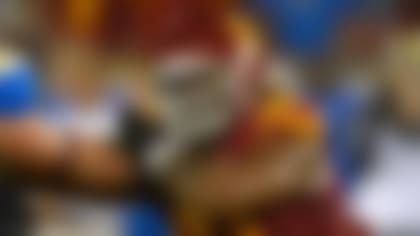 The quickest way to improve a defense in the NFL is to plug in a dominant pass rusher with the ability to wreak havoc off the edges. The pass-centric nature of today's game makes it imperative to find a way to disrupt the timing and rhythm of the quarterback in the pocket. That's why the Houston Texans bypassed a huge need at quarterback to take a disruptive force at defensive end (Jadeveon Clowney) with the top pick in the 2014 NFL Draft. While it's important to find a signal-caller to guide the offense, the Texans can't compete with the likes of Colts QB Andrew Luck in the AFC South without a ferocious pass rush in place.
With more teams set to subscribe to that theory following the Seattle Seahawks' bludgeoning of the Denver Broncos in Super Bowl XLVIII, the hunt for pass rushers will be a top priority for scouts surveying the college landscape this fall. Given the number of promising pass rushers on the horizon, several teams could find viable options in the 2015 and 2016 drafts. Here are some of the pass rushers that could generate significant interest in war rooms across the league:
Former Trojans interim head coach Ed Orgeron made headlines last fall when he declared that Williams "is going to be a first-round pick." The long-time defensive assistant has groomed the likes of Warren Sapp, Cortez Kennedy, Russell Maryland, Shaun Cody and Jurrell Casey during stints at Miami (Fla.) and with USC, so his words carry weight with scouts. As a result, evaluators are spending extra time breaking down Williams' game to see if the 6-foot-5, 290-pounder has the core characteristics to become a blue-chip pass rusher at the next level. While he certainly has flashed disruptive potential as a pass rusher (13 sacks and 26 tackles for loss in two seasons), Williams' spectacular production despite a raw, unrefined game suggests that he could become a monster playmaker at the next level with more experience and repetition.
2. Randy Gregory, Nebraska
There's nothing NFL scouts love more than an athletic pass rusher with speed, quickness and length. Gregory checks the boxes in all areas, while adding a relentless motor, which overwhelms opponents. The former JUCO transfer tallied 10.5 sacks and 19 tackles for loss as a first-year starter for the Huskers. Most importantly, Gregory showed the ability to dominate the game off the edge utilizing his speed, quickness and athleticism to create chaos at the point of attack. With the 6-foot-6, 245-pound playmaker also displaying the versatility to play with his hand in the dirt or from an upright stance, Gregory could be a hybrid defender who draws significant interest from teams looking for an athletic specimen to build around on the front line.
Explosive first-step quickness is one of the traits scouts covet in edge rushers. Thus, Beasley's lightning quick "get-off" has piqued the interest of scouts looking for a dominant defender off the edge. The Clemson standout racked up 13 sacks, 23 tackles for loss and six PBUs, while exhibiting exceptional athleticism and burst off the edge. Additionally, he impressed evaluators with his ability to rush from a three-point stance or stand-up position off the edge. As a result, defensive coaches favoring a 3-4 scheme will rank him near the top of the charts as a potential hybrid rusher at the next level. If Beasley can make significant strides as a run defender, he is capable of making a big rise up the charts this fall.
4. Shilique Calhoun, Michigan State
Big, fast and physical are the traits defensive coaches covet in defensive ends at the pro level. That's why NFL scouts are already buzzing about the pro prospects of the Michigan State standout after watching him tally 7.5 sacks and 14 tackles for loss as a redshirt sophomore. Additionally, Calhoun recorded two forced fumbles, 4 fumble recoveries and an interception, while also adding three defensive touchdowns -- tied for most in the FBS in 2013. Measuring 6-4, 257 pounds with long arms, Calhoun is a stout player at the point of attack, exhibiting brute strength and power on the edge. Although he flashes enough speed and quickness to get home on speed rushes, he is a street fighter adept at pummeling opponents with force. Thus, Calhoun is ideally suited to play left defensive end in a scheme that allows him to wreak havoc against the run or pass from the strong side.
5. Mario Edwards Jr., Florida State
The No. 1-ranked recruit of the 2012 class has lived up to the hype since his arrival at Florida State. Edwards has blossomed into a disruptive playmaker off the edge, exhibiting impressive strength, power and athleticism. In addition, Edwards shows a non-stop motor, which results in relentless effort and pursuit on running plays. As a pass rusher, Edwards relies on his superior effort, energy and strength to win on power moves off the corner. Although he will need to expand his repertoire at the next level, Edwards' effectiveness as a run-pass defender will earn him high marks from scouts in the fall.
Check out the top 10 all-time players from Missouri to play in the NFL.
6. Markus Golden, Missouri
It's funny how Mizzou is rarely mentioned as a football powerhouse, but the Tigers consistently send dominant defensive linemen to the pros. From Aldon Smith and Sheldon Richardson to recent draftees Kony Ealy and Michael Sam, the scouts are flocking to Columbia, Mo., to uncover hidden gems on the front line. In 2014, all eyes will certainly be on Golden after he impressed scouts with his energy, effort and production as a disruptive playmaker for the Tigers. The 6-3, 260-pound former JUCO transfer has played multiple spots on defense (defensive end and linebacker), but projects as an ideal hybrid rusher at the next level due to his speed, quickness and athleticism. He displays active hands at the point of attack, yet is elusive and explosive off the edge. With a game that is tailor-made for the pros, Golden could be the hottest defensive end prospect in the 2015 class when it's all said and done.
7. Dante Fowler Jr., Florida
It's easy to fall in love with a talented defender who plays with maximum effort and energy on every play. That's why it was important for me to include Fowler on this list despite his middling production (3.5 sacks and 10 tackles for loss) in 2013. While those numbers certainly suggest that Fowler has the potential to blossom into a disruptive defender at the next level, he needs to put on more performances like his brilliant display against Tennessee (3 tackles, 1 sack, 3 tackles for loss and 2 forced fumbles) to earn high marks in draft rooms across the league. The buzz is already brewing based on his exceptional effort on tape, but he needs to add a little more production to build a strong case to be a top prospect by season's end.
8. Noah Spence, Ohio State
The Big Ten runner-up in sacks is squarely on the radar of scouts searching for an athletic edge rusher with impressive speed and quickness. Spence shows terrific snap-count anticipation and first-step quickness, but is still unpolished as a rusher off the edge. He is still learning how to sequence his moves, but his impressive athleticism has allowed him to post solid production with a limited arsenal of pitches. If he can add a wrinkle or two to his game in the fall, Spence could be one of the most intriguing prospects to watch down the road.
Take a look at the cheerleaders of college football in action during the 2013 season.
If scouts spot a young defensive end with athleticism, length and adequate strength, they will make a point to track his progress throughout his career. Reed certainly has earned a spot on most lists based on his imposing frame (6-6, 258 pounds) and impressive flashes of disruptive potential (10 sacks, 19 tackles for loss and 3 fumble recoveries in 2013). Although he is far from a finished product, he is the prototypical defensive end who plays for a long time in the NFL. Thus, he deserves a spot on this list as a "height-weight-speed" athlete with excellent potential.
10. Trey Flowers, Arkansas
It takes a while for long, gangly defensive ends to find their way as pass rushers, but NFL coaches and scouts are certainly willing to wait on impressive athletes that flash potential early in their careers. Flowers qualifies as a "wait-and-see" rusher based on his intriguing physical dimensions (6-4, 262 pounds) and modest production (5.0 sacks and 13.5 tackles for loss in 2013). Although his flashes are impressive enough to garner serious consideration, Flowers must display more consistency and production to earn a high spot on the list.