LOS ANGELES -- It came down to a matter of will. USC, specifically its defensive line, refused to kowtow to Stanford, and that was the difference in its 20-17 win.
The Cardinal rushed for 210 yards and averaged 6.0 yards per carry behind an offensive line that USC interim head coach Ed Orgeron believes has "three or four first-round picks," but the Trojans defense went wire-to-wire, both literally and figuratively.
Week 12: Top RB performances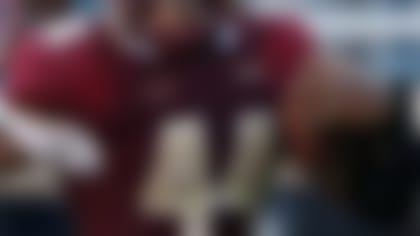 Boston College's Andre Williams racked up 339 yards Saturday, but it wasn't enough to earn the top spot on our list of the top 10 RB performances of the weekend. More ...
USC used just two reserves along with its 11 defensive starters but never bowed to a team that had established its credentials as the most physical in the conference. Instead, USC showed it had the physicality to match.
"I feel like a lot of teams choose to back down to them," defensive end George Uko said afterward. "They mentally come into the game kind of screwed over because they know who they are going against. (The Cardinal) are going to put 2,000 pounds of beef on the offensive line and just go that way. It's a ton. They got a ton of linemen out there, and they are going that way, and whoever wants to stop them, try.
"I feel like that gets to teams from time-to-time," he said. "You've got to have the right mindset because they are a great team."
It showed most noticeably on third down. After bludgeoning Oregon to convert 14 of 21 tries -- including 7 of 7 on 3rd-and-short, all on the ground -- Stanford was 4 of 12 in the fabled Coliseum, 1 of 3 in short yardage on what had been, as Uko said, "automatic" against the Ducks.
And it all started up front. Sophomore defensive end Leonard Williams played through a shoulder injury and had seven tackles and recovered a fumble to end the game. Uko had three tackles, and outside linebacker/defensive end hybrid J.R. Tavai made a big tackle for a loss of four yards at the goal line, which forced Stanford to throw, resulting in a game-saving interception from safety Dion Bailey. Antwaun Woods was credited with only one tackle but was effective in holding the middle of the line.
"They're good," Stanford head coach David Shaw said simply, singling out Uko and Williams as "outstanding" defensive players. "It didn't surprise me one bit."
Williams, the 6-foot-5, 290-pound sophomore whom Orgeron openly calls a future first-round draft pick, delivered in spite of a shoulder injury that forced him to miss a game the previous week at California. He will probably need to have surgery in the offseason. Even after aggravating the injury in pregame warm-ups, there was no way Williams was going to miss this game or even a single play.
"I guess my adrenaline really kicked in, and I wasn't feeling it anymore," Williams said.
Uko and Williams endured all 60 offensive snaps, and Uko said he would not have it any other way in what has emerged as the Pac-12's most compelling and grinding affair.
"I feel like it's a rivalry being built between these teams," Uko said. "Just two physical teams of the Pac-12 going at it. You both know what we're going to do. No tricky plays, no no-huddle. Just huddle up every play, they're going to come with the power run and try to run the ball. Our offense is going to huddle every play, and we're going to try to run the power and run the ball down your throat."
Stanford did just that for much of the game, but USC would not yield when it mattered most.