In his weekly Scout's Take notebook, former NFL scout Bucky Brooks takes a look at the biggest developments in college football and how the NFL community is reacting to them. Among his topics this week (click on link to take you directly there):
Brett Hundley is not quite ready for the NFL. Now, I know the buzz surrounding UCLA's redshirt sophomore has led to speculation about his entrance into the 2014 NFL Draft, but if I had the opportunity to talk to Hundley about his NFL prospects, I would advise him to spend another season in Westwood honing the finer parts of his game.
Of course, I don't know his family or financial situation, but my assessment comes after watching him play several times this season. While I'm impressed with his talent, football IQ and work ethic, I believe he could become a legitimate top 10 prospect in a subsequent draft with improved accuracy, judgment and poise. Not that he is severely lacking in either category, but to be considered a franchise-caliber quarterback he must display better consistency in those areas.
Against Oregon, for instance, Hundley appeared dazed and confused by the constant pre-snap movement and disguise used by the Ducks. He was unable to quickly decipher the coverage consistently, which forced him to hold onto the ball longer in the pocket. Additionally, Hundley exhibited questionable judgment by attempting to fit balls into tight windows when it was apparent the defense had blanketed his intended receivers. As a result, he tossed a pair of costly interceptions and killed some of the momentum the Bruins established throughout the game.
Finally, Hundley was woefully off the mark on deep throws, which allowed the Ducks' defenders to clamp down on the Bruins' short and intermediate routes. In evaluating quarterbacks, I've been taught by some of the best in the business (played and scouted for Mike Holmgren in Green Bay and Seattle; played for Jon Gruden in Oakland) that accuracy and decision-making are the most important traits of quarterback play. Although Hundley is well above most of his contemporaries in those aspects, he has an opportunity to build the foundation for a long, productive NFL career by staying at UCLA for another year and working on the critical aspects of quarterback play.
Remember, the goals of every NFL prospect should focus on career longevity and production rather than draft status. Therefore, Hundley should seriously consider biding his time a bit before making a jump to the NFL. It might not be the popular choice, but it could pay significant dividends for him down the road -- just like it did for Andrew Luck.
D-line makes Missouri a must-see team for scouts
Does Missouri have the best defensive line in college football? It's seems unlikely for a non-traditional football power to feature the top frontline in football, but the Tigers have an underrated defensive line that has piqued the interests of NFL scouts.
Missouri ranks first in the SEC in sacks (25) and tackles for loss (62) behind an impressive trio of edge players (Michael Sam, Kony Ealy and Markus Golden) that wreaks havoc on quarterbacks and runners alike. With so much conversation centering on the Tigers and defensive domination in the SEC, I decided to take a hard look at the defensive line in its game against South Carolina. I was not only impressed with how hard the frontline plays, but I was encouraged by its collective toughness, energy and relentlessness. Although the effort didn't result in a win Saturday night, it provided scouts with a glimpse of the players' talent and potential.
Sam, the nation's leader in sacks (10) and tackles for loss (16), is a disruptive force off the edge with impressive first-step quickness and burst. He combines his terrific "get off" with a relentless motor that results in sacks on extra effort. Although Sam's production is impressive, he is a little undersized by pro standards and doesn't display elite athleticism. That won't preclude him from making his way into the NFL, but it will impact his status as a potential mid-round selection in the 2014 draft.
Ealy is the prototypical rush end with the size and length to give offensive tackles problems off the edge. A 6-foot-5, 275-pound junior, he has 3.5 sacks, four tackles for loss, five pass breakups and an interception. He flashes good first-step quickness and natural athleticism using a "dip and rip" move to burst around the corner. Although Ealy isn't quite as polished as Sam as a rusher, his superior athleticism and more imposing physical dimensions make him a more desirable prospect for the pro game.
In Golden, the Tigers have an intriguing former junior college standout with explosive speed, quickness and athleticism. He flies off the ball with cat-like quickness, while also flashing the strength and power to hold his own at the point of attack. Most important, Golden displays the potential to get home off the edge, as evidenced by his 2.5 sacks and seven tackles for loss. Factor in his solid physical dimensions (6-3, 260 pounds) and his tremendous upside, and Golden is a guy to watch going forward.
Missouri was viewed as an also-ran in the SEC East before the season, but an imposing defensive line has made the Tigers viable contenders and a destination on every NFL general manager's calendar this fall.
Clemson's Boyd not a prototypical NFL franchise QB
Tajh Boyd is not a franchise quarterback. I don't want that to come off has a harsh criticism of the Clemson quarterback, but after studying Boyd this season and chatting with a few scouts, I don't believe he is a prototypical franchise quarterback.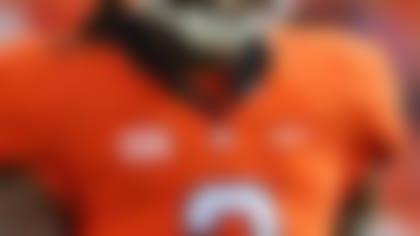 Count Clemson coach Dabo Swinney among those who thinks Sammy Watkins will turn pro in 2014. Swinney said that he thought Watkins was "a top-10 pick." **More ...**
I respect Boyd's game and his unbelievable production as one of the best quarterbacks to ever play in the ACC. He will finish his collegiate career with a bushel basket full of accolades, including 2012 ACC Offensive Player of the Year award. However, he hasn't shown enough consistency in his play to be considered a franchise quarterback in NFL circles.
By definition, a franchise quarterback is ultra-talented with extraordinary skills as a leader, passer and playmaker. Additionally, he typically possesses superior physical dimensions (6-2 or taller) and a few blue-chip traits that warrant special consideration. While there are exceptions to the rule (see Russell Wilson), the standard of performance is exceptionally high, particularly in big games -- rivalry games, conference championship games and bowl games. Therefore, a player who doesn't meet some of the standard criteria must deliver the kind of production that forces evaluators to overlook the critical factors.
With Boyd, I don't know if the Clemson senior has done enough to convince evaluators he is capable of overcoming his deficiencies at the next level. While he is a record-breaking playmaker directing the Tigers' warp-speed spread attack, he routinely misses some throws that are required in pro-style offenses. Additionally, he occasionally exhibits lack of poise in the pocket, particularly against the blitz. These traits were evident in the Florida State game, but they have also shown up throughout his career.
When I asked an AFC South scout about Boyd's game and his overall evaluation, he told me, "He has some nice tools, but I don't know if he is a frontline player."
The scout went on to talk about Boyd's disappointing performance against Florida State and how it was important for him to show up in those kinds of games because they resemble NFL competition.
"He didn't look comfortable on the big stage, which is surprising, considering his age and the way that he performed against LSU (2013 Chick fil-A Bowl) and Georgia," the scout said. "He never settled down and sparked his team on a run. ... You would expect an elite quarterback to make the game closer despite the poor play from others."
Of course, one game doesn't make a complete evaluation, but Boyd must find a way to make amends for his poor performance against the Seminoles with a spectacular game against an elite opponent down the road. With Georgia Tech and South Carolina offering stiff challenges on big stages, he will have an opportunity to change the narrative on his big-game ability and NFL potential.
Seminoles displaying traits of a championship team
Florida State is the most complete team in college football. I know the participants for the BCS National Championship Game are decided by a combination of polls and computer rankings, but my eyes tell me that Florida State should be one of the teams to play in the game, that is if they handle their business the rest of the season.
The Seminoles boast a stellar defense that is chock full of big, explosive athletes at every level and a dynamic offense capable of winning behind a power-based running game or an electric pass attack. Most important, the Seminoles have arguably the top quarterback in college football, Jameis Winston, playing at an exceptional level in the pocket.
I'm sure that statement doesn't sit well with fans of Alabama, Oregon and Ohio State, but my assessment is based on the fact that Florida State exhibits all of the key characteristics typically associated with championship-caliber squads. The Seminoles rank among the top 10 in total offense (fourth), total defense (eighth) and scoring defense (fourth), while also fielding the 11th-ranked team in turnover margin per game (plus 1.1). Those numbers are not only indicative of the Seminoles' dominance over the first half of the season, but suggest to me that Jimbo Fisher's squad is capable of winning a shootout or low-scoring affair against an elite team. Moreover, the statistical balance shows the Seminoles lack a glaring weakness on a roster loaded with five-star recruits.
Florida State strikes me as a big, physical team capable of going toe to toe with rough and rugged squads such as Alabama and Ohio State. The Seminoles are massive as well as athletic on the offensive and defensive lines, which allows them to control the trenches in smash-mouth contests. Against fleet-footed teams such as Baylor and Oregon, Florida State has enough collective speed, athleticism and versatility on the perimeter to matchup in a track meet on grass.
Given that diverse styles create compelling matchups in postseason games, Florida State's overall versatility gives it a decided advantage over the competition in a championship game. With that in mind, I believe it's a no-brainer to pencil the Seminoles into the BCS national title game despite what the pollsters and computers will say about their standing in the college football landscape.