UCLA head coach Jim Mora couldn't get star quarterback Brett Hundley to commit to returning to school next season after beating rival USC on Saturday. Maybe Hundley will do so if Mora agrees to do the same.
Mora was a walk-on linebacker with the Huskies and played on two Rose Bowl teams, then was a graduate assistant under program patriarch Don James to launch his coaching career.
Mora even gave an infamous radio interview in 2006 to his former college roommate Hugh Millen in which the then-Atlanta Falcons coach vowed to drop whatever he was doing should Washington ever come calling.
"If that job's open you'll find me at the friggin' head of the line with my resume in my hand ready to take that job," Mora said.
Though Mora later insisted he was joking -- he said so again last month ahead of the Bruins' 41-31 win over Washington -- those remarks played a role in his firing by the Falcons.
Week 14: Things we learned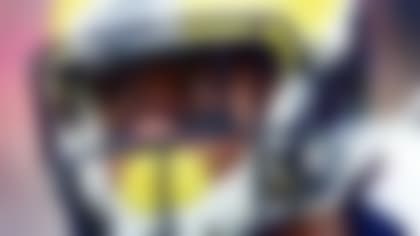 From Jeremy Gallon helping to revive Michigan's offense vs. Ohio State to David Fales outdueling Derek Carr, here are the lessons we learned in Week 14 of college football. More ...
Football Scoop reported Monday night that Mora was set to speak with Washington athletic director Scott Woodward about the vacancy, though that was seemingly contradicted by news that Mora and the UCLA coaching staff were set to hold an in-home recruiting visit with five-star running back Joe Mixon.
Mora clearly appreciates the college experience, citing it as one of the main reasons Hundley should return for his redshirt junior season.
"The allure and the money of the NFL, that's great but there is nothing like a night like tonight," Mora said Saturday. "You don't get that in the NFL. You don't get that when you leave this place, so why rush through life and just enjoy every moment. All of that is going to be there for him later."
UCLA outside linebacker Anthony Barr passed up the chance to be a first-round draft pick and returned for his senior season, valuing the opportunity to continue to develop his skills and relationships.
"I became a better player, a better leader," Barr said. "And I just love my teammates, that's one of the main reasons I came back."
Barr said he would talk to Hundley after the season about the quarterback's impending decision, but "he's got to do what's best for him, best for his family and best for his personal life," Barr said.
The same could hold true for Mora.