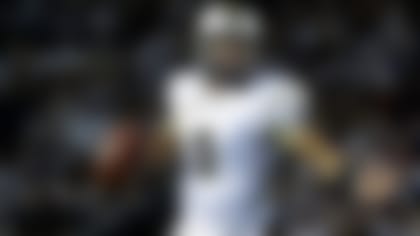 The AAC gained a bit of much-needed respect last week, when Rutgers rallied to beat the SEC's Arkansas. Then again, the Hogs are supposed to be one of the SEC's worst teams and the Scarlet Knights one of the AAC's best, so ...
Braxton Miller was to be a Heisman candidate leading Ohio State's run to BCS glory. Instead, Miller's backup replaces him in Bucky Brooks' college football QB rankings. **More ...**
For sure, the AAC can gain respect this week if UCF beats South Carolina in Orlando. UCF has one of the more underrated quarterbacks nationally in junior Blake Bortles, and he's the key to the Knights' upset hopes.
Here is a look at all the games involving league teams this week, ranked from worst game to best:
6. Temple at Idaho, Saturday, 4 p.m. ET, Altitude
The skinny: This is one of the most unappealing games of the season; the teams are a combined 0-7. Idaho has surrendered at least 40 points in each of its four games and scored a total of 51. Temple's most recent game was a one-point loss to FCS foe Fordham.
5. Miami at USF, Saturday, 12 p.m. ET, ESPNU
The skinny: USF is 121st (out of 125 teams) nationally in offense. Miami's defense should feast, which means LB Denzel Perryman (6-0, 240), who is having a great season, will be in the spotlight. Two former big-time recruits who haven't lived up to their advance billing will be on view: Miami senior OT Seantrel Henderson (6-8, 345) and USF sophomore DE Aaron Lynch (6-6, 244). Both have a ton of physical talent; it's a matter of focus and intensity.
4. Houston at Texas-San Antonio, Saturday, 4 p.m. ET, Fox Sports Net
The skinny: Houston sophomore WR Deontay Greenberry (6-3, 198) is a rising star with 26 receptions for 381 yards and two TDs. UTSA has zero picks through four games. UTSA is in its first season in Conference USA, and school officials want to play Houston on an annual basis.
3. Connecticut at Buffalo, Saturday, 3:30 p.m. ET
The skinny: UConn almost beat Michigan last week, which is the highlight of the Huskies' winless season. Two stud linebackers will face off. Buffalo senior OLB Khalid Mack (6-3, 248) is considered one of the best pass-rushers in the nation. UConn junior ILB Yawin Smallwood (6-4, 236) is coming off a performance against Michigan in which he had 13 tackles, a sack, a pass breakup and a forced fumble. Mack is seen as a sure first-rounder; Smallwood definitely has the potential to go on the first day. There also should be a nice head-to-head matchup: Buffalo senior WR Alex Neutz (6-3, 205) vs. UConn junior CB Byron Jones (6-1, 191).
2. SMU at TCU, Saturday, 12 p.m. ET, Fox Sports 1
The skinny: The series between these Dallas-area schools dates to 1915, and this is the 93rd meeting. SMU senior QB Garrett Gilbert (6-4, 223) is seventh nationally in passing (338.3 yards per game) and has a solid receiving corps to work with. SMU's passing attack will put pressure on a TCU secondary that includes star senior CB Jason Verrett (5-10, 176). TCU's offense is struggling, but so is SMU's defense. TCU junior WR Brandon Carter (5-11, 186) vs. SMU senior CB Kenneth Acker (6-0, 195) will be a good individual matchup.
1. South Carolina at UCF, Saturday, 12 p.m. ET, ABC
The skinny: This is a big game for UCF and for the AAC. UCF will be playing in its first game on network TV, in front of its first home sellout since 2011 and is looking for just its second victory over a ranked team. UCF won at Penn State two weeks ago in a game in which the physical Knights won the battle up front on both sides of the ball. Can the Knights keep Gamecocks DE Jadeveon Clowney and DT Kelcy Quarles from dominating up front? UCF junior QB Blake Bortles (6-4, 230) has a strong arm and can make plays with his legs; the Gamecocks had better keep him in the pocket. UCF's secondary can be exploited; is Gamecocks QB Connor Shaw up to the task?
Mike Huguenin can be reached at mike.huguenin@nfl.com. You also can follow him on Twitter @MikeHuguenin.