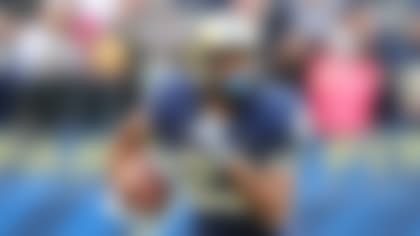 NFL scouts are always looking to the college ranks to find next-level talent, and while it's too early to speculate about which wide receivers will thrive in the NFL, these 10 pass catchers certainly have the attention of evaluators heading into the 2015 season.
This is not a list previewing the 2016 NFL Draft, but a look at college wide receivers that are already generating interest from NFL scouts. Here are 10 to watch in 2015.
The junior wideout has been heavily targeted since he stepped foot on campus with 250 targets over his first two seasons at Pitt. Boyd plays with outstanding body control and has an ability to gyrate and contort in the air in order to make circus catches look easy. Boyd is highly competitive and highly confident. Starting quarterback Chad Voytik returns, which is noteworthy since Boyd and Voytik hit their stride over the second half of last season. Boyd was arrested for driving under the influence this summer which will get him off to a rocky start with new head coach Pat Narduzzi.
2. D'haquille "Duke" Williams, Auburn
It's hard to find a tougher, more physical receiver in college football than Williams. Williams is a big, thick target who plays with elite focus and determination when working the middle of the field and he maxes out his catch radius with well-timed ball-plucking skills. He should see even more work this season with pocket-passing specialist Jeremy Johnson taking over as the starter. Williams shows some hip tightness and stiffness into his breaks, which are areas he needs to improve upon. It's worth noting that Williams was suspended for his bowl game last season.
Sharpe is a long, lean target whose talent runs well beyond the competition that he will face in 2015. Sharpe is silky smooth with instant acceleration that puts him on top of -- and then past -- cornerbacks who dare to challenge his vertical speed. Sharpe has a second gear to run under throws and plays with an advanced level of field awareness when working himself open in his routes. Sharpe must improve his route crispness and could stand to use his body better in shielding defenders downfield. Sharpe's length and speed have put him squarely on NFL radars.
Williams has the size and frame that NFL scouts pay close attention to, but what I really like is that Clemson uses him as a big, downfield receiver rather than sticking him with a bunch of dink-and-dunk throws that wouldn't suit his strengths. Williams had 20 catches of 20-plus yards last year and more than 83 percent of his catches have gone for first downs over the last two years. He loves to climb the ladder and win the 50/50 balls, but he can still improve on creating space between himself and the defender on downfield throws. With Deshaun Watson flinging it around, Williams should take his game to the next level.
5. Demarcus Robinson, Florida
Robinson's talent just jumped off the tape at me and it is easy to understand why the junior receiver improved from five catches his freshman year to 53 last season. Robinson is a blazing vertical threat who gives the Gators a homerun hitter on any given snap. Robinson has shake at the line of scrimmage to free himself against press coverage and tracks the deep ball with ease. Robinson could benefit from new head coach Jim McElwain's pro-style offense, but if the quarterback play doesn't show improvement, Robinson's statistical output might not match up with his immense talent.
6. Corey Davis, Western Michigan
If this list were just about who should post the top stats, then Davis would be much higher than this. Over his last two seasons, Davis has 145 catches for 2,349 yards and 21 touchdowns -- that's called production, folks. Like his brother Titus, who starred at Central Michigan, Corey is an advanced route-runner who understands how to create throwing space. However, Corey is a more physical target than his brother and understands how to use his size to post up defenders and keep them shielded when making contested catches. While his level of competition is spotty, his talent is not.
While the evaluator in me sees holes in Doctson's game as an NFL receiving prospect, the college football fan in me knows what Doctson is getting ready to do when his breakaway speed is paired with quarterback Trevone Boykin yet again. Doctson can be sloppy with his underneath and intermediate routes, but he plays to his length and can absolutely wear defenses out with his catch-and-sprint ability. While Doctson's 1,018 yards and 11 touchdowns were nice, they should fall below what 2015 brings.
8. Laquon Treadwell, Ole Miss
Treadwell has some of the smoothest footwork off the snap that you will find for any wideout in college football. His stutter-steps into his routes and into his breaks create confusion and separation, and he runs like a running back after the catch with a combination of elusiveness and necessary toughness to rip through arm tackles. The negatives? Treadwell runs basic routes at Ole Miss and he must prove he can return at full-speed after suffering a broken fibula and dislocated ankle last season.
9. D.J. Foster, Arizona State
By the end of 2014, the Sun Devils were giving their running back, D.J. Foster, plenty of snaps at wide receiver. This spring, they decided to make Foster a full-time receiver, which should bode well for his chances on the next level. Scouts are interested to see how Foster handles a full-time workload at receiver, but with his instant acceleration and willingness to finish his runs after the catch, my guess is that Foster's athletic ability and competitiveness will help him learn and thrive quickly at his new position.
10. Rashard Higgins, Colorado State
With Garrett Grayson and head coach Jim McElwain gone, it could be difficult for Higgins to match his outlandish 2014 numbers which included 96 catches, 17 touchdowns and a "yards after catch" average of 9.8. However, Higgins has the juice out of his breaks and after the catch to overwhelm lesser defenders. Higgins can focus like a laser when the ball is in the air and is very easy and natural in his routes. His play strength is a shade below where it needs to be and he will have to prove that he can fit into the offense of new head coach Mike Bobo.
Sterling Shepard, Oklahoma: Shepard is quicker than fast and is a little undersized to be an outside receiver, but he hustles with consistent play speed that helps him maximize separation. Shepard's hands are beyond sticky and he has the shake after the catch that should make him a headliner in Oklahoma's new Air Raid offense.
JuJu Smith, USC: Smith needs to work on becoming a better "hands catcher" rather than letting throws get into his body, but that is nit-picking a bit since his ability to elevate his game near the redzone is clearly more important. With QB Cody Kessler expected to have a Heisman-caliber season and WR Nelson Agholor gone to the NFL, Smith's stats should take a huge jump.
Josh Reynolds, Texas A&M: Reynolds came in from junior college and played injured for much of last season but still finished with 13 touchdowns among his 52 catches. QB Kyle Allen should be even more comfortable with Reynolds this season, which could place Reynolds at the top of the SEC in receiving stats.