Stanford's lack of a difference-maker at wide receiver had been a glaring issue even as the team ascended to the top of the Pac-12. But on Saturday, Ty Montgomery lifted the Cardinal past Washington in a 31-28 thriller by delivering those big plays that had been missing.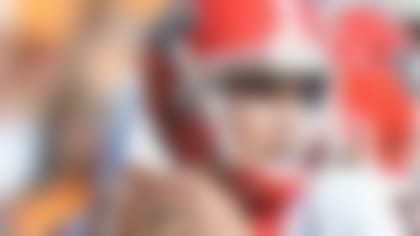 From Georgia's thrilling Aaron Murray-led overtime win to Jameis Winston's throttling of Maryland, here are the things we learned from college football's sixth weekend. **More ...**
With most of the country still watching the end of LSU-Mississippi State, Montgomery took the opening kickoff back 99 yards for a touchdown. Montgomery's dangerous return skills were a factor all night long, with another 68-yard kick return to set up Stanford's final touchdown.
When the Huskies tried to kick the ball away from Montgomery at the end of the first half, it created a short field, and quarterback Kevin Hogan found the junior for a 39-yard touchdown with 11 seconds left in the second quarter to wrest momentum back after UW finally got on the scoreboard.
Montgomery finished with three receptions for 56 yards and that score, carried the ball twice for 24 yards, and returned four kicks for 204 yards. Montgomery's 290 all-purpose yards were most in the Pac-12 this season, elevating a stagnant Stanford offense.
Quarterback Kevin Hogan struggled, going 12-of-20 passing for 100 yards and one touchdown with one interception. Hogan seemed clearly rattled after throwing the early pick, forcing Stanford to go back to its black-and-blue rushing attack and defense. Running back Tyler Gaffney grinded out 72 yards and a touchdown on 19 carries, and the stout front seven recorded 11 tackles for loss with five sacks.
However, quarterback Keith Price and Bishop Sankey nearly carried UW past a defense loaded with future NFL players.
Despite an injured thumb that was heavily taped and clearly bothering the senior signal-caller, Price was 33-of-48 passing for 350 yards and two touchdowns with one interception. Sankey had 125 tough rushing yards and two touchdowns, topping the century mark against Stanford for the second consecutive season.
Price's mobility allowed him to keep plays alive and escape heavy pressure from linebackers Trent Murphy and Shayne Skov, including a fourth-and-10 pass to WR Kevin Smith inside two minutes. With the Huskies driving inside Stanford territory, the play appeared to extend the game before replay officials determined Smith trapped the ball after it had hit the ground. Stanford took over on downs and kneeled to end the game.
The talent gap between the two programs has clearly closed, but Stanford capitalized on the handful of mistakes UW made.
To be more accurate, Montgomery capitalized on those mistakes.