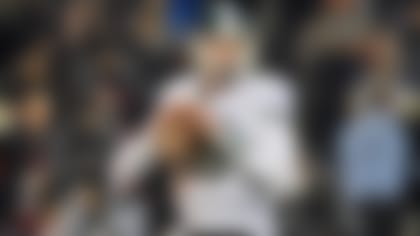 NFL scouts are always looking to the college ranks to find next-level talent, and while it's too early to speculate about which quarterbacks will thrive in the NFL, these 10 signal-callers certainly have the attention of evaluators heading into the 2015 season.
This is not a list previewing the 2016 NFL Draft, but a look at college quarterbacks that are already generating interest from NFL scouts. Here are 10 to watch in 2015.
1. Connor Cook, Michigan State
Cook likely would have been the third quarterback taken in the 2015 draft had he declared, but his return to school should do nothing but help his future stock. Cook doesn't have a rifle for a right arm, but he plays in a pro-style offense and reads the entire field, unlike many quarterbacks in college football. Cook is outstanding when it comes to recognizing blitzes and making the necessary pre-snap adjustments. He has the poise and courage to stand and deliver against oncoming traffic. Cook must prove he can thrive despite the departures of wide receiver Tony Lippett and running back Jeremy Langford to the NFL.
Boykin came out of nowhere last season, posting eye-popping numbers in leading TCU into late-season playoff discussions. Boykin has an elongated throwing motion and very average arm strength, but his playmaking ability is undeniable. Boykin's substantial improvement from 2013 to 2014 was staggering and he will have a majority of his supporting cast back for more in 2015. Despite being listed at 6-foot-2, scouts insist he is closer to 6-0 and they aren't yet sold on Boykin's ability to transition from the TCU system into an NFL offense.
3. Deshaun Watson, Clemson
It's hard to find a smoother thrower in college football than Watson. As a true freshman last season, Watson showed an easy delivery and release, plenty of pace on his throws and advanced ball placement for such a young quarterback. However, Watson suffered three separate injuries in 2014 and is finishing his recovery from an ACL tear. Besides staying healthy, Watson's biggest challenge will be proving he can thrive under a new offensive coordinator with Chad Morris departing to become SMU's head coach. If healthy, Watson might just be the most talented quarterback in college football.
4. Dak Prescott, Mississippi State
Tim Tebow and Cam Newton were both big, dual-threat, SEC quarterbacks who won the Heisman Trophy and a national championship en route to being drafted in the first round. Prescott could become the next up on that list. Prescott has plenty of arm strength to launch the ball around the field and from difficult throwing positions. Prescott has been very productive with scrambles and designed runs, but we might see less of that this season as he prepares to transition to the NFL. Prescott needs to get through progressions more quickly and throw with better accuracy.
5. Cardale Jones, Ohio State
Jones is being ranked based on just three starts last season, but can you blame me considering how he performed on such a big, bright stage? Jones has the size and arm that screams "next level," and despite the small sample size, one would have to think that his poise is an asset that should do nothing but grow with experience. Jones' biggest concern might be finding reps at a very talented and crowded position for the Buckeyes. We all know that Jones can air it out and hit the big vertical throw, but he must improve on managing the intermediate passing attack.
6. J.T. Barrett, Ohio State
Barrett is the forgotten Buckeye after Ohio State rolled to a national title with Cardale Jones at the helm to end the season, but keep in mind that Barrett posted monster numbers through the air and on the ground as a redshirt freshman starter. Barrett's competitive nature combined with the build and physicality to impose his will as a zone-read runner suites Urban Meyer's offense. Barrett has adequate arm strength but it falls well short of teammate Cardale Jones'. Barrett needs to show improvement in reading defenses in order to take the lead in the battle for snaps.
7. Christian Hackenberg, Penn State
Hackenberg is purely a speculative selection for this list based on his size, arm talent and overall potential. Hackenberg's accuracy was absolutely rotten last season and he missed too many opportunities. His footwork and weight transfer are sloppy and he is below average at recognizing what defenses are doing pre-snap. However, that arm strength is a thing of beauty and he showed outstanding promise in 2013. With eight starters back on offense, Hackenberg has a good shot at a big, bounce-back season.
Despite losing wide receiver Nelson Agholor and running back Javorius "Buck" Allen to the pros, don't expect a drop-off in terms of production from Kessler. USC will have no problem reloading at the skill positions and the Trojans are returning all five starters up front to keep Kessler clean in the pocket. Kessler displayed amazing deep-ball accuracy last season, completing 50.6 percent of throws of 16-plus yards and he is effective from shotgun or under center. Scouts have concerns about the number of dink and dunk throws baked into the offense and they are looking for improved anticipatory throws to go with those gaudy numbers.
The Air Raid offense will obviously be Goff's friend from a statistical standpoint, but NFL teams will be judging his play traits and football acumen rather than getting swept up in the numbers. Goff's tall, thin frame could use more muscle and he will need to keep his throws from sailing as they did at times in 2014. Goff was asked to carry the offensive load for the last two years, so his third season as starter should see Goff even more comfortable and calm than he was in his highly productive 2014 campaign. With more poise and experience, Goff will open many NFL eyes.
10. Brad Kaaya, Miami (Fla.)
Kaaya had up-and-down moments as a true freshman starter last season for the Hurricanes, but there were signs of big things to come. Kaaya should grow into his NFL-caliber frame and he showed great improvement as a decision-maker as 2014 unfolded. After throwing nine interceptions in his first six games, Kaaya threw just three over his final seven games while adding thirteen touchdowns. He needs to drive the ball with his lower body to increase the heat on his fastball and his leadership and mental toughness will be tested after losing so many key starters from his offense to the NFL.
Justin Thomas, Georgia Tech: He lacks prototypical size and passing talent but he has a huge heart and the playmaking ability to ring up touchdowns on the ground and in the air. Few will be as fun to watch on Saturdays this season.
Taysom Hill, BYU: Hill has had his season cut short by injury in two of his three seasons at BYU. When healthy, he showed off his trademark toughness as a runner along with zip and improved accuracy on his throws.
Jeremy Johnson, Auburn: The former backup to Nick Marshall, Johnson looked good in his season-opening start against Arkansas and showed off an arm to challenge defenses with throws that Marshall couldn't make. Gus Malzahn's offense might be more pass-heavy than we've seen it with Johnson taking snaps.