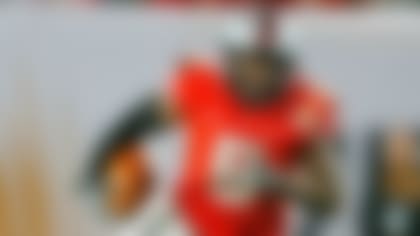 The players are divided into tiers of value: top 20, top 50, top 80, top 120, top 150 and top 200. Note that these are preliminary grades that will likely change based on player performance during the course of the 2015 season, as well as postseason all-star games, the NFL Scouting Combine and pro-day workouts. Some prospect ratings have changed since their initial publication due to continued study of their play as well as the evaluation of others at their position.
Braxton Miller, QB/WR/H-back, Ohio State
Projecting Miller's NFL draft status is difficult, as he will likely be playing a new position in the NFL, if not for the Buckeyes this season. The two-time Big Ten MVP missed 2014 with a shoulder injury, and the play of J.T. Barrett and Cardale Jones in his stead would make for a tough preseason competition for the starting job. Word from Miller, even if already tempered by head coach Urban Meyer, is that he will make the switch to receiver or H-back this season. He rushed for more than 1,000 yards in 2012 and 2013, showing the elusiveness and vision to break off chunks of yardage in the open field. If he's able to consistently snare passes from Barrett or Jones in that role, the Buckeyes will have a strong weapon -- and Miller could land in the top half of the draft.
Briean Boddy-Calhoun, CB, Minnesota
The Gophers have two of the top corners in the country with Eric Murray and Boddy-Calhoun (5-11, 188), a junior college transfer who was an all-conference selection by both league media (first team) and coaches (second team). He picked off five passes and broke up nine others using an innate ability to close on the ball in 2014. Boddy-Calhoun is also willing to throw his body into ball carriers to stop them in their tracks, making him an interesting nickel prospect (which is basically a starting position in the NFL nowadays).
Kentrell Brothers, ILB, Missouri
Though undersized for an inside 'backer at 6-1, 235 pounds, Brothers recognizes plays quickly, works his way through traffic and flows down the line very effectively as a run-stopper (122 total tackles in 2014) in the middle. He lacks great hip fluidity and the explosiveness to cut off running backs in the backfield or before they reach the sideline, but teams utilizing a base 3-4 should find him a good fit inside in the middle rounds as a possible starter.
James Burgess, ILB, Louisville
Don't let Burgess' size (6-0, 229) fool you. He drills ball carriers into the ground. The Miami native is explosive to the play and brings bad intentions. But he also shows a knack for reading quarterbacks and making plays on the ball, with six career interceptions. Burgess will be a nice fit for a 3-4 team looking for an inside gap-shooter.
Lloyd Carrington, CB, Arizona State
The Dallas native followed head coach Todd Graham from Pitt to Arizona State after his freshman season, and the move has paid dividends. Carrington (5-11, 195) earned honorable mention All-Pac-12 accolades in just his fourth year at cornerback -- he didn't play high school football until his senior season. Don't be surprised if he ascends to second-round status like inexperienced-basketball player-turned-stud-cornerback Quentin Rollins did earlier this year -- especially if he has more performances like his effort against Notre Dame last fall (eight tackles, sack, forced fumble, 58-yard interception for touchdown).
Donavon Clark, G/OT, Michigan State
The Spartans have one of the best offensive lines in the country this season, in part because of this guy's skills. Clark's size (6-4, 317), length, and athleticism have allowed Spartan coaches to plug him in at left tackle, right tackle, and right guard during his first three years. His best fit is inside at the next level, and he has the attributes to start early in his career.
Ed Davis, OLB, Michigan State
Davis finally got his chance to start for Sparty in 2014, grabbing honorable mention All-Big Ten honors at his Sam linebacker spot. Unfortunately, he's not going to be able to play in 2015 because of a knee injury suffered in the first preseason practice of the year. Before the injury, he showed excellent athleticism (6-3, 233), closing on the ball in a hurry whether in the backfield (12 tackles for loss in 2014) or toward the sideline. Davis can punch plays between the tackles and can rush the passer, too (seven sacks last season, 23 sacks in his final two years of high school at Detroit Southeastern), which means he projects to any type of defense. If he can rehab his knee to the point where that athleticism can shine in postseason workouts, or if he returns to East Lansing for another year, Davis will still garner mid-round consideration.
Quinshad Davis, WR, North Carolina
A fractured right tibia in UNC's 40-21 Quick Lane Bowl loss to Rutgers ended any speculation about Davis' departure to the NFL. Although his production has decreased in each of the last three seasons (61-776-5 in 2012, 48-730-10 in 2013, 41-470-6 in 2014), Davis is an impressive size/speed downfield receiver (6-4, 210) who can stretch the field and outmuscle defensive backs for the ball. Already tied with NFL starter Hakeem Nicks for the school record for touchdowns with 21 using his height and strong hands, Davis could join Nicks as an early round pick if healthy and as productive as he was early in his career.
Sean Davis, FS/CB, Maryland
Davis(6-1, 202) speaks English, French, Chinese ... and the language of pain. At least that's what opposing ball carriers feel as he flies into them with reckless abandon. He's been credited with more than 100 tackles in each of the past two seasons. His versatility will certainly be coveted by NFL scouts, who might see his athleticism, height/length and tenacious play as a nice fit as a press corner or cover safety.
Gerald Dixon, Jr., DT, South Carolina
If you're not familiar with the Dixon brothers, they are both sons of former NFL linebacker Gerald Dixon and were born five months apart. They both play on the defensive line for the Gamecocks, but they have different mothers. "Junior" is a massive nose tackle (6-3, 325) prospect who can eat blocks and shows better foot quickness than you'd expect for a two-down player -- he should catch the eyes of scouts for 3-4 teams that are looking for depth up front. His half brother Gerald (6-2, 282) could be in this class, but took two medical redshirts to start his career, so scouts might have to wait a year to evaluate him.
Parker Ehinger, G, Cincinnati
Junior quarterback Gunner Kiel and his talented receivers (see below) will be mentioned on Saturday night highlight shows this fall, but Ehinger (pronounced EIN-ger) is a major reason for the team's success. He was a Freshman All-American in 2012, mostly starting at right tackle using his height (6-7, 315) and length. Ehinger moved to right guard for the team's bowl game that year, and has been a fixture ever since, moving defenders in the run game and protecting the quarterback. If given the chance to play tackle again this year, he can show the footwork to move outside in the NFL ... otherwise, he'll likely earn a starting job inside.
Josh Ferguson, RB, Illinois
A lack of carries is the only reason Ferguson hasn't yet had a 1,000-yard season with the Illini. He's been invaluable to Illinois' offense, however, producing more than 1,000 yards of total offense the past two seasons, including 1,162 in 2014 (735 rushing, 427 receiving on 50 receptions). Ferguson (5-10, 200) isn't the biggest back in the draft class, but his explosiveness and elusiveness (21 total touchdowns in 2013-2014) are perfect for teams looking for a dual threat in the backfield.
Green (5-11, 202) averaged 7.1 yards per rush (922 yards, nine scores on just 129 carries) last season. It's not hard to see why he earned second-team All-Big 12 notice when watching his slashing style. He bursts through the line and avoids second-level defenders with a mean sidestep. Most teams will consider the Nebraska transfer and nephew of NFL Pro Bowl cornerback Gary Green too much of a bounce-outside runner to be an every-down workhorse, but he has value as a change-of-pace back/receiving threat and could be an excellent kick returner if given the chance.
Darion Griswold, TE, Arkansas State
Receiving statistics do not measure Griswold's potential; like many college tight ends, he is underutilized in the Red Wolves' offense (18 catches, 221 yards, four scores in 2014) despite his size (6-5, 264) and long strides that allow him to threaten the seam. I expect some teams see Griswold as a Larry Donnell-type prospect, who surprised with great success as a rookie with the Giants last year coming out of Grambling State.
DeAndre Houston-Carson, CB, William & Mary
Houston-Carson's 2014 season ended early due to injury, but if he returns to form in 2015 -- watch for him to earn top-100 grades. He has prototypical size (6-2, 195) and plenty of speed to stay with defenders on the sideline, as well as secure tackling skills against running backs and receivers alike. Add in his special-teams prowess (seven career blocked kicks, works as a gunner on coverage units) and there's a lot for scouts to like.
Jonathan Jones, CB, Auburn
This second-team All-SEC pick is looking to become the sixth cornerback from Auburn drafted since 2005. His six interceptions and 17 passes defended were among the nation's leaders in 2014, and though he's not the biggest or strongest corner (5-10, 181) in this class, which might prevent teams from considering him an outside starter on Sundays, I wouldn't try throwing in his direction too often.
Cre'von LeBlanc, CB, Florida Atlantic
Like others on my prospect lists, LeBlanc should benefit from having a teammate NFL scouts paid close attention to last year. D'Joun Smith played on the other side of the field, and was picked in the early third round by Indianapolis -- despite his talent, he was often challenged by opposing quarterbacks. Why? Because LeBlanc was just as tough to throw against. Though a bit shorter than Smith (5-10, 195), LeBlanc brings physicality in coverage and is a sure tackler; in fact, former FAU head coach Carl Pelini said LeBlanc was recruited specifically for his versatility as a cover man/run stopper/blitzer. It won't be surprising if the Owls find one of their corners picked in the third round for the second straight year.
Take a look at the top 10 players from Tennessee to play in the NFL.
Curt Maggitt, OLB, Tennessee
Maggitt (pronounced muh-JIT) earned second-team All-SEC honors from league media last year after posting 11 sacks. In addition to the explosiveness and bend off the edge that he shows as a pass rusher, the four-year starter gives up his body to bring leverage against the run, sealing the edge so others can make the tackle. He did lose part of the 2012 season and all of the 2013 campaign to a torn ACL, but if healthy throughout 2015, his rush ability, unselfishness, and experience at Sam and Mike in Tennessee's 3-4 scheme give him value at the next level.
Byron Marshall, RB/WR, Oregon
One of the main cogs in the Oregon attack, Marshall accumulated 1,000 yards rushing in 2013 and 1,000 yards receiving in 2014. However, scouts aren't sure if his perimeter running style is suited for every-down work in the NFL and his lack of height (5-10, 200) will hurt his stock as a receiver. Former teammate De'Anthony Thomas was more explosive but lasted until the fourth round of the 2014 draft due to his size; Marshall's thicker build might allow him to translate as an NFL running back more easily.
Blake Martinez, ILB, Stanford
In his first year as a starter in 2014, Martinez (6-2, 247) proved his worth by leading the Cardinal with 102 tackles, seven for loss, 4.5 sacks and three interceptions. The honorable mention All-Pac-12 honoree is tough between the tackles and reads routes well to anticipate throws. Martinez is a solid player who will be tough to cut if he shows the athleticism to contribute on special teams and defense early in his NFL career.
Dy'Shawn Mobley, RB, Eastern Kentucky
After Mobley put up 235 yards against Georgia and Tennessee to finish off the 2013 season as a University of Kentucky rusher, many thought he would be the next big thing in the SEC. But he decided to transfer due to a lack of trust in the coaching staff, and found a home at a FCS school, where he was immediately eligible. The 2014 Ohio Valley Conference Offensive Player of the Year received plenty of opportunities to tote the rock (258 carries for 1,491 yards and 20 TDs rushing; 33 catches for 309 yards and one TD), using his low center of gravity (5-11, 215), powerful running style and speed to his advantage. Former Miami RB Duke Johnson was a third-round pick this year, and it won't be a surprise if Mobley garners similar grades with another productive season and successful postseason workouts.
Aaron Neary, G, Eastern Washington
The Big Sky Conference is providing offensive line depth to the NFL nowadays, and Neary appears to be next in line from that group of schools. While general managers watched his teammate, tackle Jake Rodgers (seventh-round pick of the Falcons in 2015), they probably noticed Neary dominating defenders with his upper body and hands. He departed high school at 245 pounds and coming off an injury, but he has grown into a legitimate NFL prospect with starting potential.
Norris (6-2, 234) hopes to be the next Ute end/linebacker to enter the NFL (recent draftees include Joe and Paul Kruger, Koa Misi, Nate Orchard and Trevor Reilly). He received honorable mention All-Pac-12 honors in 2014 (116 tackles, 13 for loss, four sacks), showing stoutness and burst to the ball. He should be able to play inside or outside in a 3-4 scheme at the next level.
Reggie Northrup, OLB, Florida State
One of the most explosive hitters between the tackles in college football despite average size for his position (6-1, 226), Northrup's 2014 season ended on a sour note with a torn left ACL in the Rose Bowl against Oregon. If the Seminoles' leading tackler (122) regains his health so he doesn't have to redshirt the season (he played special teams as a true freshman -- a place he will definitely make an instant impact in the NFL), look for him to climb up draft boards as he pounds running backs and receivers into submission.
Rees Odhiambo, OT/G, Boise State
If this 6-4, 303-pound native of Kenya can stay healthy throughout his entire senior year, he can show scouts that he has the footwork to succeed in their game. He has flashed the talent to play in the NFL, but has missed several starts over the past two years due to injuries. Whether he serves as an undersized tackle or proves strong enough to move inside (like former Boise State LT Daryn Colledge), Odhiambo (pronounced AH-dee-AHM-bo) has skills worthy of a mid-round pick.
Take a look at the top 10 players from Pittsburgh to play in the NFL.
Lafayette Pitts, CB, Pittsburgh
Four-year starters at cornerback are rare, but Pitts (5-11, 195) is poised to earn that moniker going into his senior season. He might be average in stature, but the NFL requires toughness and attitude at the cornerback position -- and Pitts has plenty of both. Mark him down as a third-round pick (or higher) if he continues to improve in his discipline and playmaking ability in coverage as he did from his sophomore to junior years.
Alonzo Russell, WR, Toledo
Russell (6-4, 205) has been voted third-team All-MAC in each of his three seasons for the Rockets, catching more than 50 passes each season. He averages about 15 yards a catch and has scored 19 times. He appears to have very good speed for his size, and certainly has the "I-want-the-ball" attitude all successful NFL receivers possess. Expect his name to become more prominent in scouting discussions as the season progresses.
Hunter Sharp, WR, Utah State
A cousin of Kansas City Chiefs star linebacker Derrick Johnson, it's no surprise that Sharp shows Sunday-type athleticism. After excelling at the junior college level for two years, the California native put on a show for the Aggies in 2014. Sharp (6-0, 200) garnered honorable mention All-Mountain West honors, using strong hands and excellent quickness to snatch 66 balls out of the air for 939 yards and seven scores, four of which were longer than 70 yards (most in the nation). He has skills as a kick and punt returner, as well, which will intrigue NFL teams.
Elijah Shumate, SS, Notre Dame
It took an injury to Austin Collinsworth just prior to the 2014 season opener for Shumate (6-0, 213) to receive a starting spot, but he showed enough flashes during his junior year that scouts began to take notice. His 13-tackle performance against USC at the end of the regular season and big hits in the Music City Bowl showed a glimpse of what his senior year could be.
Devaunte Sigler, DT, Jacksonville State
Sigler's dismissal from Auburn for violating team rules after his sophomore year could have been the end of his career, especially since he didn't play at all in 2013. But he's made the most of his second chance, getting his grades in order and tearing up the Ohio Valley Conference as the league's Defensive Player of the Year last fall. If NFL teams are satisfied that there are no off-field issues with Sigler, they'll value his NFL build (6-5, 292) and explosiveness off the ball.
Jason Spriggs, OT, Indiana
Spriggs is a three-time honorable mention All-Big Ten pick who helped the Hoosiers finish in the top 10 nationally with 264 rushing yards per game. He has the build (6-7, 307), anchor in pass protection and willingness to block through the whistle that NFL offensive line coaches will covet; improving his flexibility as a senior in order to handle speed on the edge and hit targets at the second level will only help his cause.
Charles Tapper, DE, Oklahoma
Tapper (6-4, 281) was named first-team All-Big 12 as a sophomore in 2013, but only managed honorable mention accolades last season due to a drop in productivity (nine tackles for loss, 5.5 sacks in 2013; 7.5 and three in 2014.) Though he is neither explosive nor overly flexible as a pass rusher, Tapper's game isn't really about racking up sacks. NFL teams using a lot of three-man fronts will value his strength to hold the point and shorten the pocket with a bull rush as a five-technique defensive end.
Take a look at the great players, coaches and teams that have shaped the history of college football.
Considering that Ward went from receiver/safety to the defensive line during his time in junior college, the sky's the limit once he really knows what to do with his size (6-6, 295) and strength. He was an honorable mention All-Big Ten selection by league coaches (51 tackles, 8.5 tackles for loss, three sacks) in his first season with the Illini, playing inside and outside and using his huge wingspan to swallow ball carriers. Ward could be one of the fastest risers up draft boards (maybe to the second round?) if he approaches his potential this season.
Christian Westerman, G, Arizona State
Westerman (6-4, 301) was a top national recruit who attended Auburn for his first two years, losing most of his redshirt freshman season due to injury before deciding to return to his home state of Arizona to finish his career. He excelled las fall in his first season as a starter for the Sun Devils, earning honorable mention All-Pac-12 notice for his stout play and mobility at left guard.
Jonathan Williams, RB, Arkansas
Williams was a second-team all-conference performer in 2014 with 1,190 yards and 12 touchdowns rushing, despite the fact that he shared carries with junior Alex Collins for the second straight year. Williams will miss the 2015 regular season after undergoing foot surgery, though. When healthy, Williams presses the hole nicely. He can also skip past a defender in the hole and escape to the end zone if breaking through the first line of defense. The thickly built Williams (6-0, 223) has the strength to return from this injury and excel, either in his final year in Fayetteville or as an NFL rookie in 2016.
Eddie Yarbrough, DE/OLB, Wyoming
It is impossible to not enjoy watching Yarbrough play. The first-team All-Mountain West defensive end reminds me of Lamarr Woodley in that he overcomes a lack of height (listed at 6-3, 252 pounds) with long arms on the edge. His phenomenal motor isn't necessarily even reflected in his statistics (63 tackles, 10.5 for loss, four sacks in 2014) but is immediately evident when you turn on his tape. Teams looking for a 4-3 end or 3-4 Sam 'backer (yes, he is agile enough to play standing up) should consider him a strong Day Two value.