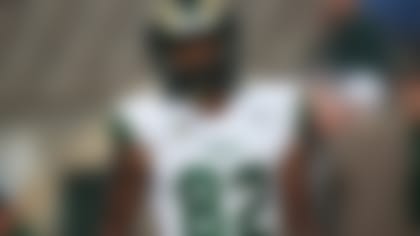 Preseason All-American teams are similar to preseason top-25 rankings in that neither guarantees success. However, these are not pointless, as the lists can help college football fans get ready for the upcoming season by letting them know the best players and teams to look forward to this fall.
And after a few months without football, I think fans are ready to ingest any available information to get ready for the upcoming season.
So, here are my early favorites to capture top FBS All-American honors at the end of the 2015 season, as well as others likely to be in the hunt for the top spots if they can step up their games this fall. I'll be taking a look at each position over the next two weeks, continuing today with wide receivers.
Tyler Boyd, Pittsburgh: Boyd has racked up two 1,000-yard seasons and 15 receiving touchdowns since arriving at Pitt in 2013, and he has also excelled as a kick (27.6 yards per attempt) and punt (10.1) returner as well despite his taller build (6-foot-2, 190 pounds). Even if he receives a suspension after being charged with DUI in June, look for Boyd to sprint past, jump over, and sidestep defensive backs throughout his junior season.
Rashard Higgins, Colorado State: This lean hands-catcher (6-2, 188) earned consensus All-American honors after his 1,750-yard, 17-touchdown effort in 2014. Higgins' ability to snatch the ball out of the air on the run is almost as impressive as his ability to simultaneously change directions and accelerate. He'll have a new quarterback now that Garrett Grayson is off the NFL (third-round pick of the New Orleans Saints), though.
Corey Coleman, Baylor: Speed is the name of Coleman's game, as is evidenced by his career average of 16.6 yards per reception. He's not physically imposing (5-11, 190), but that doesn't matter when he's screaming downfield (1,119 yards last season) or taking the ball into the end zone (11 scores last season). Quarterback Bryce Petty is gone (fourth-round pick of the New York Jets), but watch for Coleman to continue racking up yardage with Seth Russell running the show.
Josh Doctson, TCU: If TCU quarterback Trevone Boykin is to be a Heisman contender, he'll need Doctson to continue making big plays. Doctson, a second-team All-Big 12 pick who exploded onto the scene last season (65 catches, 1,108 yards, 11 touchdowns), started his career at Wyoming, but is now closer to home. The move put him on college football's biggest stage.
Laquon Treadwell, Ole Miss: Treadwell (6-2, 210) missed the latter part of his sophomore year after suffering a broken leg and dislocated ankle. He's expected to be healthy for the start of the season, though. Treadwell is as physical as he wants to be as a receiver and blocker. Expect him to improve on his 2014 numbers (48 catches, 632 yards, and five touchdowns) this fall.
D'haquille "Duke" Williams, Auburn: Williams was on his way to a huge 2014 season before a sprained MCL slowed him down late in the year. Even though receiver pal Sammie Coates moved on to the NFL (third-round pick of the Pittsburgh Steelers), Williams has a great blend of size (6-2, 224) and physicality, to go along with enough speed to challenge defenses vertically.