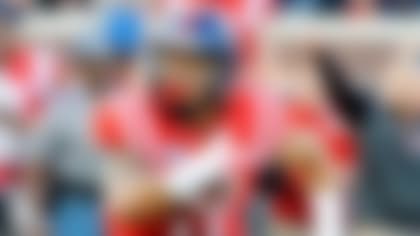 Preseason All-American teams are similar to preseason top-25 rankings in that neither guarantees success. However, these are not pointless, as the lists can help college football fans get ready for the upcoming season by letting them know the best players and teams to look forward to this fall.
And after a few months without football, I think fans are ready to ingest any available information to get ready for the upcoming season.
So, here are my early favorites to capture top FBS All-American honors at the end of the 2015 season, as well as others likely to be in the hunt for the top spots if they can step up their games this fall. I'll be taking a look at each position over the next two weeks, continuing today with tight ends.
Evan Engram, Ole Miss: Some might say that Engram is really just a big wide receiver (6-foot-3, 227 pounds) lining up inside. It doesn't really matter what you call him, as his speed down the seam, elusiveness with the ball, and exceptional hands are tough to stop (662 yards, 17.4 yards per catch in 2014).
Hunter Henry, Arkansas: Whether he's lining up in the slot or outside, Henry's size (6-5, 250), receiver-like ball skills and agility make him a matchup nightmare for SEC defenses. A second-team All-SEC pick by league coaches in 2014, Henry is looking to improve on his numbers (37 catches, 513 yards and two touchdowns) from last season as he prepares to compete against Engram for first-team All-America honors this fall.
Bucky Hodges, Virginia Tech: Hodges exploded for 45 catches, 526 yards and six scores as a redshirt freshman. He should only get better in 2015, using his tall frame (6-6, 249) and surprising speed and agility to beat linebackers down the seam and avoid defensive backs after the catch.
O.J. Howard, Alabama: In the Tide's run-oriented offense, Howard (6-6, 242) might not receive a lot of touches (17 catches in 2014), but his career average of 17 yards per reception shows that he can make defenses pay for filling up the box. If quarterback Jake Coker earns the starting job and finally reaches his potential in 2015, Howard will be one of his top targets.
Nick Vannett, Ohio State: With big-play receiver Devin Smith and reliable tight end Jeff Heuerman moving on to the NFL, Vannett must become an even bigger part of the Buckeyes' passing attack. He used his size (6-6, 260), hands, and surprising speed to make a respectable 19 receptions for 220 yards and five scores last season. Vannett's production should increase yet again in 2015. All-America voters might also notice his solid blocking for Ezekiel Elliott in the running game, as well.