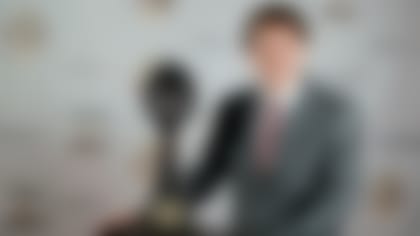 Preseason All-American teams are similar to preseason top-25 rankings in that neither guarantees success. However, these are not pointless, as the lists can help college football fans get ready for the upcoming season by letting them know the best players and teams to look forward to this fall.
And after a few months without football, I think fans are ready to ingest any available information to get ready for the upcoming season.
So, here are my early favorites to capture top FBS All-American honors at the end of the 2015 season, as well as others likely to be in the hunt for the top spots if they can step up their games this fall. I'm taking a look at each position, concluding today with specialists.
Brad Craddock, K, Maryland: This Australian was voted the Lou Groza Award winner as the nation's top kicker in 2014 after converting all 44 of his extra points and 18 of 19 field goal attempts. His only miss of the year was an attempt to tie the game versus Rutgers from 54 yards out; it had plenty of leg, but barely went outside the left upright. He struggled early in his career as he learned the ins and outs of major college football, but last year's effort (and his previous work with former NFL kicker Matt Stover) should give him the confidence to perform well again as a senior.
JK Scott, P, Alabama: Scott led the nation in gross punting average (48 yards per punt) last season, when he was a true freshman. The Tide also led the nation in net punting last year, at nearly 44.7 yards per punts, and Scott dropped 31 of 55 punts inside the 20-yard line, which is flat-out disheartening for opposing offenses already facing a battle against Bama's tough defense. Scott was appropriately named a Lou Groza Award finalist and All-America pick last season; look for him to take home the top honors this year, if he can duplicate his 2014 season.
De'Mornay Pierson-El, returner, Nebraska: Attention special-teams coordinators: Do not kick to this guy. He averaged 17.5 yards per punt return in 2014 and returned three for touchdowns, two for clutch scores against conference rivals. His TD return in the fourth quarter against Michigan State gave his team a chance to win, and another against Iowa helped the Huskers complete a comeback victory. He should make a similar impact in 2015.
Taybor Pepper, long snapper, Michigan State: To piggyback off of NFL Network's Rich Eisen, long snappers are people, too, so they deserve inclusion on an All-America squad. The son of a former Big Ten offensive lineman, Pepper (6-foot-5, 230 pounds), a senior, doesn't have great bulk. He has been a dependable snapper since the first game of his freshman season and is athletic enough to be a factor in coverage (seven career tackles on returns).
Roberto Aguayo, K, Florida State: The two-time All-American won the Lou Groza Award as the nation's top kicker in 2013 and had another excellent season in 2014. He's made 92 percent of his career field goal attempts (48 of 52), connected on all 149 of his extra point attempts and recorded 94 touchbacks on kickoffs. An amazing season from Craddock or another kicker are the only things that could keep Aguayo from becoming the first two-time winner of the Groza since another Seminole, Sebastian Janikowski, achieved the feat in 1998-1999.
Tom Hackett, P, Utah: Like Craddock, Hackett came up playing Australian Rules Football as a boy in Melbourne. The 2014 Ray Guy Award winner averaged 46.7 yards a boot, forced 25 fair catches and placed 36 punts inside the 20 while kicking for just 10 touchbacks. Changing field position and sticking opponents near their goal line is the name of the game for any punter, and Hackett (5-11, 195) excels at both.
Richard Leonard, returner, Florida International: The Panthers' first team All-Conference USA cornerback also earned that recognition as a punt returner (23.8 yards per punt return, one score) last season. He also received honorable mention accolades for his kick-return work (616 yards, 25.7 per attempt). Leonard (5-9, 189) was one of just seven FBS players last season with 900 or more return yards. This wasn't a fluke; in 2012, he scored on both a punt and kickoff return, accumulating 843 total return yards (he sat out 2013 for academic reasons). Oh, he had 144 interception return yards on his five picks last season, as well. That's a playmaker, folks.
Reid Ferguson, long snapper, LSU: One of the top long snappers in the country coming out of high school, Ferguson (6-2, 236) hasn't disappointed with the zip and accuracy of his short and long snaps in his first three years with the Tigers. Ferguson's steady hands contribute to pinning opposing defenses deep so that they have to deal with LSU's tenacious defense.