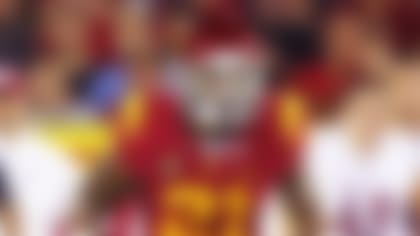 Preseason All-American teams are similar to preseason top-25 rankings in that neither guarantees success. However, these are not pointless, as the lists can help college football fans get ready for the upcoming season by letting them know the best players and teams to look forward to this fall.
And after a few months without football, I think fans are ready to ingest any available information to get ready for the upcoming season.
So, here are my early favorites to capture top FBS All-American honors at the end of the 2015 season, as well as others likely to be in the hunt for the top spots if they can step up their games this fall. I'll be taking a look at each position, continuing today with safeties.
Su'a Cravens, USC: Cravens was a third-team All-America and first-team All-Pac-12 selection as a hybrid safety/linebacker in the Trojans' defense in 2014. Some will list him as a linebacker on their All-America ballots because he makes plays behind the line (17 tackles for loss, five sacks) of scrimmage in his role, but I prefer to include Cravens (6-foot-1, 225 pounds) in the secondary because he has the hands and closing speed to make big plays in short, medium and deep coverage (three interceptions, nine pass deflections).
Jalen Ramsey, Florida State: Ramsey made headlines right away for FSU, becoming the first Seminole freshman to start at cornerback in the season opener since Deion Sanders in 1985. Ramsey landed on multiple All-America teams last season after racking up 9.5 tackles for loss, three sacks, two interceptions and 12 pass breakups. He has started every game the past two seasons, and has become a star at a nickel/safety spot where he can make plays using his size (6-0, 201), tenacity and closing speed (he ran a leg of the 4x100 for the ACC champion relay team) to be a playmaker.
Budda Baker, Washington: Maybe it's a year early to put Baker on this list, but it won't be long before he becomes a household name. His lack of great size (5-10, 176) makes little difference to opposing ball carriers that feel his wrath as he attacks downfield. Baker had 80 stops and seven passes defensed as a true freshman last year, and he should only be better in 2015 with a year of experience (and strength training) under his belt. East Coast football fans should stay up and watch Baker whenever they can.
Vonn Bell, Ohio State: Despite the talent around him, Bell (5-11, 205) finished second on the team with 92 tackles in 2014, garnering honorable mention all-conference honors. He doesn't spend a lot of time around the line of scrimmage, which makes that total even more impressive. Bell's abilities as he closes to the ball and secures open-field tackles are equally awe-inspiring, and he will take advantage of any QB mistakes with solid hands (six interceptions, six pass breakups in 2014).
Jeremy Cash, Duke: Cash began his career as a Buckeye in 2011, but transferred to Duke after NCAA penalties came down in Columbus -- and he's been an excellent player for head coach David Cutcliffe ever since. He has made 233 tackles, 21 for loss, in the past two seasons. The 6-2, 205-pounder has also intercepted six passes and broken up 11 others. There's not much more you can ask of a defender -- except to rush the passer. By the way, did I mention he was credited with 5.5 sacks last season?
Karl Joseph, West Virginia: Joseph (5-11, 197) is flat-out fearless as a hitter, and he has played in every game since 2012, serving as the team's defensive leader. But the first-team All-Big 12 pick is not just a big hitter in the secondary. Joseph has superb tackling skills (92 stops, 4.5 for loss last season) and can disrupt the passing game as well (three career interceptions, 13 pass breakups). Look for plenty of highlight plays from the senior this fall.