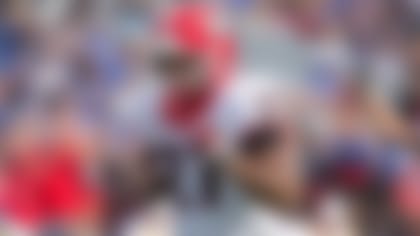 Preseason All-American teams are similar to preseason top-25 rankings in that neither guarantees success. However, these are not pointless, as the lists can help college football fans get ready for the upcoming season by letting them know the best players and teams to look forward to this fall.
And after a few months without football, I think fans are ready to ingest any available information to get ready for the upcoming season.
So, here are my early favorites to capture top FBS All-American honors at the end of the 2015 season, as well as others likely to be in the hunt for the top spots if they can step up their games this fall. I'll be taking a look at each position over the next two weeks, continuing today with running backs.
Nick Chubb, Georgia: A suspension and subsequent injury suffered by 2015 first-round pick Todd Gurley created an opportunity for Chubb (5-foot-10, 220 pounds), and he made the absolute most of it. The consensus Freshman All-American racked up 1,547 rushing yards and 14 scores in his first year on campus. It won't be surprising if Chubb's elite blend of power, speed, and balance -- and an outstanding offensive line -- gets him to 2,000-plus yards this season.
Samaje Perine, Oklahoma: The stout but explosive Perine (5-11, 237) outdid Chubb by earning All-America honors, not just freshman accolades, in his freshman campaign, as he rushed for 1,713 yards and 21 touchdowns last season. He burst onto the national scene by breaking the FBS record for rushing yards in a single game (427 vs. Kansas). The previous record had been set only one week earlier by Wisconsin star running back and 2015 first-round pick Melvin Gordon.
James Conner, Pittsburgh: This bruiser (6-2, 250) will knock over linebackers and defensive backs once past the line -- and then tell them about it -- much like the late Craig "Ironhead" Heyward. Last season, Conner became the first Pitt back to earn All-America honors since Heyward did in 1987. Conner's 1,765 yards and 26 touchdowns more than doubled his team-leading amounts from his true freshman season (799, 8) in 2013. Watch for more highlight-reel hits to be doled out by Conner in 2015.
Ezekiel Elliott, Ohio State: The quarterback situation receives all of the attention in Columbus, but Elliott is the engine that makes the offense run. While his size is average (listed at 6-0, 225), he can exploit a hole inside or hop outside to rip off chunks of yardage, which makes him a very valuable player.
Leonard Fournette, LSU: Fournette (6-1, 230) is another "super sophomore" back who will make headlines this season. He lived up to his recruiting hype as a true freshman. His special combination of power, speed, and change-of-direction ability allowed him to gain 1,034 yards and score 10 times last season. He also returned kicks, picking up 625 yards and scoring once.
Derrick Henry, Alabama: You might be reminded of former Tide running back Eddie Lacy when watching Henry, given Henry's dreadlocks, size (6-3, 242) and toughness. However, Henry's acceleration in the open field is superior to Lacy's, which gives Henry a chance to break the 1,000-yard mark in 2015 after rushing for 990 yards and 11 touchdowns in 2014.