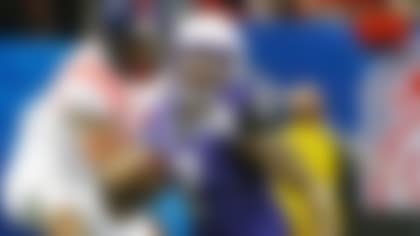 Preseason All-American teams are similar to preseason top-25 rankings in that neither guarantees success. However, these are not pointless, as the lists can help college football fans get ready for the upcoming season by letting them know the best players and teams to look forward to this fall.
And after a few months without football, I think fans are ready to ingest any available information to get ready for the upcoming season.
So, here are my early favorites to capture top FBS All-American honors at the end of the 2015 season, as well as others likely to be in the hunt for the top spots if they can step up their games this fall. I'll be taking a look at each position over the next two weeks, beginning today with quarterbacks.
Trevone Boykin, TCU: The 2014 Big 12 Offensive Player of the Year and finalist for the Walter Camp and Maxwell Awards as the top player in the country passed for 3,901 yards and 33 touchdowns, and ran for 707 yards and eight touchdowns last season. Boykin isn't the biggest of quarterbacks (6-foot-2, 205 pounds), but if he uses his arm and feet to improve on his dual-threat numbers as a senior, he'll get a trip to New York City as a Heisman finalist -- and TCU might earn the CFB Playoff berth it narrowly missed in 2014.
Connor Cook, Michigan State: The redshirt senior not only looks the part (6-4, 220) but produced in his second year as a starter in 2014, leading the Big Ten with 3,214 passing yards. If the Spartans are to have any chance of challenging Ohio State for a Big Ten title in 2015, Cook has to move the team effectively after losing multiple receivers from last year's squad.
Jared Goff, California: The son of a former major league catcher, Goff ranked among the top five in the country in passing yards (3,973) and touchdowns (35) last season while throwing just seven interceptions. The lanky and athletic signal-caller can make plays with his feet as well as with his arm, hitting receivers on every level of the defense. He'll be battling USC's Cody Kessler for first-team All-Pac-12 honors this fall.
Jeremy Johnson, Auburn: Now that Nick Marshall has moved on to the NFL, it's Johnson's time. The 6-5, 240-pound passer has the arm strength to hit a target on any spot of the field, and he has a great receiving corps (Marcus Davis, Ricardo Louis, D'haquille "Duke" Williams, etc). Add in a solid defense, and the Tigers are primed for a big 2015 season, which could make the Montgomery, Ala., native a household name.
Cody Kessler, USC: Kessler stepped up his game in his second season as a starter for the Trojans, completing 69.7 percent of his passes and throwing 39 touchdowns against just five interceptions. The 2014 Manning and Unitas Award finalist returned to school for his senior season for more than great statistics -- he wants to lead his team past Oregon and into the College Football Playoff.
Gunner Kiel, Cincinnati: Having finally settled in at Cincinnati after a whirlwind recruitment and a redshirt freshman season at Notre Dame, Kiel showed a big-time arm befitting his size (6-4, 208) as a sophomore in 2014. He has an excellent group of receivers, led by seniors Mekale McKay, Max Morrison, and Chris Moore. They should help Kiel put up huge numbers again this fall and lead the Bearcats to a conference title and top bowl game.
Ohio State QB: I'd love to list one name here, but it's not yet clear as to who will be taking snaps for Ohio State, which is likely to compete for another national championship this season. Sophomore J.T. Barrett (6-2, 225) and junior Cardale Jones (6-5, 250) could each lead the offense effectively when given the chance. Last year, they combined for about 3,694 passing yards, 41 passing touchdowns, 1,234 rushing yards, and 12 rushing scores.